Bank of America uses bulldozers to rid debt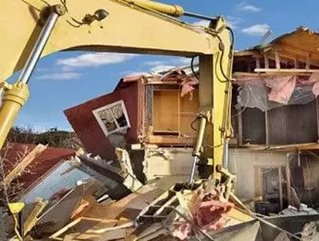 It's not new to anyone that financial institutions are still dealing with foreclosures and short sales due to the aftermath of the recession. However, Bank of America has taken it into its own hands by using a bulldozer as a tool to ease its list of foreclosed and abandoned homes that it can't sell, according to reports by Business Week.
Bank of America is the nation's largest mortgage institution and has plans to donate 100 foreclosed homes in the Cleveland, Ohio area and contribute some cases to demolition by a local agency that manages "blighted property." The bank has similar plans in Detroit and Chicago, with more cities on the docks for destruction. And what do you know? Wells Fargo, Citigroup, JPMorgan Chase & Co. and Fannie Mae are also considering this idea to ease their own housing ailments.   
See top stories in the WDM Content Network:
Click here to read the latest edition of Business Review USA
Bank of America had 40,000 foreclosures in the first quarter and not to mention the costs involved with maintenance and taxes. The company has committed as many as 100 properties in Detroit and 150 in Chicago and plans to add upwards of nine cities by the end of 2011. BofA will pay as much as $7,500 for demolition or $3,500 in areas that are eligible to receive funds through the federal Neighborhood Stabilization Program.
"No one needs these homes, no one is going to buy them," said Christopher Thornberg, founding partner at the Los Angeles office of Beacon Economics LLC, a forecasting firm. "Bank of America is not going to be able to cover its losses, so it might as well give them away and get a little write-off and some nice public relations."