7 top takeaways – American Express 2022 Travel Trends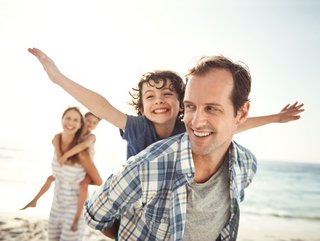 From an increase in spend and purpose-driven booking decisions to multi-generational family vacations, here are 2022's travel trends from American Express
People are looking forward to taking more trips than last year and plan to spend more on travel in 2022 than in previous pre-pandemic years.
That's according to the newly released 2022 Global Trends Report from American Express, which revealed that in Q4 2021, global Card Member bookings made through American Express Travel were up 24% compared to 2019 and have continued to strengthen in 2022.
The report, based on data from the US, Australia, Canada, Mexico, Japan, India and the UK, reveals consumers are travelling to see the people and places they love, celebrate important life events, embark on wish list trips, experience in-person events, and to seek greater wellness and self-care.
"The pandemic has made all of us, including travellers, assess what is truly important," says Audrey Hendley, President of American Express Travel. "The Global Travel Trends Report shows that tourists are making up for lost time and being thoughtful about who they travel with, the places they visit, the brands they support, and how they spend their money as the travel industry moves forward."
7 takeaways from the 2022 Travel Trends report
The will to travel is stronger than ever
Not only is spending on travel in 2022 set to outpace pre-pandemic levels, but tourists say they plan to travel more frequently. More than four in five (86%) are expecting to spend more or the same on travel this year compared to a typical pre-pandemic year, with consumers prioritising travel over physical purchases – 65% say they would rather take their dream vacation than purchase a new car. When it comes to frequency, 62% plan on taking 2-4 trips in 2022.
Impact and purpose drive booking decisions
Travellers are now spending more time thinking through who and what they are travelling for, with 78% wanting to have a positive impact on the community they are visiting. Four in five respondents say they want to travel to destinations where they can immerse themselves into the local culture and want the money they spend while travelling to go back to the local community. Among the activities to have a positive impact on the local community, travellers are most keen on eating and shopping at small businesses (55%), visiting a landmark or heritage site (42%), visiting a national park (40%) and visiting a farmer's market (37%).
Helen Giontsis, president at Kensington Tours says they are seeing a strong desire for travellers to "rekindle a sense of authentic connection, and a need for their chosen travel partner to be contributing to local communities".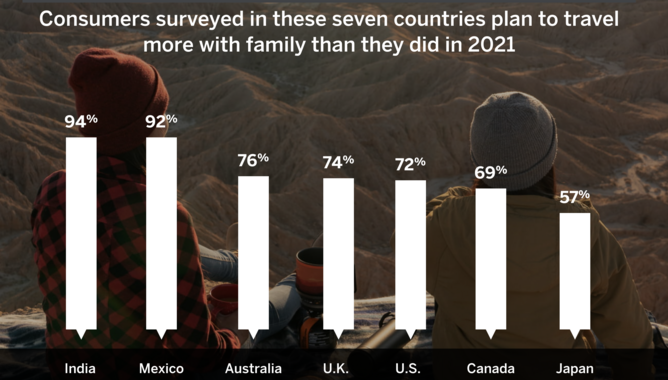 Family travel is becoming increasingly important
Family togetherness has become more important in travel since the onset of the pandemic, as people reprioritise values and spending time with loved ones is top of the list. Three-quarters of travellers are planning to travel more with family in 2022 than they did in 2021 with more than half (58%) more interested in multi-generational family trips than ever before, as families look to reconnect and re-engage.
"Across our hotels, we're seeing demand for experiences that are educational and entertaining for all ages as families look to make new memories together," says Chris Gabaldon, SVP, Luxury Brands, Marriott International.
Space and privacy are priority for luxury family travellers
Space and privacy are becoming a priority for luxury family travellers. According to American Express Travel Consultants, some card members are requesting private jets, private islands, personal crews for yachting, large villas and estates, private chefs, and more.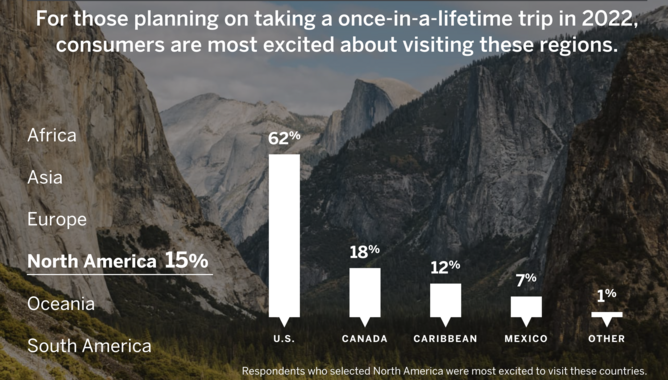 Dream destinations are becoming a reality
Looking beyond the pandemic, travellers are eager to experience the dream destinations they have not previously visited and are embracing flexibility. More than half (55%) of respondents want to book a once-in-a-lifetime vacation this year; with younger generations even more keen – Millennials (67%) and Gen Z (65%). And three quarters are willing to book such a trip even if they might have to cancel or modify it later.

For those planning on taking a one-in-a-lifetime trip in 2022, 35% are most excited about visiting Europe, 15% North America, 14% Asia and 11% Oceania. Among some of the most popular once-in-a-lifetime trips recently booked for American Express card members are the Greater Barrier Reed in Australia, wine-tasting in Italy and a safari tour in East Africa.
Increase in booking trips to celebrate milestone celebrations
More than half of respondents say they are interested in travelling for personal gatherings such as weddings, birthdays, and graduations. Among the milestone trips American Express travel consultants have recently helped card members book are destination weddings in Italy, anniversary trips to Austria and family reunions in Colorado.

"Reunion, reconnection, and experiential travel have been driving forces behind the swell of bookings that we're seeing this year," says Frank Passanante, SVP, Global head of sales at Hilton.
Major entertainment events guide 2022 travel plans
As music festivals, sports and cultural events return, there is an uptick in customers booking trips for specific events or experience with more than half (56%) of respondents stating they held off on travelling for major entertainment events last year but have plans to return to these events this year. While 43% say they are interested in travelling for entertainment events, 38% say they are interested in travelling for cultural events.
Read the American Express 2022 Travel Trends report​​​​​​​