Business Chief expands portfolio with new look and coverage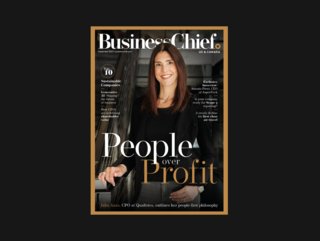 Business Chief US & Canada is back
Business Chief US & Canada launches with fresh new look and extended coverage of the region, with exclusive executive interviews, opinions and insights
After more than 100 issues, Business Chief relaunches today with an expanded portfolio of four regional brands and two new Chief titles.
Business Chief will now be available in four regional editions instead of three, providing exclusive interviews and insights for the US & Canada, UK & Europe, Middle East & Africa, and Asia & ANZ.
Each of the refreshed titles will be published bimonthly, with Business Chief Middle East & Africa and Business Chief US & Canada in September and then Business Chief Asia & ANZ and Business Chief UK & Europe from October.
The brand-new additions to the portfolio, Marketing Chief and Finance Chief, are joining the family in November and December, and will also be published bimonthly.
"Business Chief has a long history, and bright future," says Scott Birch, Editor-in-Chief, Business Chief, and Chief Content Officer of publishers BizClik.
"Extending our footprint means Business Chief is now truly global and better reflects the world of business. From Dubai to Dublin, Dallas to Delhi, we bring you exclusive interviews and insights with inspirational leaders, innovators and key decision makers who are shaping the future of business."
Each issue of Business Chief covers key issues facing CEOs today, including:
Leadership
People & Planet
ESG
Tech & AI
Business Chief will also cover Lifestyle, providing a curated selection of the best experiences, products and services.
The September issue of Business Chief US & Canada features exclusive interviews with leading executives in the region on the hottest topics of the day, including the importance of implementing a people-first culture, the rise of generative AI and the decline of international first-class air travel.
The Business Chief Interview – Antonio Pietri, President and CEO of AspenTech, outlines his leadership principles and explains the growing importance of carbon capture.
Leadership – How can leaders pursue shareholder value while adhering to responsible business practices? Barbara Spitzer, from Accenture, provides her assessment.
People – Julia Anas and Shiran Nawi, Chief People Officers at Qualtrics and monday.com respectively, explain why companies must put employee wellbeing first.
Sustainability – With a decision looming on the SEC's proposed changes to climate-related disclosures, William Theisen, CEO of EcoAct and Head of Net Zero Transformation at Atos, says leaders should be examining the sustainability credentials of their suppliers.
Technology – C-suite executives from Kin + Carta and Five9 are in little doubt over the huge impact generative AI is set to have on the world of business.

Lifestyle – We examine the steady decline of first-class seating on long-haul flights and ask whether it will ultimately die out.

Top 10 – From Microsoft to Stantec, these organisations are making it their mission to run more sustainable operations.

Lifetime of Achievement – We shine a light on Prem Watsa, the CEO who went from ambitious teen to business supremo.

For more information on Business Chief, or to be considered for upcoming interviews and features, please email [email protected].
******
For more business insights, check out the latest edition of Business Chief Middle East & Africa and be sure to follow us on LinkedIn and Twitter.
You may also be interested in the Business Chief EMEA website.
Please also check out our ongoing event – Sustainability LIVE in London on September 6-7, 2023.
BizClik is a global provider of B2B digital media platforms that cover executive communities for CEOs, CFOs and CMOs, as well as leaders in Sustainability, Procurement & Supply Chain, Technology & AI, Cyber, FinTech & InsurTech. We also cover industries including Manufacturing, Mining, Energy, EV, Construction, Healthcare and Food & Drink.
BizClik, based in London, Dubai and New York, offers services such as content creation, advertising and sponsorship solutions, webinars and events.