Five Minutes With: Neha Sampat, CEO of Contentstack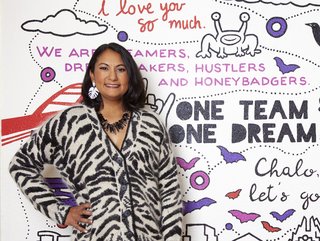 Neha Sampat, CEO and co-founder of Contentstack
Business Chief caught up with Neha Sampat, CEO of Contentstack, to discuss diversity, challenging the status quo and building a strong company culture
As female, non-techie CEO in a technical world, Neha Sampat has had to pave her own path – and what a path she has paved.
After running a PR agency with friends in California, Neha developed a love for SaaS and co-founded Raw Engineering to help companies through the relatively early days of digital transformation.
She bootstrapped her business with no outside funding for more than a decade up to the acquisition of her Built.io integration platform in 2018.
From Raw Engineering, Neha spun out Contentstack, which she co-founded to give brands creative freedom through a headless CMS and composable architectures.
With consistent growth and more than US$169 million raised for Contentstack to date, including an US$80m Series C round, Neha has certainly lived up to the saying "if you can dream it, you can do it".
She is passionate about diversity and inclusion, and last year signed up to the CEO ScaleUp Pledge, a commitment to diverse hiring hiring, ensuring equitable compensation and building a well-represented board.
Here, Business Chief catches up with Neha to talk DEI, company culture and having faith in your own ideas.
Tell us a bit about yourself and your career.
You could say I was born with an entrepreneurial spirit. I like to say my first business was the New Kids on the Block fan club I started at age 12, but it was really a PR agency with my friends in Silicon Valley. I helped brands tell their stories during the dot-com boom.
From there, I moved on to become a Product Manager. I realised how much I loved SaaS, the product ecosystem, and marrying my technical interests with my creative and business skills.
I co-founded Raw Engineering to help enterprises manage digital transformation in the early days of cloud and mobile technologies. We realised a significant pain point for clients was integration – giving way to Built.io – and sold to Software AG down the line. Shortly after developing Built.io, my co-founder, Nishant Patel, saw the need to develop a modern, API-based content management system as part of this same transformation. We funnelled all the learnings and skills from Raw Engineering and Built.io into that vision, which is now Contentstack.
For anyone who doesn't know about your company, how would you describe Contentstack?
Contentstack is a fully automated composable digital experience provider with headless CMS as the core. We're the next generation of delivering and building content-based experiences for major brands like Mattel, Sephora and Riot Games.
What inspired you to launch Contentstack?
Leading Raw Engineering and Built.io, my team and I realised the source of enterprises' pain was their infrastructure. To deliver unique digital experiences, enterprises needed to be liberated from legacy all-in-one suites. The rigid nature of monolithic technology hampers business and tech teams' creativity and productivity.
The only thing that would give the creative freedom that brands needed was a headless CMS and composable architectures – but no one was doing it then. So, we did.
What is the biggest challenge you face in your role?
I've taken the road less travelled, especially for a founder. I didn't go to an Ivy League school and I'm a female, non-techie CEO in a technical world. I had to pave my own path – an outsider perspective became my superpower, and it's something I lean into even now.
The biggest challenge I continue to face today is the status quo. Whether in the market or in company culture, I have never been satisfied with "good enough". That mindset is prevalent, even if we don't realise it. Overcoming it has been one of our toughest challenges in the industry.
How important is it for businesses to commit to diversity and inclusion in the workplace?
It's extremely important. Innovation is the byproduct of diverse perspectives coming together; harmony happens when people of different backgrounds and viewpoints align toward a common goal.
One of the toughest problems when it comes to achieving diversity is relatability. If people don't see others that look like them in certain roles, it's just another hurdle to jump. That's why we should work to find underrepresented talent. Search for candidates outside of traditional pipelines; hold recruiting events in non-traditional areas and hire for skills, rather than if they went to an Ivy League or worked for big names; encourage underrepresented employees to recruit from within their networks.
The more we focus on diversity and inclusion, the more innovation and strength we'll see reflected in our companies.
What is the secret to building a strong company culture?
If there's any one "secret" to company culture, there are two parts:
First, everyone should have a seat at the table. Everyone has valuable thoughts and opinions that should be heard – especially when you're hiring from diverse backgrounds. My job as CEO is to create a safe, supported space to share those thoughts.
Second, hold everyone accountable to the values you set. Yes, that initiative starts top-down, but it's up to everyone to uphold it. We send out employee pulse surveys to measure how well our executive team executes on culture. For employees, accountability for values is part of their performance evaluation. We don't just talk about culture and values – we act on them.
What advice would you give to someone thinking of starting their own business?
Bet on yourself! Entrepreneurship is a big gamble, so why not gamble on yourself? Of course, you also need to surround yourself with trustworthy advisors and be open to their guidance. Focus on what you have to offer, and don't hesitate to validate your ideas with people (or mentors) who have done it before. Great companies have been founded with less.
What are your goals for the next 12 months?
My 'Dreamguard' – what we call Contentstack's executive leadership team – and I are focusing our time and energy this year on levelling up. How do we unlock our diverse backgrounds and talents to become better leaders? Then, how can we invest in our employees to help up-level them, as well?