Jake Surrey: Small business diversification in Alberta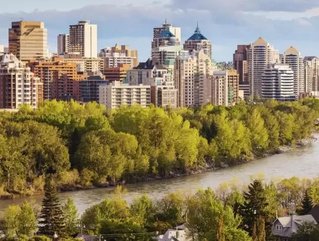 As a global award-winning digital marketing agency from the UK, you would be forgiven for failing to guess that the first office Fountain Partnership would open in North America was to be in Calgary - but due to a family move for one of its lead strategists, Jake Surrey, it's where they opened up in Q4 of this year.
'My wife and I met in Calgary when I lived here previously between 2011 and 2015, and after a few years in the UK have decided to move back here to raise our family. It's an interesting time to be setting up shop here. The focus has definitely shifted a lot and the atmosphere obviously quite different to when I first arrived eight years ago.'
One of the key differences he's seeing is the network of small businesses that are developing across in all kinds of different arenas. "There's certainly been a lot of changes. It feels like businesses are looking to innovate and differentiate - and there's an extremely supportive atmosphere amongst small businesses here.'
'The most successful businesses I've seen are those looking at things from a slightly different, unique angle and those who truly stand out with their customer service. It's also really encouraging to see so many businesses and business people genuinely dedicated to supporting the local community. And it's not for the sake of greenwashing or good PR - people actually care about giving back where they can'.
The question of whether the Calgary economy is able to shift its focus to diversify away from its traditional dependence on the energy industry is still up for debate: 'There are a lot of extremely bright, technically minded people here in Calgary. For years the universities here have churned out engineers, finance and tech grads who have then gone on into a stable career in the energy industry. Those careers aren't necessarily there any more and so people are thinking creatively.'
'Fountain was founded during the global financial crisis, and has thrived due to the original thinking, work ethic, and absolute focus on driving customer revenue growth that the founders had from day one. We're looking to replicate that here in Canada.'
SEE ALSO: 
Small businesses are still under pressure since the downturn, but recent figures have shown job growth across Alberta, with unemployment recently dropping by a full percentage point. And many of those jobs have come from outside of the natural resources sector, which evidences the fact that there is a shift slowly taking place. But much of this is happening out of necessity rather than volition:
'There is a diversification happening - out of necessity and not by choice. As an example, there are a number of people reaching out to international audiences with consulting services, or working in a derivative of their former professions. As well, small businesses are popping up with low capital entry fees such as micro-breweries, home renovation firms and other service oriented businesses,' states Cory Cleveland of Investor Engagement Consultancy, Creative Return.
'Some of these are a means for people to support themselves, and not necessarily a pursuit of passion or material capital gain. Given a positive change in oil prices and politics, we will, understandably, see most of these people return back to the oil and gas industry and its supporting businesses. However, any seedlings of diversifying our economy would be left to wither as the trappings of well paying oil jobs will outshine the immediate earning potential of opportunities they are pursuing.'
Calgary is the city it is due to the energy industry - but it's also due to the undeniable entrepreneurial spirit that Calgarians have. 'There's no denying that there are lots of challenges at the moment in Calgary, but on the flip side the collaboration and innovation coming out of the small business community is incredible to see. For Work Nicer, 2018 has been a year of unparalleled growth for not just the team itself, but the entire community. While that's not been without its stresses, the people here are able to find the support they need.' says Alex Putici, founder of Work Nicer, Alberta's leading coworking community.  'We have a community of more than 380 members with two new outposts opening early in the new year – one in Edmonton and a third in Calgary. You can't have the ups without the downs and we're seeing people getting creative to gain support, gain insight and create some pretty cool things.'
It remains to be seen whether Calgary's sputtering economic recovery continues without a shot in the arm from the energy industry, and there are a multitude of factors local, national and international that will contribute to what happens next. But what is certain that the enterprising attitude of its inhabitants isn't going anywhere.