McDonald's leads UN World Food Program campaign for Peace Day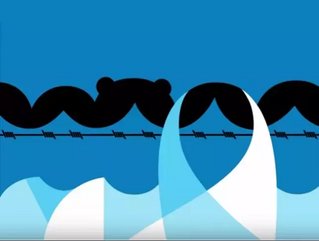 A few weeks ago it was looking like Burger King had McDonald's up against a PR wall—faced with no good options, McDonald's balked at Burger King's invitation to collaborate on a McWhopper to raise awareness for the United Nations International Day of Peace. Instead, McDonald's CEO Steve Easterbrook took to Facebook to counter Burger King's invitation with a suggestion that the two work together on "something bigger to make a difference." With this "something" left vague, experts wondered whether this was simply a dodge or whether McDonald's would follow through.
Today is Peace Day, and the answer is: yes, McDonald's followed through in a massive way. This week the United Nations issued a press release announcing that McDonald's had taken the initiative to lead a multi-million dollar multi-brand Peace Day campaign in support of the UN's World Food Program relief efforts as it responds to Europe's refugee crisis.
RELATED CONTENT: Burger King makes Peace Day deals with Denny's and more after McDonald's dismissal
At the crux of the campaign is an ad titled "Symbols," commissioned by McDonald's from one of its frequent ad agency collaborators and voiced by Liam Neeson on behalf of Dreamworks Animation. Airing today in 38 countries, the ad raises awareness that today's conflicts have resulted in the most displaced refugees since World War II, and calls viewers to action to donate and help the World Food Program provide relief:
While the commercial doesn't mention the corporate partners involved, McDonald's in fact enlisted several major global brands to lend their support to the campaign. In addition to DreamWorks, key partners include Facebook, Google, Twitter, United Airlines, Cargill, Mastercard, and even Burger King—who, as USA Today reports, gave the effort its own nod of approval via a statement to the press:
"Any peace related activity McDonald's undertakes, whether in partnership with Burger King or on their own, is great, as it will raise further awareness for Peace Day," Burger King said in a statement.
RELATED CONTENT: Shock Top partners with IndieGogo and NGOs for California drought relief
The World Food Program praised McDonald's and its partners for their efforts on this Peace Day, for both the sheer scale of the campaign as well as its timeliness as conflicts in the Middle East escalate the refugee crisis still further:
"Today is about people coming together across regions and cultures to take action for a hunger-free and peaceful world," said WFP Executive Director Ertharin Cousin. "Food assistance plays a powerful role in times of conflict by saving lives and alleviating suffering. Food brings and keeps families together. Food security gives families hope during desperate times while eliminating the need for families to resort to extreme and harmful measures as the only option for survival."
Corporate social responsibility has been a hot topic lately—consumers want empathy and humanization from their brands, and look to their favorites to give back in meaningful ways. McDonald's was in a precarious situation, but has deftly turned that situation around in the name of a good cause. Even its biggest rivals can't argue with that.
[SOURCE: USA Today]