Remote working remains on the rise in some US cities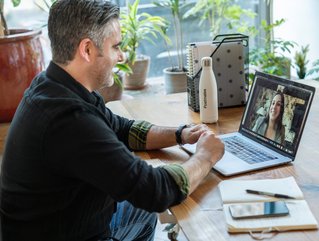 There has been a big shift towards remote working since the pandemic
A team of researchers including leading academics examined online job postings from January 2014 to January 2023 in five English-speaking countries
Despite pressure from employers and calls from some of the world's best-known CEOs for a return to the office, a new study suggests an increasing number of workers are still shifting to remote working in some parts of the US.
A team of researchers including leading academics examined online job postings from January 2014 to January 2023 in the five English-speaking countries of the US, Canada, Australia, New Zealand and the UK.
And they discovered that, in the US cities of Chicago, Atlanta and New York, there were more adverts open to remote workers in January this year than there had been at any point in the previous three year-period.
In recent months, big-name bosses including Twitter's Elon Musk, Apple's Tim Cook and Amazon's Andy Jassy have urged or mandated a return to the office for their workforce, citing concerns over productivity.
Pandemic ushers huge shift to remote working
The study, published in the National Bureau of Economic Research, was carried out by academics from schools including Stanford, Harvard, UCL and the London School of Economics.
They make clear that the share of postings saying new employees could work remotely one or more days per week was tiny before the pandemic – less than 1% in Australia, Canada and New Zealand, about 3% in the UK and around 4% in the US.
Looking at major cities, Washington, D.C, San Francisco and London have the highest percentage of job postings which explicitly offer hybrid or fully remote work, all around 25%.
Some of the biggest increases between 2019 and 2022 were seen in the Australian cities of Sydney, Brisbane and Melbourne, which all had around 10 times more adverts of this nature.
By contrast, in US cities including Miami Beach, Savannah, Memphis and Louisville, less than 10% of job postings were offering hybrid or fully remote employment as of January 2023.
Interestingly, the researchers found significant differences in the willingness of firms to advocate home working, even within the same industries.
For example, in the auto manufacturing space, more than 40% of Honda's 2022 job postings mentioned remote working, compared to a tiny fraction of Tesla's ads.
Read the full report: Remote work across jobs, companies and space