US leads on billionaire wealth, finance and banking dominate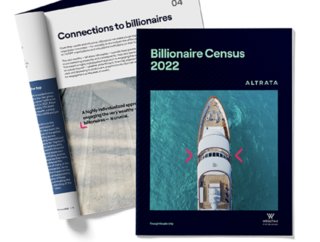 Global billionaire wealth surged in 2021 by nearly 18% – North America leads regions, San Francisco has highest density, and tech industry dominates
Global billionaire wealth surged by 17.8% in 2021 to a record US$11.8 trillion, as the billionaire population rose by 3.3% to 3,311 individuals, according to Altrata's recently released Billionaire Census 2022.
This marked the third successive year of billionaire population expansion, but the weakest growth since 2018, with growth buoyed by a largely rebounding global economy and a strong upturn in corporate earnings and IPO activity.
While the 3,311 billionaires represent just 0.9% of the global ultra-high net worth (UHNW) population – those with more than US$30 million in net worth – they hold a vast 27.4% of total UNHNW wealth.
North America is home to the most billionaires
North America is home to nearly one-third (31%) of these billionaires, having jumped by 5.6% from a year earlier to 1,035 individuals – marking the first time the number of billionaires in North America has passed the 1,000 threshold and consolidating North America's status as the world's leading billionaire region. Canada recorded the fastest expansion of wealth.
This was in part thanks to the region experiencing a strong economic rebound post-pandemic. Returns on US equities outpaced growth in most other markets, supported by a dynamic bounce-back of the US economy (from comparatively loose pandemic restrictions), robust consumer spending and highly accommodative monetary policy.
The tech-heavy NASDAQ Index recorded healthy gains, amid volatility, but the overriding story in the US and Canada was of the broadening recovery driving solid equity returns in almost all sectors, led by energy, financials, and real estate. Wealth portfolios were also bolstered by the appreciation of the 'safe haven' US dollar against other major currencies, albeit to a lesser degree than in 2020.
According to the report, the average US CEO or non-profit trustee has a first-degree connection to almost four billionaires and second-degree connections to more than 250.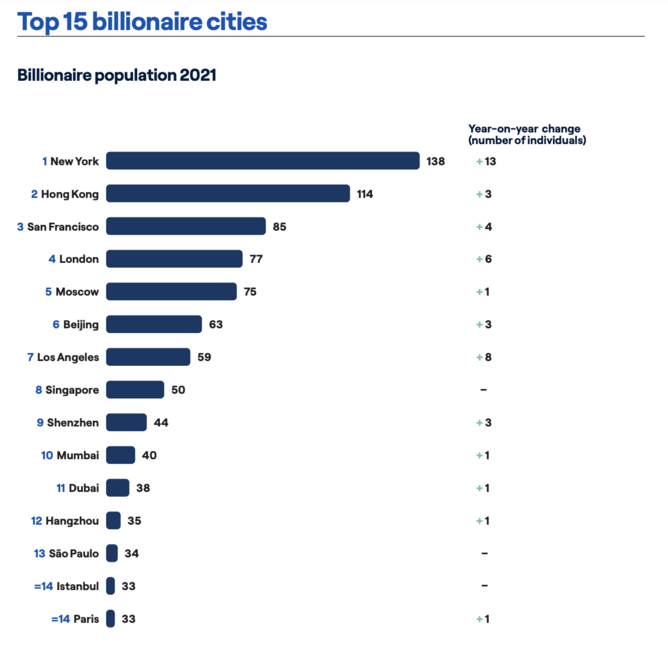 New York, Los Angeles, San Francisco dominate billionaire rankings
The US is home to three of the top seven billionaire cities, with New York City, Los Angeles and San Francisco, with the former two outpacing country-level performance.
New York retained its title as the global billionaire hub, recording the largest net increase in population of any urban centre. The city added 13 billionaires to its population giving it more billionaires (138) than almost every country in the world, apart from China and Germany.
San Francisco is one of three cities with the highest density of billionaires globally, after Kuwait City and before Hong Kong.
Industry matters – banking and finance continue to lead
Financial services have long been a major driver of wealth generation in many of the world's largest billionaire markets, especially in the US, the UK, Hong Kong and Switzerland, and 2021 is no different with the banking and finance sector the main industry focus for the largest share of billionaires. This share is twice as large as the second-ranked sector of industrial conglomerates.
While there has been a gradual decline in the size of the global banking and finance industry over the past decade, caused by post-financial crisis restructuring and regulation, the influence of financial markets on billionaire wealth has arguably increased, reflecting a period of unprecedented central bank liquidity, historically low interest rates, and relatively subdued global growth and consumer demand.
Real estate ranked third in billionaires' primary industry focus, followed closely by technology, each accounting for 7% shares. Manufacturing, business and consumer services, healthcare and the non-profit sector all accounted for 5-6%, though the report predicts that healthcare is likely to see its billionaire share rise in the coming years, thanks to the pandemic and ageing of the most developed economies.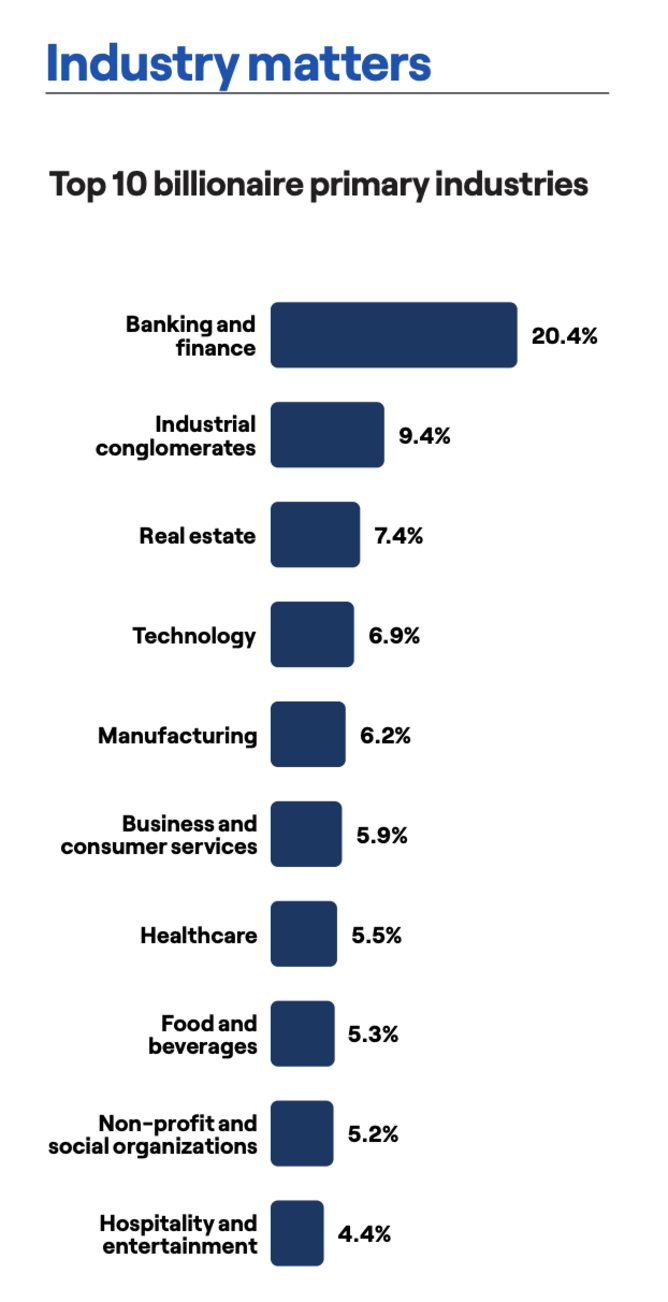 Unsurprisingly, technology has by far the youngest, most self-made and male billionaires, with the median age of billionaires in the tech sector at 54.6, 11 years younger than that of the global billionaire population.
Unsurprisingly, technology has by far the youngest, most self-made and male billionaires in North America, and globally, and a significantly larger share of tech-focused billionaires are in the highest wealth tiers (those above US$10bn and US$50bn).
When it comes to gender, the global billionaire population remains heavily male-dominated, with women accounting for a modest 13% share, though on a gradual upward trend reflecting growth in female entrepreneurship, in particular. Female representation is highest in the manufacturing sector (13%), in part due to the role of inheritance which is far more common among female billionaires than their male counterparts.