Move over digital, make way for sustainabile transformation
4 min
As sustainability comes to the forefront of business planning, Bain looks at ways to capitalise on 'the next digital...
Sustainability has moved up the business league table in dramatic fashion. With its roots in ethical business and corporate social responsibility, it has turned into a financial growth area as consumers become more aware of sustainable credentials, regulators and governments shoot for ecological targets and consumption threatens to outstrip resources.
Sometimes, it's just good business too.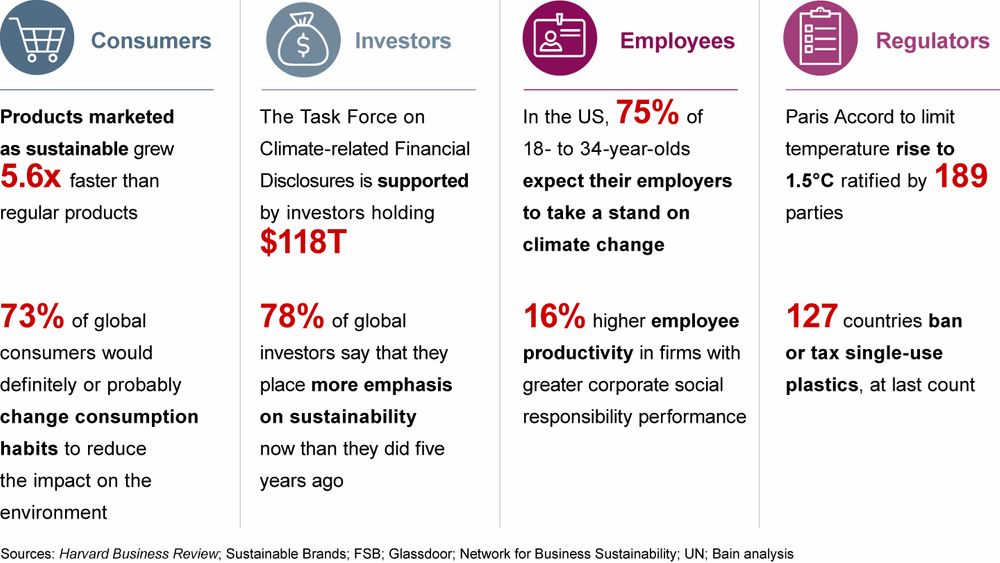 Sustainability has broadened in scope. Environmental threats now include weather systems and sea levels on top of extinction and pollution. Social, economic and governance challenges (race, gender, poverty, health) have moved into the mainstream.
If there is any doubt that sustainability is a business imperative comparable to technology, consider the actuals. Electric vehicle sales are up by a multiple of nine since 2014, Burger King is selling Whoppers with Impossible Food's meat-replacement patty. Future regulatory measures could cost the typical consumer products company 20-25 percent of its margins.
Sustainability has outlived the global financial crisis and Bain expects it only to be accelerated by some of the hyper local shifts effected by the Covid-19 pandemic, in which companies and consumers radically overhauled their supply chains to adapt to a sudden threat to the globalised norm. Many have found benefits in doing so and won't revert to pre-pandemic habits that have proven less efficient, more costly and/or more easily disrupted by future health or geopolitical events.
And that future also includes the International Monetary Fund's recommended per-ton carbon price of $75 (up from $25) in 2030.
The need for change is real and recognised at executive level, but businesses have found it hard to make the transformation stick. Bain's global research found that just 4% of sustainability initiatives succeed, against a wider change success rate of 12%. Nearly half failed entirely.
As with technology, those who have acted fastest and first stand to reap transformative rewards, with tardy entrants to the market left to scrabble in an attempt to compete in a market already dominated by newcomers. Plant-based meat could be worth $140bn by 2030. The alternative beverage market is growing at 12 percent a year. Sustainability-linked consumer product brands are growing six times faster than other brands as customer loyalty to existing brands fades.
How to find sustainable growth in sustainability
Bain recommends a four-point manifesto for enacting lasting and successful sustainability transformation.
1. Strategic choices for sustainability transformation
A Bain survey found that nine in 10 companies felt they needed to change their core business model to comply with a truly sustainable economy and nearly four in 10 felt they would need to change radically.
That means getting ahead of the pack. With vegan diets on the rise (up 600 percent in the US between 2014-17) and upwards of a tenth of the 16-24 age group in some European countries following a plant-based diet, Vion, a Dutch meat producer has pivoted to alternative meat as its next growth engine.
2. Product reinvention for sustainability transformation
Reinventing products need not be a case of making things differently. In some cases, creative thinking can do away with plastic packaging (Unilever makes toothpaste tablets in reusable containers) or reduce logistics costs (Procter & Gamble is selling dehydrated soap products that reduce transport emissions).
3. Operations reinvention for sustainability transformation
Exploration of the process can turn up unexpected efficiencies. Walmart measured delivery from physical stores against centralised delivery and found both models were more carbon efficient under different circumstances. It was able to conceive how retailers might optimise their carbon emissions and nudge consumer behaviour towards helping it achieve that goal.
4. Innovative partnerships for sustainability transformation
As with digital transformation, companies will need to find partners to help achieve sustainability targets. Because the goals are not exclusively profit focused in sustainability, there are opportunities to partner positively with competitors for mutual gain. The Consumer Goods Forum is a network of 400 consumer goods companies in 70 countries working to standardise food date labelling to reduce waste. The Alliance to End Plastic Waste, similarly, sees big brand product companies working on infrastructure and waste management projects.
To achieve these goals, Bain recommends envisioning the future as a different business environment but working towards that point today, taking care to quantify risk and disruption. By putting the transformation into sprints and regularly checking progress, missteps can be identified quickly and rectified before the point of no return. And seek new expertise by hiring, training and retraining.
For more information on business topics in the United States and Canada, please take a look at the latest edition of .
Follow Business Chief on and .
Sources: Bain
Charting the rise of the chief sustainability officer
4 min
Fortune 500 companies hired more chief sustainability officers in 2020 than in the previous three years combined. Business Chief charts the rise of the CSO
There has been a dramatic increase in the hiring of the chief sustainability officer (CSO) role among Fortune 500 companies, with demand for CSOs growing 228% in corporate America over the last decade, according to the latest report from CSO recruitment firm the Weinreb Group.
There were more first-time CSOs recruited by Fortune 500 companies in 2020 than the previous three years combined, with numbers of CSOs in corporate America soaring from just 29 in 2011 to 95 today, demonstrating the importance corporations are placing not just on reducing their environmental impacts, but also in supporting issues of social justice.
Businesses are increasingly under pressure to assume more responsible practices with customers, regulators and investors demanding increased transparency of business ESG performance.
And the past year in particular has been seen great upheaval, with increased new attention brought to "social justice, climate change, and an ever-widening political divide", according to Ellen Weinreb, founder and CEO of the Weinreb Group, which has tracked the rising role of CSOs over the past decade.
CSO role is expanding and shifting
But it's not just the number of CSOs that have changed, sustainability teams are getting bigger, with the average team size increasing from five professionals in 2011 to 15 today, according to the report. 
This is in part due to the fact that the CSO role has expanded beyond simply 'sustainability' to incorporate social justice too. Sustainability isn't exclusively about the environment anymore. The role has also come to incorporate social justice, especially with the rapid growth of, and increased attention on, environmental, social, and governance, or ESG.
And many roles recently have been renamed as such with Head of ESG or ESG Officer becoming increasingly prominent.
Women make up over half of CSO roles
What's also changed over the last decade is the percentage of women holding the title of Chief Sustainability Officer.
A decade ago, in 2011, the majority of CSO roles were held by men (72%), with just 10 of the 29 then CSO roles held by women. A decade on, in 2021, the percentage of women in CSO roles has almost doubled, now accounting for more than half (54%) of CSO positions.
However, according to the report 'The Chief Sustainability Officer 10 Years Later', despite the movement toward gender balance within the role and its expanded focus on social justice, in particular, in 2021 the CSO position remains overwhelmingly 'white'.
Probably not surprising considering there are just three black CEOs at Fortune 500 firms.
How the chief sustainability officer role has grown
The first-ever named chief sustainability officer in a US publicly traded company was Linda Fisher for Dupont, who joined the chemical giant in 2004 as CSO, just at the time when innovative companies were looking at sustainability as a driver for business growth. Joining from the Environmental Protection Agency where she spent 13 years, Fisher was a corporate sustainability trailblazer, spending more than a decade as CSO here, and leading DuPont's efforts to establish its first set of market-facing sustainability goals.
By 2006, a slew of firms had joined the CSO movement, including Mastercard, Nissan and Microsoft; and Kellogg's became the first firm to replace a CSO with Dianne Holdorf taking over from Celeste Clarke. And by 2011, a decade ago, Coca-Cola, Verizon, AT&T and P&G had appointed their first CSOs.
In fact, it was in 2011 when Virginie Helias invented her idea of the perfect CSO job – to make sustainable consumption not only possible, but 'irresistible' – and pitched it P&G's then CEO. A decade later, in 2021, and Helias is still in the job she first created.
The majority of CSOs have been internal hires, such as Peter Graf of SAP, who joined the software giant in 1996, and served as EVP for Marketing before being named CSO in 2009. The same is true at UPS, whose first-ever CSO, Scott Wicker, started at the package delivery giant 34 years before being named CSO in 2011. Increasingly, however, external hires are being made with organisations increasingly searching for more high-profile leading voices in the ESG forum.
In February 2021, JP Morgan hired former British high-profile Labour politician Chuka Umunna while just last month hotel chain Accor hired high-profile French politician Brune Poirson, who has previously championed the anti-waste law within the French government and was secretary of state for the environmental transition for three years.