Stripe, Alphabet, Meta, McKinsey debut carbon removal fund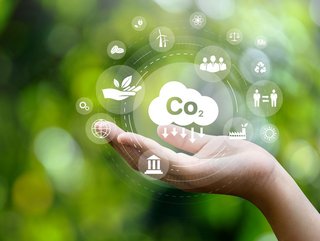 Stripe, Alphabet, Shopify, Meta and McKinsey pledge to invest almost US$1bn in carbon removal, driving technology improvement and cost reduction
Five big names in tech and consulting have joined forces to power carbon removal technologies, pledging millions to help drive technology improvement and cost reduction.
Stripe, which already has skin in the carbon removal game, having previously committed to spend US$1m a year to take CO2 out of the air, has launched Frontier, a wholly owned public benefit corporation; and together with partners Alphabet, Meta, Shopify and McKinsey, has pledged US$925m in funding until 2030 to buy offsets from promising carbon removal startups.
Current carbon reduction efforts aren't good enough
Most climate models agree that carbon reduction efforts won't be enough to avoid the worst effects of climate change. As of 2021, less than 10,000 tons of carbon dioxide have been permanently removed by new technology – 1 million tons short of the annual scale needed.
McKinsey research shows that the amount of carbon removals needed by 2025 to achieve the IPCC's 1.5-degree pathway will be missed by 80%, based on the current pipeline of projects.
This means investment is needed in emerging carbon removal technologies. According to Nan Ransohoff, Stripe's climate head, "If we don't hustle and figure out the real potential of these technologies, the world will be put in a challenging position".
Frontier will accelerate development of carbon removal technologies
Frontier not only aims to fund such technologies, with the US$925m pledge and the tens of thousands of companies that buy carbon removal through Stripe Climate, but also to get costs down by drumming up more demand for the service, helping scale the availability of solutions that cost less than US$100 per metric ton.
"Frontier will play a catalytic role in enabling the supply of high-quality carbon removals," says Dickon Pinner, senior partner and co-leader of McKinsey Sustainability.
Operating as an AMC (Advance Market Commitment), a concept piloted a decade ago in vaccine development, Frontier is designed to accelerate the development of carbon removal technologies by guaranteeing future demand for them and will be run by a team of technical and commercial experts, led by Ransohoff.
"With Frontier, we want to send a loud demand signal to entrepreneurs, researchers, and investors that there is a market for permanent carbon removal: build and we will buy," says Ransohoff.
"In practice, Frontier's team of technical and commercial experts facilitates purchases from high-potential carbon removal companies on behalf of buyers. Over time, we plan to open Frontier to new buyers to further increase demand and spur new supply."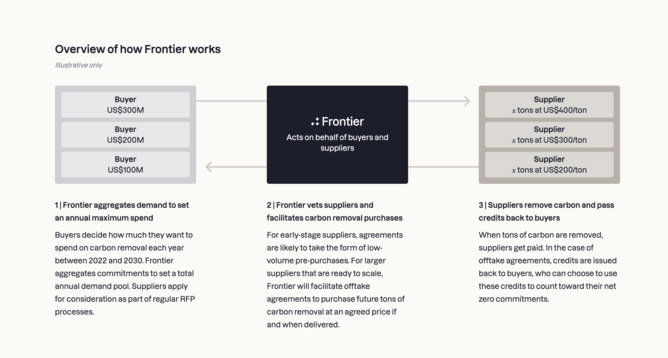 Stripe, Shopify and McKinsey have skin in the carbon offset game
Stripe's new subsidiary builds on the online payments platform's previous efforts to promote carbon removal technologies, having initially committed to spend US$1m a year to take CO2 out of the air in 2019, before offering customers an option to give a portion of the money they make from each sale to carbon removal projects in 2020. These customer contributions will also feed into the Frontier initiative.
Shopify has similarly led such an initiative with its Sustainability Fund backing the development of technologies that remove carbon from the atmosphere. To date, Shopify has partnered with more than 20 innovative startups, including Heirloom Carbon which is removing 1 billion tons of carbon dioxide by 2035 via a technology, called carbon mineralisation, that helps minerals absorb CO2 from the ambient air in days, rather than years.
And passionate about promoting the greening of the economy, consulting giant McKinsey recently launched a new practice specialising in sustainability and ESG.