Former Microsoft chief Dave Coplin on transformational tech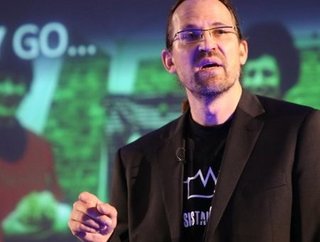 Dave Coplin
Microsoft's former Chief Envisioning Officer and CEO of The Envisioners, Dave Coplin, on how businesses should adopt transformational technology like AI
Founding CEO of The Envisioners, Dave Coplin, has over two decades of experience in technology and digital disruption. As Microsoft's former Chief Envisioning Officer, he offered strategic advice and guidance that delivered sustained growth. Today, Dave is a trending digital disruption speaker sought after by businesses who want to adopt transformational technology. Hear Dave's insight in this exclusive Q&A.
What are your predictions for emerging technologies?
I think the next big thing is the same old thing. Artificial Intelligence is really the only show in town right now and other shows are coming, but not for a few years.
AI is so important because it offers to automate a lot of the things that we do today and take for granted. When I say automate, we're not talking about robots on the factory floor, we're talking about software robots doing many of the things that we might do in a day.
AI basically works on patterns. So, if you're in a profession that works on patterns like accountancy, there's an element of that we can replicate, and we can get AI to do that. What AI really offers us is free time, and it's what we choose to do with our time that becomes really important.
We've seen this happen through the pandemic, we've learnt a new relationship with technology and we're now getting technology to do a lot more than before. Our future success is going to be measured by what we choose to do with the time that the technology has saved us, and that's where the fun is really going to start.
How can businesses better harness the benefits of emerging technologies?
There are some really easy things you can do. The first thing is really simple, just ask people, talk to your employees. What are the things that you could do to make their lives easier? What are their ideas or their experiences?
When I started my career, there was a handful of people who knew how technology worked. They were the people, like me, who you'd employ to do your IT. Well, it's different now! Every member of your organisation, every employee, is engaged with technology. They have their own experience. They've got their own ideas of what works and what doesn't work. So, the first thing I would do is ask them.
The same goes for your customers as well. You've just got to talk to them and ask them, 'what can we do to help? Where are the pain points? What can we do to smooth out the experience?' The key is to be open-minded.
The second thing is you need to learn to open your eyes. I get that sounds massively patronising, but as a business leader, you tend to have your head down in today's business, you're worried about today's priorities and you're just focused on your industry, in your company.
In a digitally connected world, it's easier to find out what's happening around the world and it's really important to find out what's happening in other sectors and markets. So, sometimes you've got to learn to take a bit of time to look around and see what's going on and what other organisations are doing. Again, not just in your sector, but outside of your sector. What are the customers doing? How are they relating?
So, talk to people, listen, get their input and canvass their input. Also, be open-minded and look at different ways of doing things.
What is the secret to capturing and maintaining audience attention in the digital era?
For me, it's a number of things. Number one, it's about being genuine and authentic. Nobody wants to hear from you if they're reading something that isn't genuine, authentic, or that they can read somewhere else.
Don't tell me stuff that I can go and read on your website - I'm not interested in it. I want to know what you think and your personal view. It's your colour and character that makes it exciting and engaging. Think about the content that resonates most with all of us.
I regard myself as a sort of quintessential technology evangelist. So, my job is to not excite you with the technology, but to excite you with what the technology can enable you to achieve. And for me, if I can do that in a genuine way and I can do it in a personal way.
So, quite often I'll talk about my own personal experiences and what happened to me. I'll mainly talk about the times it went terribly wrong and what I learnt from those times, which are very human and the bits that make any audience sit up and go, 'oh, that was really interesting'.
Whenever we're talking about audience engagement, I think, 'what am I giving you? What am I making here and how is that going to connect on a human level to the people I'm interested in?'
This exclusive interview with Dave Coplin was conducted by Mark Matthews.