McKinsey's 5 tips for business leaders to embrace space race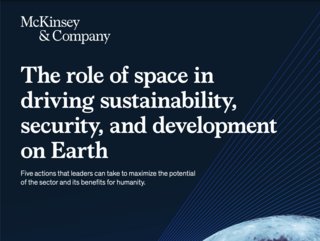 McKinsey report outlines five ways leaders can boost sustainability, improve security and drive global economic development by embracing space opportunity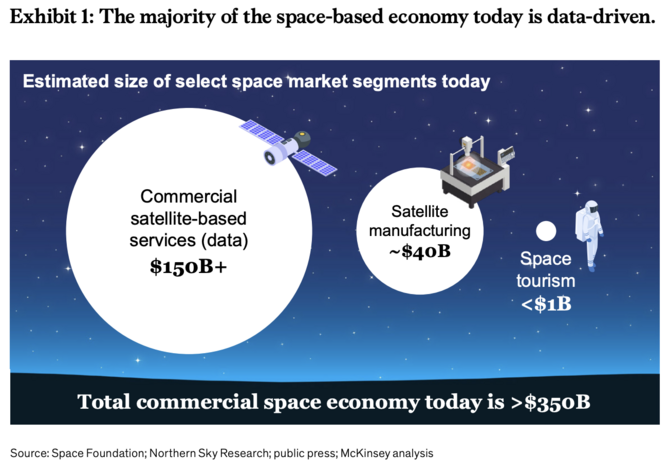 Around space 100 leaders from the public and private sectors spanning 25 countries took part in the report.
The space ecosystem is all around us and touches many aspects of daily life. The sector is at a crucial point, says McKinsey, as technological progress is unlocking new capabilities, encouraging more commercial funding in space, and making space more accessible for nations and the private sector.
High-profile examples of this are of course Elon Musk's SpaceX and Jeff Bezos' Blue Origin.
Four space sector scenarios to drive value generation
McKinsey's findings show that the space sector could develop into one of four scenarios:
Accessible, self-sustaining space economy
Global collaboration, widespread funding, and a healthy market landscape lead to unprecedented technological innovation. The space economy helps sustain itself and enhance life on Earth. Space develops into a safe and accessible space.
Domain of the Titans
Space activity grows and attracts funding while governance remains rooted in dated, limited frameworks. Space becomes cluttered with debris and becomes a playground for developed nations and ultra-wealthy companies. The full potential benefits of space are not realised.
Unrealised potential
Technical, economic, and regulatory challenges prevent the space economy from fulfilling its potential. Private funding dries up, and innovation grinds to a halt.
National security arena
A series of space disasters causes governments to take most responsibility for space activity. Regulations dampen innovation and investor interest. Commercialisation takes a back seat to national security interests.
Five actions leaders can take to embrace business of space
Most leaders believe that the self-sustaining scenario would maximise the potential of space. Achieving this would require the following five actions:
Create and implement effective space governance: Interviewees spoke about a framework for governing space activity being needed to maintain responsible behaviour and preserve space as an arena for all. This would define and enforce ownership, access, and usage rights for space property while also setting standards to protect life and the environment.
Invest resources and effort in enabling technologies and capabilities: These are seen as critical to the development of longer-term technologies and capabilities, and would likely require initial government funding.
Incentivise collaboration among nations, sectors, and industries: Widespread collaboration is seen as vital to accelerate technological development, make space more inclusive, expand participation, and promote the peaceful use of space.
Foster a self-sustaining industrial base: Leaders said government action and the rule of law are critical to building a private space industry.
Leverage the space sector more to advance sustainability and security: Space-based technology can play a central role in global sustainability and security agendas, provided that the international community adopts and accelerates relevant space technologies, such as Earth observation, carbon capture, and lightning mapping capabilities.
The report suggests that the success of each of these actions depends on global cooperation to develop an accessible, self-sustaining space economy as well as being dependent on governing principles, which need to be established sooner rather than later.
Read the full report: The role of space in driving sustainability, security, and development on Earth