Razer BlackWidow Ultimate 2013 Mechanical Keyboard Review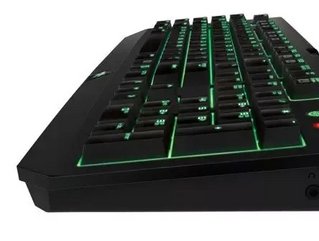 When it comes to gaming, writing emails or even typing up a paper, a mechanical keyboard is an incredible advantage. Whether you're looking to ace quests in popular PC titles like Bethesda's Skyrim or improve your typing speed, Razer has you covered with its Razer BlackWidow Ultimate 2013.
For my everyday computer work, Razer's BlackWidow Ultimate mechanical keyboard is a phenomenal improvement. Before this keyboard, I already categorized myself with fast typing skills, but with the adoption of the Razer BlackWidow Ultimate, I have become the fastest typer in my office which, when trying to transcribe as I conduct an interview, saves a ton of time and hassle.  
To test my typing improvement, I took an online typing test that measured your typing ability in one minute. With a regular keyboard, I had a typing speed of 88 wpm. With the Razer BlackWidow Ultimate 2013 I reached a speed of 96 wpm, a significant improvement.
 As someone who is passionate about the gaming industry, it's easy to see the advantages a mechanical keyboard can provide the expert PC gamer. The Razer BlackWidow Ultimate 2013's Cherry MX Blue keys require a 50g actuation force, which provides a consistent feel that will create more accurate and faster keystrokes, something any PC user can utilize. Its anti-ghosting capabilities work to a gamer's advantage, allowing the option to hit 10 keys at once with each key registering accurately in-game.
The Razer BlackWidow Ultimate 2013 also comes with individually backlit keys and its Synapse 2.0 software that can help brighten or dim the backlighting and also allow it to pulsate. Unlike regular keyboards, the Razer BlackWidow Ultimate also utilizes a sleek typography for each key that those that are graphically inclined will enjoy.
The only disadvantage I have found as of yet is the keyboard's loudness, which is typical of mechanical keyboards. In an office setting, which is where I am testing, a lot of my coworkers dislike the sound that I make when typing quickly and some have compared the keyboard's sound to that of an airport check-in desk keyboard. In the end, I've decided it's a sacrifice they will have to make due to the advantages I have received since switching keyboards. To combat issues with mechanical keyboard volume,  Razer has a quieter version of this keyboard, the Razer BlackWidow Ultimate Stealth, that works for sound-sensitive environments.
Let's get down to tech specs. The Razer BlackWidow Ultimate 2013 provides full mechanical keys with 50g actuation force, individually backlit keys, 1000Hz Ultrapolling/1ms response time, programmable keys with on-the-fly macro recording, has a gaming mode option that allows for the deactivation of the Windows key, unlimited customizable profiles, 5 additional macro keys, braided fibre cable, audio-out and mic-in jacks, and USB-passthrough.
"The latest edition of Razer BlackWidow Ultimate now features green backlighting and an anti-fingerprint matte black finish so not only can you feel, but also see the difference as you win with this ultimate mechanical gaming keyboard. The Razer BlackWidow Ultimate is also equipped with improved anti-ghosting which supports up to 10 simultaneous key presses in gaming mode, allowing  gamers to destroy the competition with as many attacks and skills as there are fingers on their hands, and have them all registered accurately in-game," said Razer in an official press release.
The Razer BlackWidow Ultimate 2013 was launched in July 2012 and is currently available on www.razerzone.com for $139.99.