The Meta Daisies prepare to rock the metaverse for Gen Z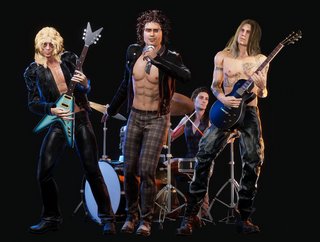 Digital rock band The Meta Daisies launch assault on the metaverse with debut single and meta-cinematic, backed by metaverse experts Avakin Life
Remember the days when rock bands would launch vinyl albums or cassettes? Then came CDs, only to be overtaken by digital downloads and streaming. Now, the music industry enters a new era, with the world's first metaverse rock band releasing its debut single and 'meta-cinematic' (music video for the MTV generation).
The Meta Daisies group is the digital incarnation of The Dead Daisies – a supergroup comprised of legends from bands Deep Purple, Whitesnake and Dio. Along with their label and management Spitfire Music and a team of metaverse experts, the band hopes to reach a new generation of fans in the metaverse.
Gaming company Altergaze – creators of HoverGrease and pioneers in VR and XR – are behind that meta cinematic for the song 'Radiance', which provides a glimpse into the band's home, Daisyland.
Fans can visit Daisyland in the Avakin Life metaverse from 9-16 June, before the metaverse-agnostic band go on a virtual tour of other platforms.
Metaverse is new music frontier for next generation of fans
"The metaverse is a new frontier for music, and what better place is there to keep the rock legacy alive?" says David Edwards, the band's manager. "The Meta Daisies is an exciting new hard-rocking band that is boldly going where no band has gone before. They are bringing everything that we love about rock to a whole new generation, and 'Radiance' is just the beginning!"
Backers of the project include The Dead Daisies guitarist and Australian financial magnate David Lowry, and an expert metaverse team that has worked on projects including League of Legends, Marvel, Angry Birds, Tomb Raider, Final Fantasy IX, and Transformers.
As reported previously in Business Chief, the potential for the metaverse is huge. Research by Bloomberg analysts suggests that the metaverse is expected to grow into an US$800bn market by 2024, while JP Morgan believes the economics of the metaverse (metanomics) poses a market opportunity of US$1 trillion in annual revenue. And last month, investment bank Citi said the metaverse economy could be worth US$13 trillion by 2030.
And according to Gartner, by 2026, 25% of people will spend an hour a day in the metaverse.
In its simplest definition, the metaverse refers to a unified and persistent virtual environment accessed via extended reality (XR) technologies, with opportunities for businesses including everything from real estate ownership to virtual events, product sales, gaming and socialising.
Meet The Meta Daisies