Price value sustainability during inflation – McKinsey
By McKinsey's Niels Adler and Nicolas Magbette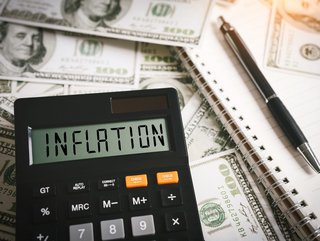 McKinsey's Niels Adler and Nicolas Magbette on how industrial players are paying more attention to their pricing strategies to cope with inflation
Following decades of limited cost volatility, dealing with rising inflation is now a key topic in the boardrooms of advanced-industry companies worldwide. Many organisations are struggling to adjust to this new environment because their sales teams have never had to negotiate price increases of this magnitude with their customers.
They often have limited transparency into the impact of individual cost drivers on prices, making it difficult to calculate the price increases required.
Today's inflationary environment results from several specific trends, including strong demand growth in the post-pandemic world as global industrial activity quickly rebounded. Supply chain constraints have resulted in the limited availability of certain materials and products and ensuing cost volatility.
Supply chain disruptions such as rising freight costs, lockdowns in China, and Russian supplier sanctions have also contributed to the scarcities.
While these trends show no signs of abating, economic concerns are growing, and companies are wondering how they should adjust their pricing to offset constant inflation without jeopardising future revenues.
Industrial companies have done well so far
The past year has produced profitable growth for manyB2B companies in the industrial space. Our research suggests they have experienced both rising revenues and profitability.
McKinsey recently analysed 55 European B2B companies active in advanced industries, gathering quarterly financial performance data for the past two years and reviewing all quarterly reports from the past 15 months.
The analysis revealed that 60% of advanced-industry B2B companies have mentioned using active pricing management techniques when discussing their quarterly results. That's more than the 40% that have discussed the implications of cost inflation in the same situations.
Among companies that improved their profitability the most, a high share mentioned their pricing activities. When discussing pricing activities, these companies use determined language, such as taking "bold pricing action" or "swift product pricing in response to increased commodity prices and inflation."
In fact, the top 25% of companies improved their profitability – in terms of average earnings before interest and taxes (EBIT) – by over 10 percentage points. That compares with an average (weighted by revenue) of about four percentage points for all the companies analysed. These top companies also increased their revenues by 27% and tended to engage seriously in active price management.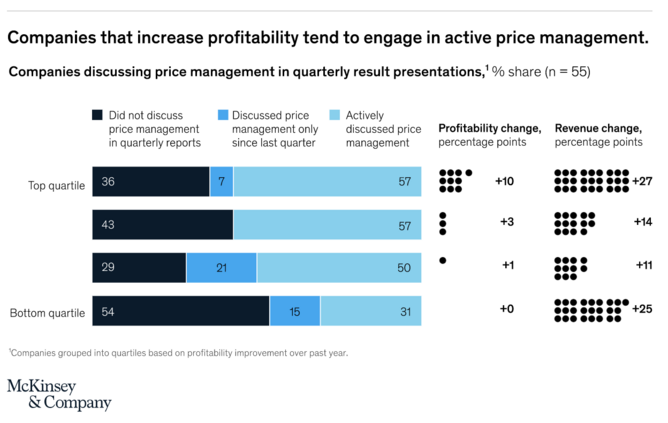 Active pricing remains difficult to implement
Not all active pricing initiatives in advanced industries work out. Some have less impact than expected in improving an organisation's profitability position. This happens not only because successful pricing projects can be difficult to execute but also because of the wide range of business models used in the industry.
One result of this lack of a universal pricing template is that companies often end up losing value related to pricing opportunities on the table. This happens for three main reasons. First, some companies do not sufficiently understand their cost breakdown, so they cannot offset price increases fast enough when facing cost disruptions. Second, they issue messy contracts that often fail to mention specific inflation-related remedies to derisk the business. Third, they have a general lack of capabilities to manage their pricing execution.
McKinsey's analysis shows that up to two-thirds of price improvement leaks result from inadequate strategies and a lack of policy and process support, including undefined strategies for negotiating cost increases.
Taking action across three horizons for pricing initiatives
Companies could benefit from defining three time horizons for their pricing initiatives. Today, we observe companies focusing heavily on short-term measures as they act in emergency modes to prevent profitability erosion. However, now is the time to also elevate the company's focus on advancing pricing capabilities to the next level.
Short term – triage
Full order books and long delivery times can constrain a company's ability to act in the short term. There are, however, several steps organisations can take, such as acting on the inflation clauses already included in their supplier contracts or allocating remaining capacity and stocks to the highest margin geographies when possible. They can introduce surcharges for specific cost items such as energy and transport and set value-based target prices using advanced-analytics models.
Midterm – recast pricing processes
While companies have more latitude in the midterm, some hurdles remain. For example, IT systems can take a long time to replace or upgrade, and strong pricing talent is scarce. Nonetheless, companies can work to modernise pricing processes by using advanced analytics.
Companies can also redesign approval workflows to ensure that deal reviews take place at appropriate levels and introduce dynamic pricing that will automatically factor in changes in the core business drivers.
A closer collaboration between procurement and sales – involving data exchange, organisational connections, and processes – allows companies to create forward-looking views on particularly sensitive cost drivers.
Long term – lock in new pricing methods
Even in the long term, advanced-industry players can feel some constraints due to extremely long product innovation pipelines with extended lead times. Companies should review their product ranges to ensure that they meet various customer needs, ensure that their innovation pricing is fully value based, and regularly refresh the capabilities of the pricing and sales teams.
Few managers today have experience dealing with inflation of the kind they now face. While perhaps unprepared, they do have a toolbox of proven analyses available to conduct a quick fact-based assessment of their organisation's pricing potential.
SUMMARY
Most industrial companies recognise the need to address inflation, but many lack the capabilities and talent they need to do so effectively. To face and embrace the challenge, managers should build their plans across three time horizons – short term, midterm, and long term – and adjust their strategies with specific tools and techniques to accommodate each horizon.