Top 10 five-star hotels in New York ranked by Tripadvisor
The Dominick Hotel is one of New York City's top 10 five-star hotels, according to Tripadvisor. Picture: The Dominick/Cision
Business Chief looks at the top 10 five-star hotels in the bustling American metropolis of New York City, according to travel review site Tripadvisor
Luxurious hotels certainly aren't in short supply when it comes to visiting New York City.
The City That Never Sleeps is, rather amusingly, packed full of places where tourists and business travellers alike can rest their heads for the night.
Here, Business Chief takes a look at the top 10 five-star hotels in New York City, according to traveller reviews on Tripadvisor.
10. Lowell Hotel
Located a stone's throw from Central Park, the Lowell Hotel is the embodiment of elegance and sophistication.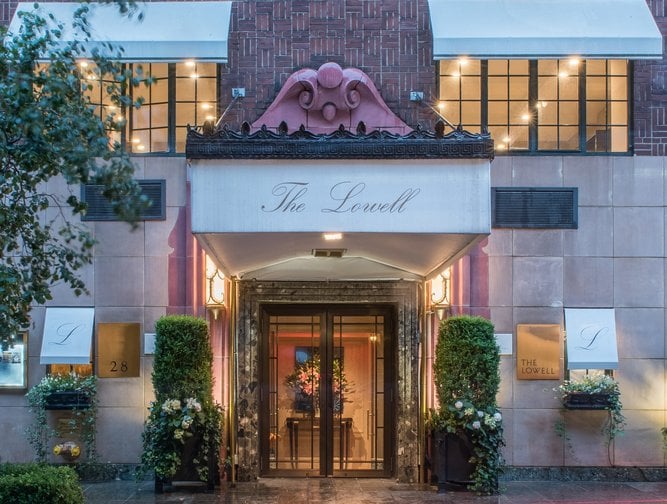 The Lowell Hotel is located a stone's throw from Central Park. Picture: The Lowell Hotel
Guests can enjoy seasonal cuisine at the comfortable yet luxurious Majorelle restaurant, or sip Manhattan's best martinis at the Jacques bar. Meanwhile, the Club Room offers a quiet setting to escape from the hustle and bustle and unwind.
Staying here positions you a short walk from the luxury fashion houses of Madison Avenue and the shopping district of Fifth Avenue
9. Conrad New York Downtown
Conrad New York Downtown consists of suites – and only suites.
Perfectly positioned for the Financial District, this Hilton hotel offers stunning views of the Hudson River looking across to Jersey City, while the Loopy Doopy Rooftop Bar (open May through October) is not to be missed for its vantage point and signature poptails.

Inside the Conrad New York Downtown. Picture: Rocean/Conrad
Those travelling for business can network in 30,000 sq ft of events space spanning two floors.
8. The Dominick Hotel
Situated on the edge of SoHo, The Dominick is the only independent hotel in New York City with the sought-after Five Diamond designation from AAA.
Highlights include its new Michelin-starred restaurant, helmed by Chef Shaun Hergatt and featuring creative, seasonal plates with a particular focus on fresh seafood.
In both the rooms and events space, floor-to-ceiling windows offer some of the finest views in Manhattan.
7. The Mark Hotel
The Mark bills itself as New York City's "most boldly lavish" hotel.
You only have to look at the website's rolling strapline, which consists of one-line reviews from some of the most esteemed publications in business and travel writing, to gauge its reputation.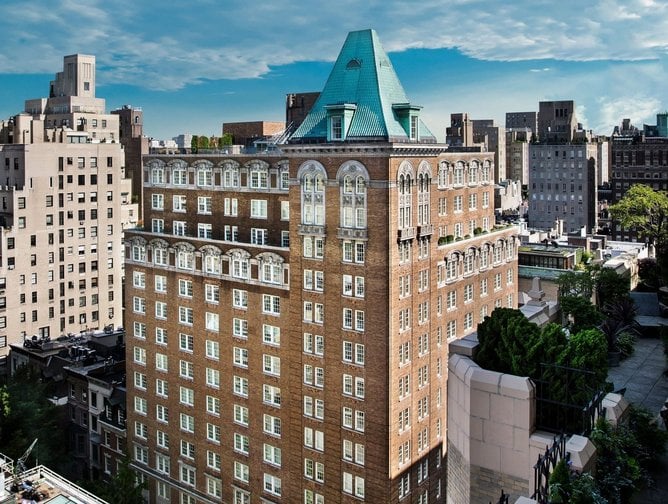 The Mark Hotel in New York City. Picture: PRNewsfoto/The Mark Hotel
With interior design by French visionary Jacques Grange, each room marries high-visual style with uncluttered comfort. Grange collaborated with Parisian antiquaire, Pierre Passebon, to commission a range of art, furniture and lighting fixtures which were specially crafted for The Mark.
6. Crosby Street Hotel
Considering its position in the heart of New York City's vibrant SoHo neighbourhood, Crosby Street Hotel is situated on a relatively quiet cobbled street.
Guests can make the most of a well-equipped gym and a state-of-the-art screening room is ideal for conferences and private events.
Interior design by Kit Kemp makes for a fresh, contemporary style, while a private leafy garden and guest drawing room are ideal spaces to relax.
5. The Bowery Hotel
There is an undeniably sophisticated vibe at The Bowery, where guests will feel like they are stepping back in time – in a good way, of course.
Think dim lighting and velvet upholstered seating in the lobby, complemented by dark wood and luxury marble bathrooms in each bedroom.
Gemma, the Italian Trattoria restaurant on the ground floor, is the highlight. The authentic setting is magnificent; the cuisine both rustic and seasonal, to be accompanied by an extensive Italian wine list.
4. The Langham New York Fifth Avenue
There's a certain refined simplicity about the rooms at The Langham, while no less than nine events spaces can accommodate all types of gatherings.
Michelin-starred Ai Fiori translates as 'among the flowers', and a spectacular floral display running from the front window all the way up to the restaurant itself certainly justifies the name.
Behind the front desk you'll find two huge oil paintings by famed New York artist Alex Katz, the first in what has become a collection of 10 original artworks displayed throughout the hotel.
3. Equinox Hotel New York
Equinox describes itself as an "urban oasis that creates the perfect retreat to restore and recharge".
What sets the hotel apart from its competitors is its fitness and wellbeing offering, featuring the Equinox Fitness Club with its unparalleled views of Vessel and the Hudson River.
In the spa, guests can select from a range of treatments including inter-modal experiences, cryotherapy and quantum harmonics, while the outdoor terrace and pool take the relaxation levels up another notch.
2. The Towers at Lotte New York Palace
A name like The Towers at Lotte New York Palace suggests guests are going to be treated like royalty, and this Midtown Manhattan hotel duly delivers.
On offer is a glamorous collection of bespoke rooms and spacious suites across 14 floors, not to mention triplex penthouses with custom furnishings and stunning skyline views.
Personal service is pretty much second-to-none at The Towers. Perks that don't go unnoticed include a maître d'etage butler service, complimentary shoe shining and a packing/unpacking service.
1. Pendry Manhattan West
Perhaps a lesser-known hotel in comparison to the majority of entrants in Tripadvisor's top 10, Pendry Manhattan West is clearly doing something right having amassed a five-star rating from travellers.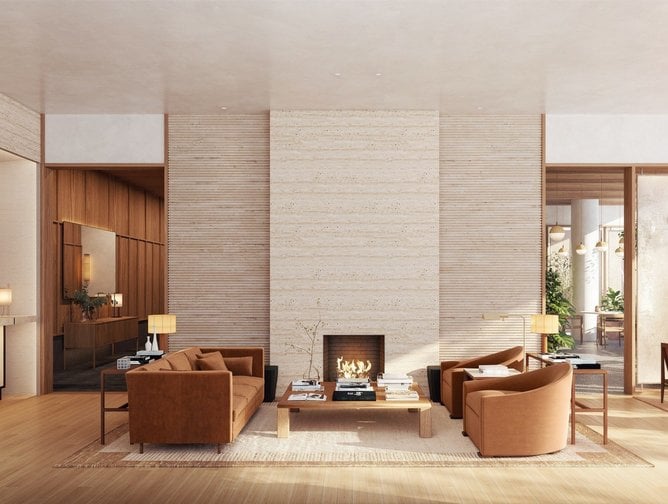 Pendry Manhattan West is the top-rated five-star hotel in New York City according to Tripadvisor. Picture: Pendry Hotels
This West 33rd Street paradise simply exudes class, with stunning interiors that incorporate a California-inspired take on progressive luxury, and an intimate lobby bar combining the essence of old New York with modern grandeur.
That's without mentioning Chez Zou cocktail lounge, where guests are told to "expect the unexpected" with creative, curated cocktails that riff on the classics.