Digital transformation – think big, start small, scale fast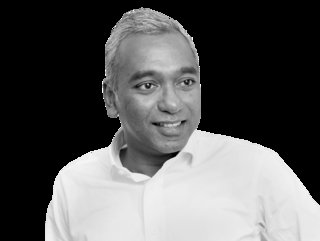 Christy Kulasingam, Founder of Radbourne Consulting, shares his top 4 tips to drive commercially-astute and business outcome-driven digital transformation
According to the International Data Corporation, global spending on digital transformation (including business practices, products, and organisations) was forecast to reach a massive $1.8 trillion in 2022. This was an increase of 17.6% over 2021.
Business leaders face a challenging, 'poly-crisis' landscape in 2023. Effective digital transformation is a valuable tool for leaders looking to make efficiency gains, cost savings, and innovative business model changes.
However, achieving tangible returns on investment (ROI) from transformation initiatives is not as simple as first appears. Many leaders struggle to define clear strategic objectives and assess impact on core business outcomes.
"Ultimately, the key for successful digital transformation is: think big, start small, scale fast," explains Founder of Radbourne Consulting Christy Kulasingam, who has been helping progressive leaders to overcome transformation fatigue and design impactful, trackable strategies for over twenty-five years.
"At the 'think big' stage, the strategy, governance models, architecture, and expert hubs should be clearly defined. Only then should you progress to the start small stage. This includes crafting carefully designed experiments to prove or disprove hypotheses. The final scale fast stage is where you roll out enterprise-wide or even ecosystem-wide. Integrate within all aspects of operations until it is business as usual," he explains.
To kickstart this process, Christy has shared his top four tips to drive commercially-astute and business outcome-driven digital transformation:
Define the 'transformation' – Not every digital initiative warrants the use of the T-word (transformation). Small feature updates are unlikely to have a wide transformational impact on your organisation. Or they might just be a contributing part of a Big-T transformation. Definite what is truly transformational, carefully considering how this will move the dial on your key business outcomes.


Are you trying to do too much? – It is easy to call something 'transformational'. Without defined priorities however, this list can quickly mount up. Start the pruning by identifying the most impactful initiatives for the chosen business outcomes, achievable in realistic timelines with the talent and budget you have. Transformation is a journey, but it cannot be never-ending or without clear parameters on progress.


Prioritise transparency – Everyone in the company should know exactly what it is you're aiming for, it's relevancy, how it's going to be achieved and the criteria for assessing when objectives have been met. High achievers are much more likely to get involved if you activate loudly, regularly, and accurately. Transparency demonstrates senior leaders' commitment to transformation success and a collaborative mindset to solve the inevitable problems along the journey.


Be open to adjustments – As the initiatives progress, priorities will also shift. The impact criteria are likely to change as you clear, or do not clear, hurdles on the journey. Being open to making adjustments and reprioritising will ensure your transformation initiative delivers the strongest ROI.
"Digital transformation is not an easy undertaking, especially in an already challenging business climate. Avoiding missteps rests on crystal-clear understanding of what is 'Transformational', proper prioritisation, openness to adjustments, and a willingness to risk over-communicating," says Christy.
About Christy Kulasingam ​​​​​​​

Christy Kulasingam is an experienced business strategist and founder of Radbourne Consulting. A portfolio entrepreneur, he was born and raised in Sri Lanka until 18 years old. Christy then moved to the US where he achieved a double major in Computer Science and Economics, which fuelled his curiosity for marrying the two subjects in business.
After a successful 14-year global consulting career with Andersen and Deloitte, Christy founded Radbourne Consulting in London in 2009, where he delivers strategic business advice to blue chips, scaling businesses, entrepreneurs, and investors. Christy also brings hands-on operational experience as the founder of multiple ventures and as an interim executive.
His most recent venture is In•Side•Edge, a boutique consultancy and innovation studio that helps businesses tap into the world-class insights of sporting elites.
More information can be found on http://radbourne.co/.