Fortinet survey: 80% of cyber breaches caused by skills gap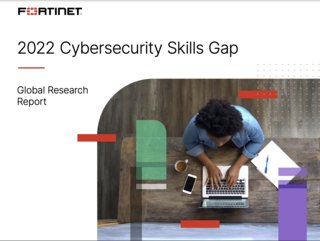 Cybersecurity skills gap and shortage of talent is responsible for 80% of breaches says new global report from Fortinet
Cybersecurity solutions leader Fortinet has released its 2022 Cybersecurity Skills Gap Report which reveals that a shortage in cybersecurity skills continues to impact organisations.
According to (ISC)'s 2021 Cyber Workforce Report, the global cybersecurity workforce needs to grow 65% to provide effective protection of critical assets, equating to more than 2.7 million professionals.
Fortinet's report says 8 in 10 organisations surveyed suffered at least one breach they could attribute to a lack of cybersecurity skills or awareness. Globally, 64% of organisations experienced breaches that resulted in loss of revenue, recovery costs or fines.

As a result of these losses, cybersecurity is becoming a higher priority at board level. Globally, 88% of organisations that have a board of directors say their board asks questions about cybersecurity while 76% have a board that recommends increases in IT and cybersecurity employees.
The survey was conducted among 1,223 IT and cybersecurity decision-makers from more than 25 different locations, including India, Singapore, Japan, Australia, South Africa, UAE, UK, US, France, Germany, Brazil, China, and Canada. Respondents came from a range of industries, including technology (28%), manufacturing (12%), and financial services (10%).
Advancing cybersecurity skills with training and certifications
The report demonstrated that training in cybersecurity skills is crucial for organisations to tackle the skills gap. It says 95% of leaders believe technology-focused certifications positively impact their role and their team, while 91% of respondents said they are willing to pay for an employee to achieve cyber certifications. This is due to their validation of increased cybersecurity knowledge and awareness.
"The skills gap isn't just a talent shortage challenge, but it's also severely impacting business, making it a top concern for executive leaders worldwide," said Sandra Wheatley, SVP Marketing, Threat Intelligence and Influencer Communications at Fortinet.
"Through Fortinet's Training Advancement Agenda (TAA) and Training Institute programs, we are committed to tackling the challenges revealed in the report through various initiatives, including programs focused on cybersecurity certifications and recruiting more women into cyber. As part of this commitment, Fortinet has pledged to train 1 million professionals to increase cyber skills and awareness and make a dent in the skills gap by 2026."