US tech talent demand growing and changing, despite layoffs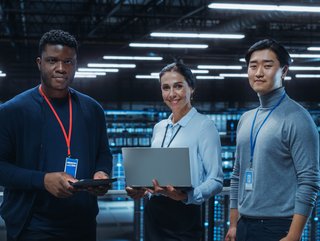 Getty Images
We look beyond headline-catching tech layoffs to understand the biggest changes in the U.S. tech workforce and how it is growing in both depth and breadth
Reading news headlines about tech company layoffs over the last year, you would be forgiven for thinking the tech industry was on its knees.
The U.S. tech industry is estimated to have laid off more than 97,000 in 2022, up 649% from the 12,975 in 2021, a report from Challenger, Gray & Christmas finds. And, since the start of the year, 297 U.S. tech companies laid off nearly 95,000 workers, according to data compiled by Layoffs.fyi.
PayPal, Google, Microsoft, Meta, and Apple have been among the big-tech firms announcing mass layoffs, with Amazon recently announcing its second round of layoffs, slashing 9,000 more jobs, and bringing the total so far this year to 27,000.
In fact, tech hasn't experienced widespread layoffs like this since the 2008 financial crisis.
But while looking at the layoff numbers is certainly alarming, in reality, they represent a small share of tech firm workforces.
Tech workforce now bigger than pre-pandemic
Data from non-profit CompTIA's just-released annual State of the Tech Workforce report, shows that despite layoffs throughout 2022, there was an increase in tech business establishment of 7.5% in 2022 – the equivalent of more than 40,500 extra companies. Not just that, but net tech employment grew by 3.2% nationally, with the number of people employed in technology increasing by an estimated new 286,400 workers.
This brings the number of people working in tech jobs, spanning both technical and non-technical workers employed by tech firms and in other industries to 9.1 million.
The fact is that even with the layoffs, all five big-tech firms have bigger workforces now than they did before the pandemic.
Gartner research backs this up with companies behind the 10 largest layoffs in tech talent still employing more than 150,000 more people in total than at the beginning of 2020.
"The tech talent crunch is far from over," says Gartner's Senior Director Analyst, Mbula Schoen. "Current demand for tech talent greatly outstrips supply, which Gartner expects will be the case until at least 2026, based on forecast IT spend.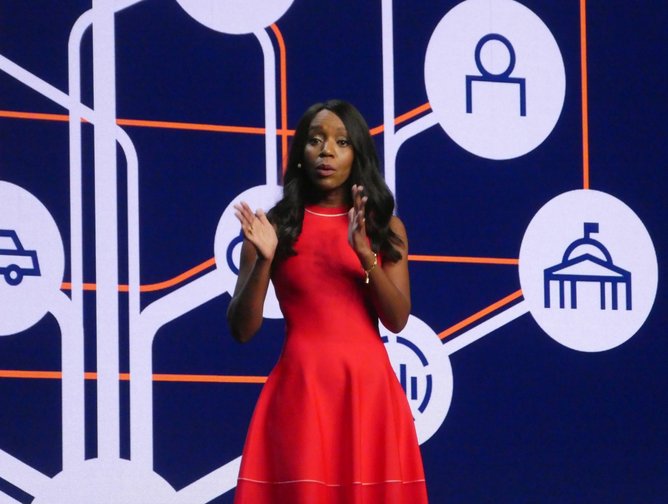 Gartner's Senior Director Analyst, Mbula Schoen, says the tech crunch is far from over
Tech talent crunch not over – IT skills still in short supply
CompTIA is also positive in its forecast, predicting a 3% increase in tech employment, more than 272,000 jobs, for 2023, and projecting growth rate for tech jobs over the next decade as nearly twice the national jobs rate.
Mbula argues that contrary to what we're seeing in the headlines, many of those being impacted by layoffs are in business functions, rather than tech roles per se. Also, increasingly, the tech jobs are popping up outside traditional tech companies.
"Many of the reductions in force from the last several months were largely driven by public companies seeking to optimise share prices and to satisfy shareholders' desire for reduced spending," she explains. "While these layoffs have been described as an adjustment after over-optimistic hiring, data shows that new hires were not necessarily impacted."
Which is why she insists business leaders must not misinterpret this current wave of layoffs, but instead look beyond the noise of headline-catching layoffs to see the signals coming from the market.
"The IT skills shortage is critical, with CIOs losing their talented employees faster than they can hire them," says Mbula, pointing to key function areas such as data science, software engineering and cybersecurity.
More depth to tech roles – emerging technology skills in demand
And in fact, according to the latest CompTIA data, software developers, cybersecurity analysts and data scientists are the tech roles projected to see the most growth this year – with supporting infrastructure-focused roles such as network and cloud engineers and IT support specialists also expected to grow in demand.
Roles requiring emerging technology skills are likely to surge too, given that nearly one-third (31%) of all tech job postings in 2022 were for such roles.
"The data continues to confirm the degree to which technology underpins so many facets of business activity across the economy and the breadth of employers reliant on technical and digital skills, Tim Herbert, Chief Research Officer for CompTIA says.
It is not just in depth, but also in breadth, that the tech workforce is changing, as demand for tech talent increasingly moves beyond tech-only firms to more mainstream industries, from retail to banking to healthcare.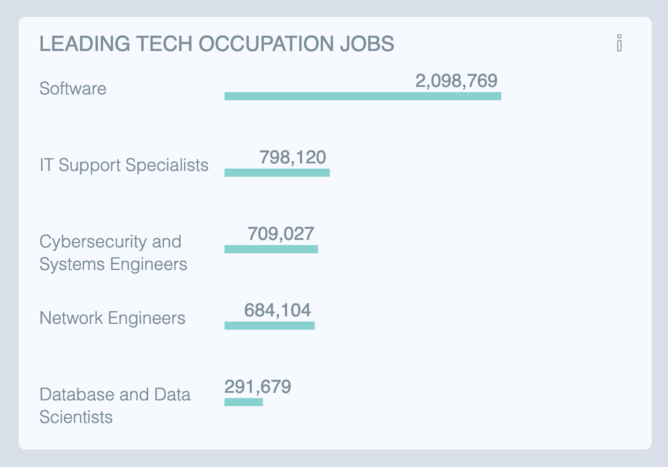 CompTIA
More breadth – tech stretching wider and further
The biggest industry demand for tech talent? The professional, scientific and tech services industry, which witnessed the largest number of job postings for tech roles in 2022 (35,257). Finance and insurance (24,735) and manufacturing (20,246) also had healthy numbers.
And in 2023, the picture looks similar, with tech manufacturing adding a further net new 2,800 jobs in February, marking the fifth consecutive month of positive gains.
With this increasing spread of tech talent across more industries and sectors comes the spread of tech talent in more and more regions throughout the U.S., rather than confined to established tech hubs.
Traditionally, tech has clustered in regions, such as the Silicon Valley corridor of San Francisco to San Jose, but over the past few years, a stagging 86% of tech employment growth has occurred in other metro areas across the country, Tim says.
In fact, all 50 states and the District of Columbia saw increases in tech employment last year, with Texas leading the nation, adding more than 45,000 jobs, followed by California (38,000+), Florida (22,029+), New York (18,00+) and Washington (17,000+), CompTIA's report found.
And more jobs, 50,000 in 2022, are being created in what is considered 'under the radar' states – those generally not view as tech hubs. Among these rising tech states are South Carolina, Indiana, Alabama, Kansas, and Idaho.
Salaries in non-traditional tech hubs are rising too, with high-tech salaries no longer limited to the coasts, a new Tech Salary Report from Dice finds.
Non-traditional tech hubs like Colombus, Ohio, saw average tech salaries increase by 16% y-o-y, while Phoenix in Arizona witnessed the fastest salary growth last year with a 26.2% increase. Portland in Oregon and Charlotte, North Carolina, saw rises too of 15.5% and 11.1%, respectively.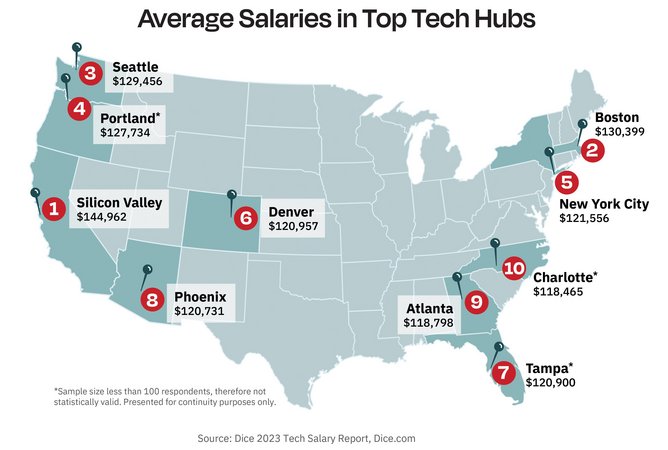 DICE report