15 American companies pledging aid for Ukrainian refugees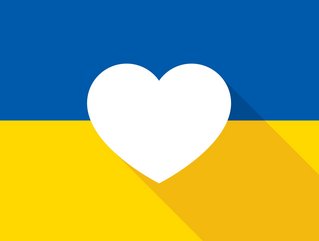 From tech and ecommerce giants to banks and carmakers, we highlight 15 US-headquartered companies that have announced pledges to relief efforts in Ukraine
More than one million Ukrainian refugees are now estimated to have crossed the embattled nation's borders, according to UNHCR data, with nearby neighbours Estonia, Hungary, Latvia, Lithuania, Moldova, Poland, Romania, Slovakia and Germany all accepting refugees.
While many companies are supporting the sanctions and have announced plans to cut ties with Russia, many more are supporting humanitarian relief efforts pledging donations of products or finance to organisations supporting displaced people in the region including International Red Cross, UNICEF USA, UNHCR, Global Giving, Save the Children, Project HOPE and World Help,
While some companies like Visa and Mastercard are making one-off donations to non-profit organisations, others like IBM and Intel have set up internal schemes encouraging employees to make donations, which the organisations say they will then match.
From tech and ecommerce giants to consulting firms, banks and automakers, we spotlight 15 US companies who have pledged support of the humanitarian efforts in and around Ukraine.
1. Wells Fargo
Wells Fargo has pledged to donate US$1m to three non-profit groups helping Ukraine and refugees fleeing invasion by Russia, including American Red Cross, World Central Kitchen and USO. In addition, the leading financial services firm is making it easier for its employees to support these organisations through its internal employee giving system. Wells Fargo is also amplifying employee generosity to these organisations via its Community Care Grants program, allowing donations of US$1,000 to qualify for additional grant dollars to further extend impact.
2. PayPal
Following sanctions on Russia made by a number of banks, US-based digital payment giant PayPal has paused onboarding new users in the country and has ramped up facilitating cross-border transactions and its Xoom service for international money transfers in Ukraine – to "enable donations to non-profit fundraising efforts in support of Ukrainian humanitarian relief efforts", the payments firm said.
3. Ford Motor Company
As well as suspending its commercial van manufacturing in Russia and sales of cars to Russia, Ford announced it plans to donate US$100,000 to the Global Giving Ukraine Relief Fund. "As a part of the global community, Ford is deeply concerned about the invasion of Ukraine and the resultant threats to peace and stability. The situation has compelled us to reassess our operations in Russia," Ford said in a statement.
4. Starbucks
While Starbucks has not closed its 130 stores in Russia, which are wholly owned and operated by a licensed partner, the coffee giant announced on its website plans to donate any royalties received from its business operations in Russia to humanitarian relief efforts for Ukraine. Also, the Starbucks Foundation has contributed US$500,000 to World Central Kitchen and the Red Cross for humanitarian relief efforts for Ukraine.
5. JPMorgan
US bank JPMorgan is making a financial contribution to Ukrainian aid efforts. In a statement on Instagram, the bank's chief executive Rich Handler announced a donation of US$1m. The bank, which is the most active international investment bank in Russia, also said it will match contributions from its 4,500 employees.
6. Intel
Following a statement condemning the invasion of Ukraine by Russia, Intel said it would suspend "all shipments to customers in both Russia and Belarus" and had also begun raising funds for relief efforts. "We have launched an employee donation and matching campaign through the Intel Foundation that has already raised over US$1.2m for relief efforts, and we are proud of the work our teams in surrounding areas including Poland, Germany and Romania are doing to aid refugees."
7. Neiman Marcus Group
A long-time supporter of the Red Cross network, Neiman Marcus Group announced on LinkedIn that the retailer had made an initial donation to the International Committee of the Red Cross – ICRC, to fund their humanitarian efforts for individuals affected and displaced by the war. "At NMG, we believe in the Power of One, harnessing the power of working together to support a common cause, which is why we are also matching donations made by our associates to support refugee relief through our Disaster Relief Fund," said chief executive Geoffroy van Raemdonck.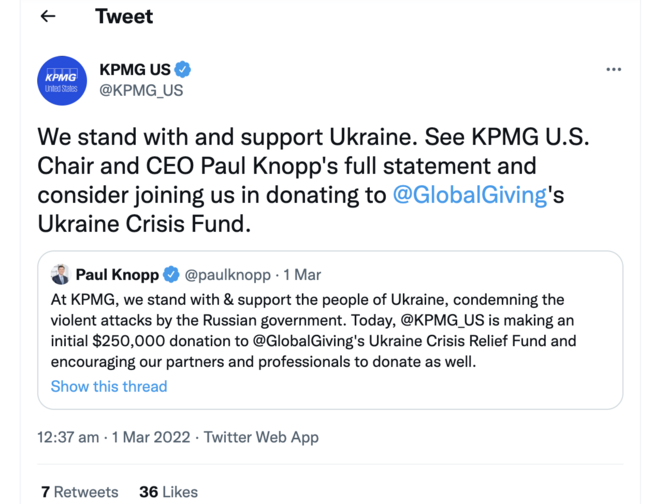 8. KPMG US
Condemning the "violent attacks by the Russian government", US CEO of KPMG Paul Knopp announced on Twitter an initial donation of US$250,000 to GlobalGiving's Ukraine Crisis Relief Fund. Knopp added that the consulting firm was "encouraging our partners and professionals to donate as well".
9. Amazon
Amazon is working with NGOs and employees to offer immediate support to the people of Ukraine. Amazon is donating US$5 to organisations including UNICEF, the World Food Programme, Red Cross, Polska Akcja Humanitarian and Save the Children. The ecommerce giant will also match up to US$5m in additional donations from its internal team and has also added donation links on the homepage of its US website, waiving payment processing fees for customers.
10. FedEx
In addition to suspending services in Ukraine and Russia, FedEx is providing humanitarian assistance to its team members as well as to those impacted by the conflict, committing more than US$1.5m in relief aid, which includes US$1m in in-kind shipping to organisations who are transporting supplies into the area and US$550,000 in cash donations to non-government organisations in Europe.
11. Bank of America
Like Wells Fargo, Bank of America has pledged US$1m in support of Ukrainian relief efforts, and will focus on five organisations, according to Reuters.
12. Airbnb
Airbnb and its non-profit arm announced it is making available free, temporary housing for up to 100,000 refugees from Ukraine. The holiday rentals firm said it will fund the accommodations itself, including via donations to its refugee fund and from its hosts.
13. Talbots
US-based retailer Talbots is shipping 8,000 items to help Ukrainians through Give Back Box Charity Inc., according to a company spokeswoman.
14. Apple
Alongside pausing all Apple product sales and exports into Russia, Apple CEO Tim Cook announced that the company is donating to humanitarian efforts and offering to match employees' donations at a rate of 2 to 1. The tech giant has also made it simpler to support Ukrainians adding a banner to the top of its website with a donation button – it lets users donate between US$5 to US$200 with all proceeds going directly to UNICEF USA.
15. Etsy
Online craft market Etsy has cancelled US$4m worth of outstanding fees for its sellers based in Ukraine in a move to support creators financially impacted by the invasion. "Many sellers are facing tremendous financial hardship as a result of the turmoil," Etsy chief executive Josh Silverman wrote in a blog post. "To alleviate some of the burden, we are cancelling the current balances owed to Etsy by all sellers in Ukraine, which includes listing fees, transaction fees, advertising fees and more." The effort includes Etsy sites Depop, and Reverb.