Disability inclusion new frontier for ESG investing and CSR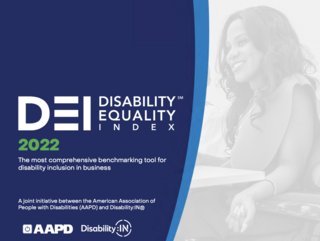 To create sustainable businesses, companies must weave disability inclusion into all they do, says Ted Kennedy, Co-chair of the Disability Equality Index
Disability is now the new frontier of ESG investing and corporate social responsibility. It's a claim made recently by Ted Kennedy Jr., Co-chair of the Disability Equality Index (DEI), and a claim backed up by data showing that companies are increasingly using DEI findings to address workplace inequities.
According to the just-released 2022 Disability Equality Index (DEI), the world's most comprehensive benchmarking tool for measuring disability inclusion in business, more companies are employing people with disabilities in leadership roles than last year. In fact, the DEI saw a 30% increase in participating companies in 2022.
Companies are increasingly realising the value of disability-inclusion policies and programs, in terms of profitability and the war on talent, and ESG pressure from investors.
Increase in companies appointing people with disabilities at leadership level
More companies are employing people with disabilities in leadership roles than last year, the data finds, with 126 companies now having a senior executive as a person with a disability, compared to 99 companies in 2021.
The picture is similar at boardroom level, with companies trying to make their corporate boards of directors more inclusive of people with disabilities, such as with amendments to their board nominating and governance charters.
The research finds that 10% of companies now have documents that govern nominations of board directors that specifically mention the consideration of people with disabilities, and 6% have someone who openly identifies as having a disability serving on their company's corporate board.
This comes as more companies look to invest in tech and implement initiatives that actively advance disability inclusion.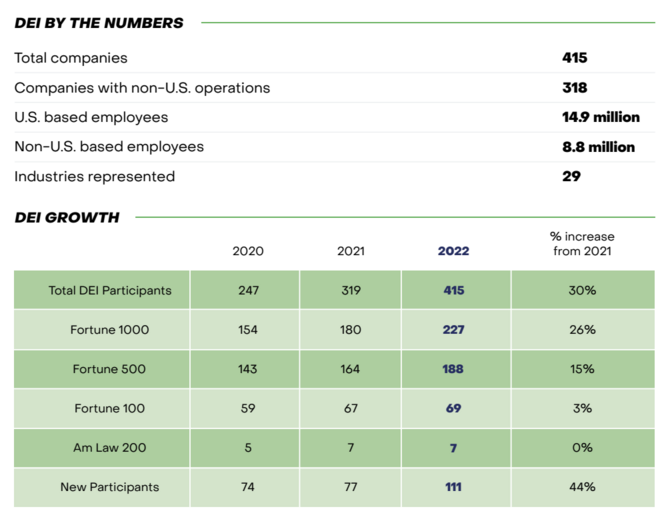 Companies implementing disability-focused programs and investing in tech
More companies are implementing programs and practices across hiring and supplier diversity to ensure disability inclusion goals are met, as well as investing in technology.
The data finds that three-quarters (74%) of companies now have expenditures with disability-owned businesses, and more than half (60%) of organisations now have company-wide external hiring goals for people with disability.
Amazon and Sephora are two companies delivering best practice on the disability-inclusion program front. Organisations with an Amazon Business Account can control their own supplier diversity to include disability, and account owners can select organisations of their choosing that are disability-owned or that support the advancement of disability inclusion as their preferred suppliers.
Sephora's All Abilities Hiring initiative has provided employment opportunities to 246 candidates with disabilities since its launch in 2017. It's a structured nine-week paid program leveraging local advocacy groups and educational institutions to train and ultimately recruit talent with disabilities.
Half of companies are investing in innovative technology to advance digital accessibility. Starbucks is a case in point. The coffee chain offers a free service called Aira in all US stores. The Aira app connects blind and low-vision people to trained, third-party visual interpreters to assist with their orders.
According to the research, thanks in large part to the pandemic, companies are now recognising broader wellness initiatives as a form of disability affirmation and inclusion and are implementing programs to make the workplace healthier, more balanced and more accessible.
The 2022 DEI shows that 96% of surveyed firms now offer their employees more flexible work environments, including hybrid and remote work options, and 84% now offer additional wellness benefits.
Disability inclusion can help win the war on talent and improve profitability
While commending the companies taking "demonstrated, actionable steps to unlock opportunities for people with disabilities at all levels of a company", Kennedy urges further action, as just 4% of current employees self-identify as having a disability despite 10.9% of the working population in the US having a disability.
"To prepare for the future and create sustainable businesses, companies must engage their stakeholders with disabilities and weave disability inclusion into everything they do," says Kennedy.
And the current war for talent among companies is making disability inclusion even more important for businesses, according to Jill Houghton, CEO of Disability:IN. "The global talent shortage requires companies to rethink how they hire, develop and cultivate talent", making disability inclusion a "business imperative".
She argues that companies who do incorporate modern practices that are essential to disability inclusion, equality and belonging are positioned to not only win the talent war, but "strengthen diversity, improve profitability and shareholder returns, and achieve sustainable growth".