Hilton most valuable hotel brand, Ritz-Carlton growing fast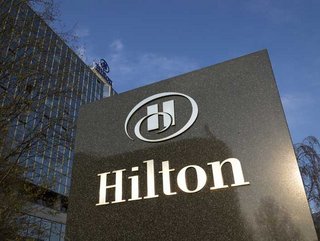 Hilton extends its brand value reign with surge of 58%, while Ritz-Carlton is crowned fastest-growing brand, says Brand Finance report
Hilton has extended its reign significantly as the world's most valuable hotel brand, with a value surge of 58% over the last year, according to a new report by brand valuation consultancy Brand Finance.
The US-born hotel, now one of the world's largest boasting 18 brands and 6,800+ properties in 122 countries, has seen its brand value skyrocket to US$12bn, putting it well ahead of its closest competitors with a brand value that is now greater than the second and third most valuable hotel brands combined.
The second ranked most valuable brand, Hyatt, saw its brand value jump 26% to US$9bn, while third-ranking Holiday Inn increased its brand value by 10% to US$4.2bn.
"The global disruption to travel due to the Covid-19 pandemic caused significant disruption to brand values, but customers recognise that hotels are not to blame for the disruption," says Alex Haigh, Brand Finance Technical Director. "As a result, we see that successful brands have been able to bounce back quickly and re-earn customer trust in the post-pandemic world."
Among the top 10 most valuable hotel brands this year (see below), seven are American, including the top six.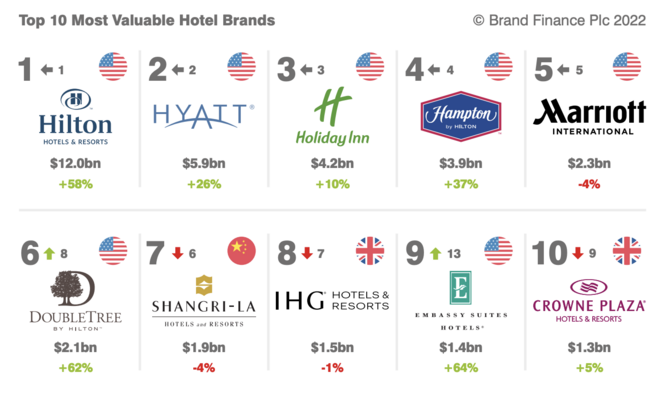 Hilton (US) – up 58% to US$12bn
Hyatt (US) – up 26% to US$5.9bn
Holiday Inn (US) – up 10% to US$4.2bn
Hampton (US) – up 37% to US$3.9bn
Marriott (US) – down 4% to US$2.3bn
DoubleTree (US) – up 62% to US$2.1bn
Shangri-La (China) – down 4% to US$1.9bn
IHG (UK) – down 1% to US$1.5bn
Embassy Suites Hotels (US) – up 54% to US$1.4bn
Crowne Plaza (UK) – up 5% to US$1.3bn
Hilton further saw its Brand Strength Index increase by 7.2 points, taking it to AAA, and making it the third strongest hotel brand in the world this year, after Taj and Premier Inn.
Two-thirds of hotel brands remain below 2020 valuations
The surge in Hilton's, Hyatt's and Holiday Inn's brand values comes as two-thirds of the top 50 hotel brands remain below pre-pandemic values.
Global travel restrictions over the last two years have resulted in significant costs to hotel brands, with many struggling to recover. Just 16 (one-third) of the 50 hotel brands surveyed have brand values above pre-pandemic levels, with 34 remaining below their 2020 valuations.
InterContinental is one hotel that has seen its brand value drop this year, down 1% to US$1.5bn, following significant concerns about potential delays to the reopening of services in the Group's key Chinese market.
Ritz-Carlton is world's fastest-growing hotel brand
While Hilton retains the brand value title, The Ritz-Carlton claims the title as the world's fastest-growing hotel brand, more than doubling in value this year.
The American-born luxury hotel chain, which is now part of the Marriott Group, surged 112% in brand value to US$1.1bn, marking a value of 67% above its pre-pandemic valuation.
The reason? According to Brand Finance, this surge comes courtesy of an "impressively high revenue per available room and large number of rooms". With nearly 30,000 rooms and 108 hotels and resorts across 30 countries, The Ritz-Carlton has built an extremely strong brand, with its Brand Strength Index also increasing, from 79.6 to 83.2, putting it firmly in the AAA- band.
Among other US-born hotel brands that have seen their brand value surge is Baymont and Residence, up 97% to US$382m and 92% to US$760m, respectively. The bounce-back from Covid-19 for Baymont is associated with strong trading conditions forecast for its key markets, along with improved customer perception.
Similarly, Residence Inn, the world's third-fastest growing hotel brand, has achieved a significant improvement in customer perception over the last year, and this is leveraging a very large number of rooms and revenue per room relative to other brands.