10 of the world's best city hotels to help you sleep better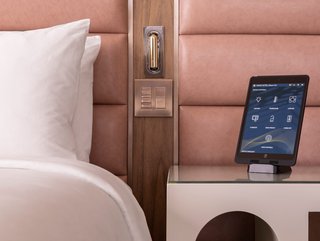 Lake Nona Wave Hotel in Orlando
To mark World Sleep Day on March 17, here are 10 city hotels prioritising sleep with innovations, from AI-powered mattresses to onsite sleep concierges
While some executives regularly pull all-nighters or survive on four hours a night shut-eye, not getting enough sleep is nothing to brag about.
Scientific evidence proves that the cognitive deficits that a lack of sleep imposes on people can impair performance in the workplace.
Elon Musk, who sleeps six hours every night on average, once admitted in an interview that when he sleeps less his productivity decreases.
And as Dr Thomas Roth says in Matthew Walker's book, Why We Sleep, "the number of people who can survive on five hours of sleep or less without impairment, and rounded to a whole number, is zero".
Getting good sleep while travelling, whether for business or pleasure, is a particular challenge for many, but an increasing number of hotels are rolling out sleep-inducing innovation, some of it powered by AI, or offering sleep-enhancing packages that includes onsite sleep concierges.
To mark World Sleep Day this month, March 17, we round up 10 city hotels to help you reset your circadian rhythm – whether you are in Dubai, New York, London, Paris or Bangkok.
1
Fitness brand SIRO is set to launch its inaugural hotel, SIRO One Za'abeel, in Dubai's iconic One Za'abeel development later this year. Designed as a fitness and recovery destination, the new hotel will deliver tailored programs and treatments developed by wellbeing specialists, including sleep experts, all designed to help guests unlock peak mental and physical performance.
Rooms will feature the latest technology to promote restorative sleep, including smart Aero Plush mattresses, recovery wardrobes and smart curtains that will be connected to the SIRO app alarm clock and which will open gradually a few moments before the alarm rings to allow natural light to fill the room. The alarm will be set to follow the guest's circadian rhythm in order to mitigate jet lag and encourage bodies to wake up in a more rested state.
The hotel will have a state-of-the-art fitness club, and a dedicated Recovery Lab with specialised wellbeing treatments, from cryotherapy to oxygen therapy.
2
Lake Nona Wave Hotel in Orlando is home to a dedicated room category, named Well+ech, hardwired with a rotating roster of inventions from pioneering brands leading the future of sleep innovations.
Among these are the AI-powered Restorative Bed via Bryte, which uses AI to track sleep cycles and adjust body temperature and pressure points throughout the night, and which is also being used in New York's Park Hyatt Hotel (see below). Also accessories like Smart Nora, a snoring aid by SleepScore.
Installed throughout the entire hotel, View Smart Windows use artificial intelligence to automatically adjust in response to the sun in order to increase access to natural light, leading to more sleep. The hotel offers guests private access to certified sleep therapist Kristina Grabnickas who can create daily itineraries to achieve optimal sleep.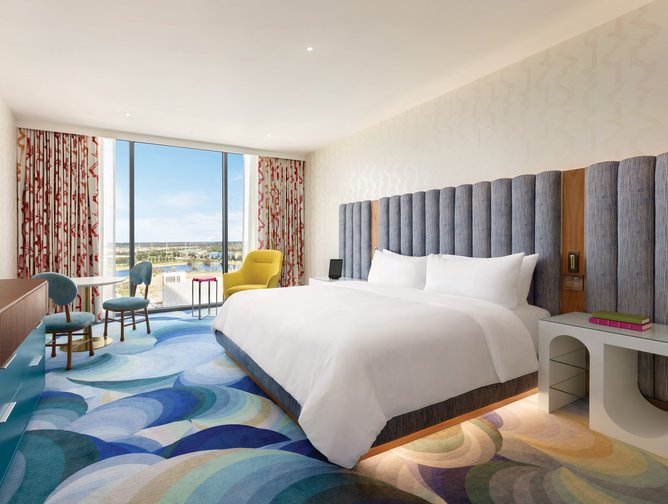 Lake Nona Wave Hotel in Orlando has dedicated suites hardwired with sleep innovations
3
As part of its re-opening in 2021, London's famed Belmond Hotel, The Cadogan, introduced a Sleep Concierge service available to all guests. Partnering with esteemed Harley Street Hypnotherapist and Sleep Expert, Malminder Gill, the sleeps service includes an in-room sleep-inducing meditative recording, by Malminder, via the hotel app, and a bedtime tea especially developed by Malminder to enhance sleep.
Also on offer for guests is a pillow menu, a relaxing pillow mist to aid in getting good shut-eye, and the option of a weighted blanket.
4
Located in a palatial building dating back to the 18th century, and as central in Paris as you can possibly be, the five-star Hotel de Crillon is as luxurious as they come, with dedicated butlers to every suite.
Its latest luxury, launched last year, is a Sleep program, part of Rosewood Hotels Alchemy of Sleep program, which welcomes guests with a personal consultation to help them make a game plan for getting a better night's sleep, a massage and centering meditation sessions.
Guests also get in-room sleep-aid products, including CBD-infused teas, wellness-curated bedtime snacks, calming messages, an eye mask and bath salts.
5
Renowned for its wellness program, including an award-winning spa, The Park Hyatt New York offers dedicated sleep suites that centre around the tech-powered Bryte bed, created by Silicon Valley startup Bryte Labs.
Sensors in the bed detect heart rate and breathing patterns, which automatically triggers cooling features to lower the body temperature and promote sleep. While sleeping, air cushions inside of the mattress continuously change the shape of the mattress to discourage sleepers from waking as they move around. And to wake, the bed warms itself and can also be programmed to move around to wake sleepers gently. It tracks and provides sleep statistics and insights that can be accesses on a guest's phone.
The rooms also feature sleep-enhancing amenities like Vitruvi essential oils diffuser, sleep masks, Nollapelli Linens, and a library of books on the subject of sleep.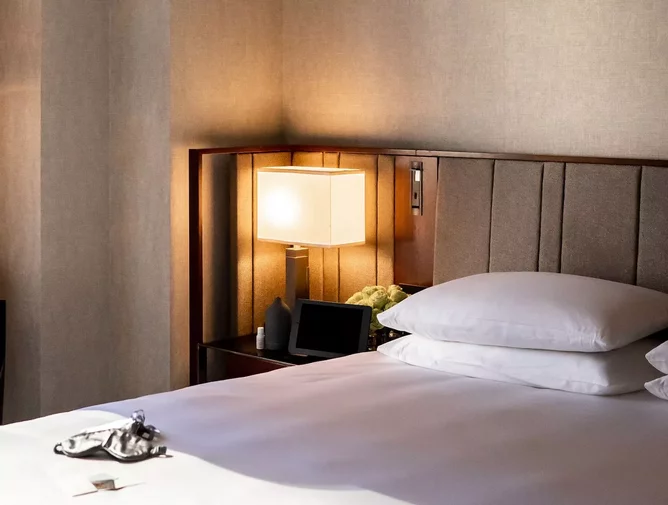 The Park Hyatt New York offers dedicated sleep suites that centre around the tech-powered Bryte bed
7
Thailand's art-inspired hotel Le Meridien Bangkok has unveiled a new category of rooms with circular beds designed to enhance the sleep experience. Based on research that shows circular beds can improve sleep quality, ease pent-up stress and help tension float away, the Executive Round Rooms features circular beds.
"For modern travellers, a round bed is not only a quirky design feature and a talking point; it can ensure a deeper sleep and a greater feeling of wellbeing," says Dieter Ruckenbauer, GM, Le Meridien Bangkok.
The hotel also has a private Onsen allowing visitors to soothe their senses by plunging into mineral-rich waters, using precise Japanese formulas that change with the seasons, and which promote sleep.
8
Opened in 2020, London's first sleep-centric hotel, Zedwell, has dedicated itself to the goal of making a good night's sleep integral to every stay. Housed in the famous London Trocadero, and located bang in the heart of Piccadilly Circus, the hotel offers 700 windowless rooms that are all soundproofed up to 60 decibels.
Dubbed cocoons, the rooms have been specially designed and crafted to promote sleep, positive health and wellbeing. Each space is neutral, and without clutter (read: no distractions) and features soft ambient mood lighting; a purified air system to encourage deep sleep; and the calming smell of citrus. They also claim to offer some of the most comfortable mattresses in the world, featuring supportive, engineered pocket springs, all swathed in soft Egyptian cotton sheets.
En-suite bathrooms feature walk-in rain showers and there are self-heating eye masks to help guests nod off. Guests can also participate in free yoga classes and book a 'mindfulness' guru.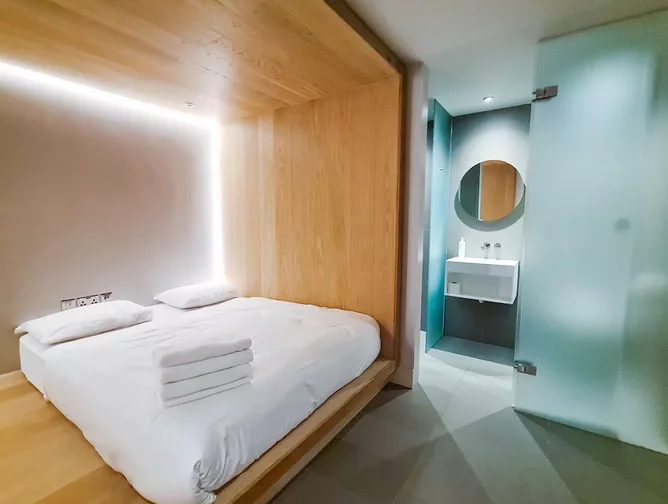 London's first sleep-centric hotel, Zedwell Piccadilly Circus has dedicated itself to making a good night's sleep integral to every stay
9
Raffles has a wellbeing program designed to help guests unwind and get a good night's sleep. The Sleep Rituals service provides guests with a DreamSoft eye pillow, calming goodnight cards that encourage mindfulness pre-bedtime, and relaxing oils from Aromatherpy Associates, which claim to help alleviate the restlessness associated with jet lag.
Further sleep-enhancing amenities are available to those staying in premium and deluxe rooms, including a sleep kit and a menu of food items carefully selected to help guests mitigate the effects of travel, stress and jet lag.
10
Located in the heart of Downtown LA, this iconic hotel, part of the Hyatt Unbound Collection, has created a dedicated sleep and wellness suite that is divided into two rooms – rest and recovery.
The rest part, focused on sleep and relaxation, features a customisable Pluto Pillow, which claims to optimise spine alignment, atop the Eight Sleep mattress, a dual-zone mattress which leverages AI to dynamically heat and cool the body to keep guests asleep. Other sleep perks include in-suite guided meditation, red light therapy, and a lamp that simulates sunrise.
The recovery part includes a Peloton bike, massage gun, compression bodysuit and health supplements. There's also a video screen where guests can customise their own workout or recovery session.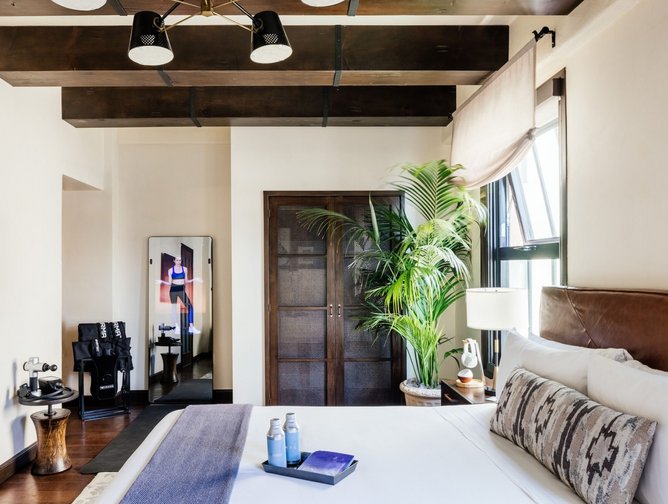 At LA's iconic Hotel Figueroa, sleep perks abound including an AI-powered mattress, guided meditation and red light therapy