Canadian cities have highest number of sustainable hotels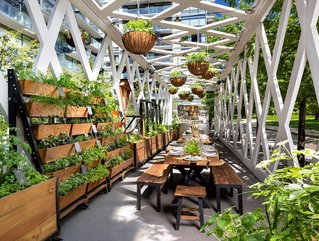 When it comes to the greenest hotels on the planet, Canada reigns supreme with four cities in the world's top five ranking for most sustainable stays
Canada is home to the cities with the highest number of green hotels, with four of the top five cities with the most environmentally friendly hotels in Canada, according to analysis from Uswitch.
The leading home service comparison site analysed the green credentials of thousands of hotels in cities globally, based on Booking.com's Travel Sustainable certification program, revealing the cities with the most sustainable stays.
And Canada comes top with four cities in the top five global list, including Vancouver (#1), Toronto (#3), Calgary (#4) and Edmonton (#5). Only the European city of Stockholm (#2), named Europe's first European Green Capital in 2010, broke up Canada's top-five domination of cities for greenest stays.
Vancouver tops the list with 44% of hotels sustainably recognised
Vancouver is the city with the highest percentage of sustainable stays, with nearly 44% of all hotels recognised for their sustainability efforts. Of the 89 hotels listed in the Canadian city, 39 have been awarded the sustainable badge on Booking.com.
This is not surprising given that the city was voted the greenest in the world just last year, and has been lauded for its efforts to reduce its carbon footprint and for increasing its recycling from 40% to 60% in a decade.
In at number three is the Canadian city of Toronto, where nearly 25% of all the hotels listed are certified as sustainable, with 37 out of the city's 150 hotels paying closer attention to their carbon footprint.
Calgary, the third Canadian city in the top five list, is home to 136 hotels, 32 of which have been recognised by Booking.com for their sustainable efforts. The city has implemented its green initiatives, including an advanced eco-friendly public transportation system to enable residents to travel in a green way.
Rounding off the top five places with the world's most sustainable hotels is another Canada-based city Edmonton, Alberta. The city is widely considered to be Canada's most sustainable city, having been awarded the official title in 2018 due to its low environmental footprint, economic security, infrastructure, and social well-being.
Top sustainable stays in four Canadian cities
For businesses, the following four green hotels, each one in the four top-ranking eco-friendly Canadian cities, are great examples of how businesses can reduce waste, source local produce and reduce their energy consumption.
While for travellers, staying in one of these hotels while on business offers a far more sustainable way to travel.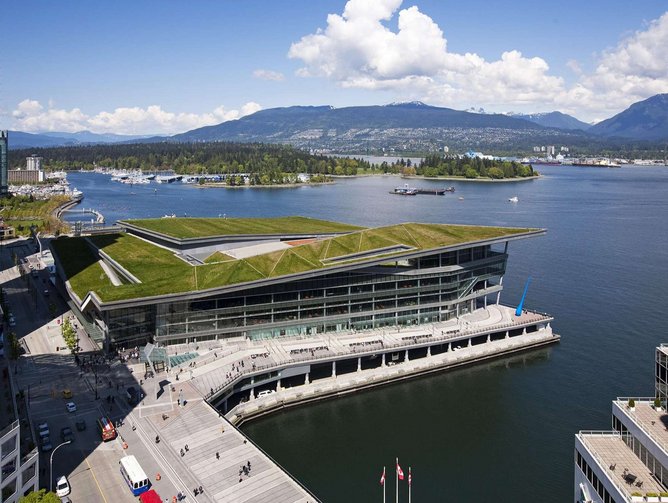 1. Fairmont Waterfront, Vancouver Of the many hotels recognised for improvements in water consumption, carbon emissions and food wastage in Vancouver, the five-star Fairmont Waterfront is a highlight. Nestled on Vancouver's harbour, the Fairmont Waterfront has stunning views of Stanley Park, coastal mountains and the unique city skyline, and also supports the surrounding environment on the inside too. It homes 250,000 honeybees on its fourth floor as a way of supporting the habitat for hundreds of species of solitary bees. Event planners are offered organic menus, disposable-free service and carbon-neutral options, and they recycle, donate and compost as much as possible.
2. Le Germain Hotel, Calgary Located in downtown Calgary, Le Germain is one of 32 hotels recognised for its sustainability initiatives. Not only do they deliver stringent recycling policies which means they are constantly monitoring products that can be reused, recharged or recycled, but they have recently switched to geothermal heating and cooling as well as energy-efficient lighting systems.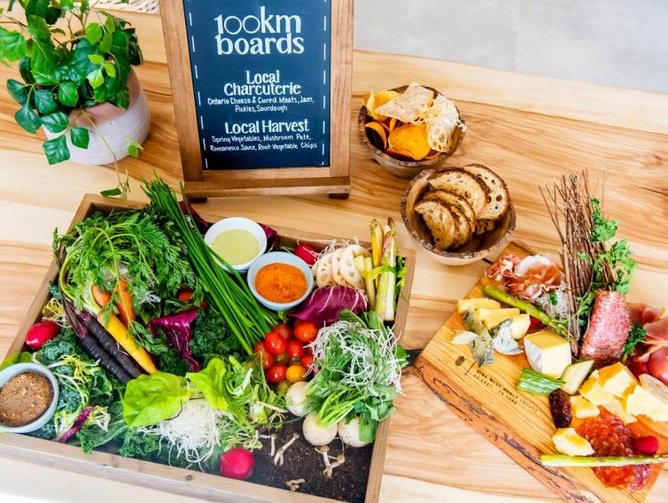 3. 1 Hotel, Toronto Dedicated to zero-waste, 1 Hotel is Canada's first mission-driven hotel. The hotel promises to divert more than 85% of waste from landfills and it has an on-site composter to turn organic waste into reusable soil. They exclusively use local farmers, sourcing some 90% of produce from within a 100km radius. The eco-friendly icing on the cake is that both the interior and exterior use repurposed elmwood from a dismantled barn in Blyth, Ontario, and fallen Toronto trees have been transformed into the chic decor.
4. Matrix Hotel, Edmonton The interior of the Matrix Hotel has been designed in line with its surrounding environment with natural stone and wood that has been upcycled. Guests are treated to Molton Brown toiletries, famously cruelty-free and eco-friendly, as a result of their packaging using 50% recycled plastics.