Meet America's most sustainable Michelin-starred restaurants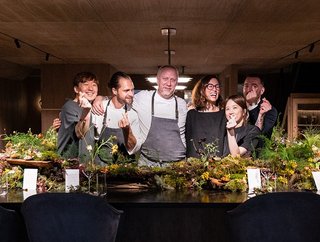 Sustainability meets fine dining at these eight Michelin Star-studded restaurants – from Washington to San Francisco to New York State
Any foodie worth their salt knows the value of a Michelin Star, the French three-tiered rating system honouring the world's finest restaurants. But even the savviest gourmand may not have heard about Michelin's Green Star, which landed in 2020.
Michelin's Green Star recognises restaurants committed to sustainable gastronomy – those sourcing ingredients responsibly, championing local and ethical produce, pioneering the fight against food waste, using seasonal ingredients, eliminating non-recyclables from their supply chains, focusing on a plant-based menu, and tackling issues related to ethics and wellbeing.
To date, 340 restaurants across 21 countries have bagged Michelin-worthy green credentials including 11 in the United States, the majority of which are located in California.
Here, we highlight eight of the greenest Michelin-starred restaurants in the US, from LA to Washington DC.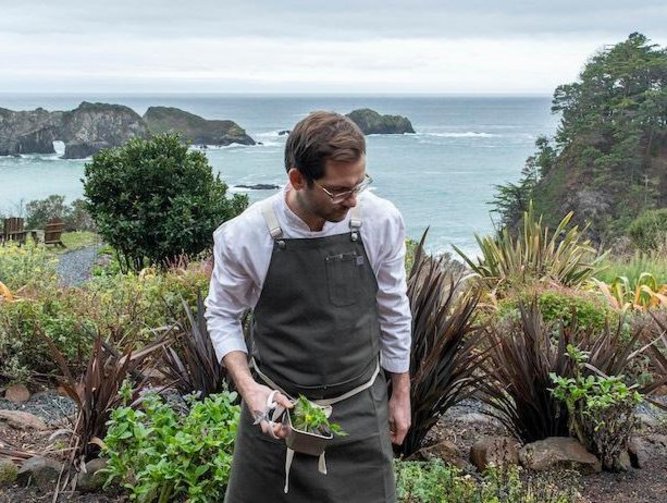 Harbor House
1 Harbor House, Mendocino, California
Located in a cliff-side town in Mendocino County, California, the Two Michelin Star Harbor House is led by executive chef Matthew Kammerer who puts a "massive focus on where our ingredients come from and the waste involved in our preparations," as he recently told sister publication Sustainability Magazine.
Almost everything he sources for this 20-seat restaurant comes from the immediate surroundings with seaweed foraged in the cove below, and herbs, vegetables and eggs from an on-site organic garden and chicken coop.
"We limit importing, have removed plastic wrap, save grey water from rinsing vegetables to water our gardens, grow as much of our food as possible, have begun to raise our own animals, and limit meat to grass-fed small-scale production," he says.
All ceramics are made locally, and of the 12-14 courses on any given menu, the majority are vegetarian or sustainable seafood.
2 Atelier Crenn, San Francisco
The last few years has seen three Michelin-Star restaurant Atelier Crenn go on a green journey.
In 2017, the restaurant announced it would source the majority of its product from just one farm – the regenerative Bleu Belle Farms, a plot within a 45-mile radius that uses biodynamic methods. Following a zero-waste philosophy, all scraps from the restaurant are sent back to the farm to nourish the soil.
Then, in 2018, the restaurant removed all meat from the menu so motivated was owner and chef Dominique Crenn (the first woman in the US to be awarded three Michelin stars) by the environmental impact of meat production. The restaurant does plan to offer cultured chicken in the future due to its relative sustainability and delicious appearance, aroma and flavour.
And recently, in 2021, Atelier Crenn became the first restaurant in the US to be certified as a Plastic Free establishment, having removed single-use plastics from all operations. Napkins are made from recycled materials and candles burn olive oil rather than other oils.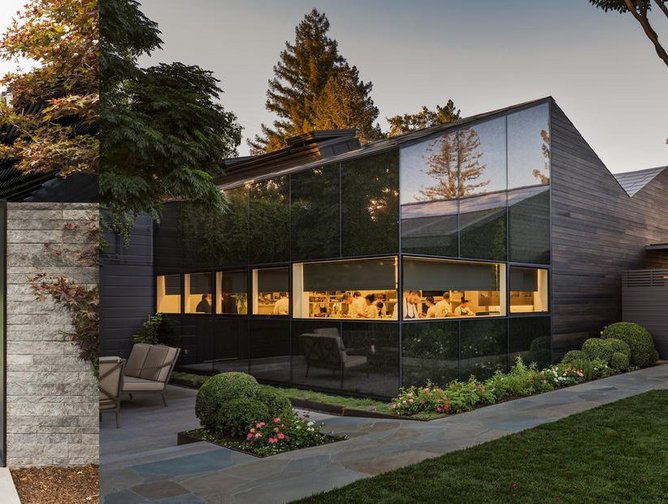 3 The French Laundry, Yountville, California
Three Michelin Star legendary destination The French Laundry in Napa, California wine country, has been serving local and organic ingredients from its own vegetable garden and nearby farms since its founding in 1978.
This garden-to-table fine dining restaurant, which pairs classic French techniques with fresh ingredients, sources vegetables, fruits and herbs from its own 3-acre biodynamic garden and other produce from a selected network of suppliers who share the same respect for the environment. The menu pays homage to the seasons.
But that's not all. In 2014, the restaurant closed for a 'green' transformation of its kitchen and grounds, re-opening with a highly energy-efficient, low environmental-impact building, powered with an innovative solar and battery system.
4 The Inn at Little Washington, Blue Ridge Mountains, Washington DC
Located 90 minutes from DC, and nestled in the foothills of the stunning Blue Ridge mountains, this Three Michelin Star 43-year-old restaurant may be maximalist in décor but it's minimalist when it comes to its impact on the environment.
Chef O'Connell has pioneered a regional American cuisine using indigenous products sourced from local farmers, ranchers and the Inn's very own Garden. They employ two full-time farmers and five gardeners and utilise their own greenhouses for herbs and lettuces, while a beekeeper looks after the hives which supply the restaurant's honey.
5 Blue Hill at Stone Barns, Tarrytown, NY State
Blue Hill at Stone Barns in Tarrytown, NY State, is a converted dairy barn on a farm whose tasting menu echoes the farm's seasonal best.
Led by chef Dan Barber, who has become renowned for his zero-waste philosophy, Blue Hill works with 64 local farms as well as with vegetable and grain breeders to develop and champion varieties that have lower inputs and require less energy to produce.
Some 80% of its seafood comes courtesy of day boat fisherman off Long Island, while 30% of its winter menu purchased in October and November to store, preserve or ferment. The restaurant uses only bone ash china, and transforms kitchen scraps into charcoal.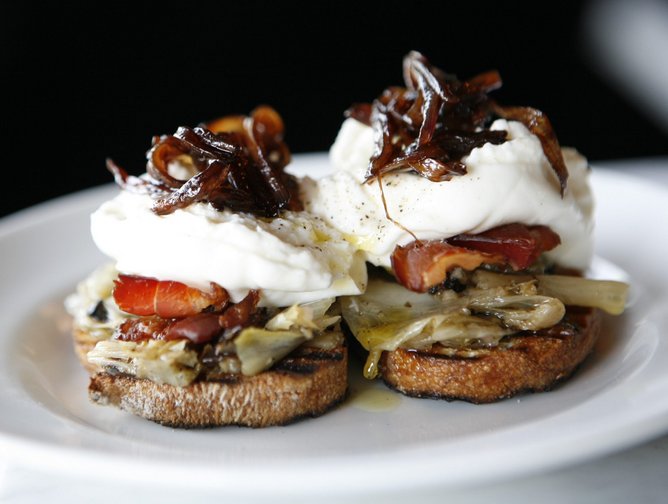 6 Osteria Mozza, Melrose Avenue, LA
Located on the corner of Melrose Avenue, award-winning Hollywood-based Italian eaterie Osteria Mozza delivers not just a Michelin Star, but a Green Star to boot.
Famed for its mozzarella menu and bar (made of Italian Carrara marble), homemade pasta, and obsession with bread, the restaurant's decade-long sustainability efforts include buying organic and local ingredients from farmers markets and within 100 miles or less, rotating menus based on the season, and prioritising sustainable seafood.
The restaurant has implemented more than two dozen sustainability best practices, as certified by the Green Restaurant Association (GRA), into its daily operations.
Co-owner Nancy Silverton has brought on board Footprint Group to help reduce waste, redesign the restaurant's waste system and train staff. The restaurant uses only eco-friendly chemicals, and low-flow taps feature in the bathroom and kitchen.
7 Single Thread, Healdsburg, California
Located in California's Sonoma County, Three Michelin Star restaurant Single Thread sources all of the produce from suppliers only within Sonoma County, 70% of which comes from the restaurant's own 5-acre organic farm (Single Thread Farms) from where all eggs and olive oil hail. Any food waste is sent back to the farm to be used as natural feed and fuel.
The menu is tuned to each micro-season in the county and Japanese-trained chef Kyle Connaughton, an expert in Japanese clay pot cooking, focuses on fish giving dishes a Japanese touch.
The entire business is certified carbon neutral, according to nonprofit Zero FoodPrint, which helps the owners reduce emissions in farming practices and the restaurant in purchasing carbon offsets to neutralise its carbon-producing activities. The restaurant is housed in a LEED-certified building.
8. Quince, San Francisco
Three Michelin Star Quince proves that luxury and sustainability can be bedfellows. Considered one of the world's finest dining rooms, Quince is housed within an historic building and showcases an oversized Murano chandelier and roving champagne cart.
The Italian menu delivers contemporary dishes featuring Californian ingredients, the majority of which are sourced from a single farm, one of the oldest certified organic farms in the country and a pioneer in sustainable agriculture and conservation. This means the menu is an extension of each season's harvest, changing to adapt to what's good at the farm.
The restaurant also has a no-waste approach with food scraps sent back to the farm to be composted, along with a nose-to-tail approach to cooking.