Meet the company: Flexport disrupting supply chain industry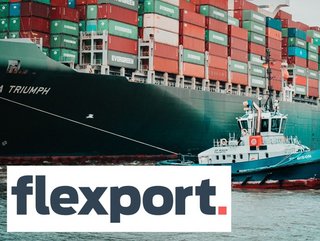 Silicon Valley-based US$8bn startup Flexport is shaking up the archaic industry of logistics, using technology to improve how goods move around the world
If ever there is an industry that needs disruption right now, it's the logistics one.
Global trade is facing historic challenges, with supply chain bottlenecks impacting worldwide economies, made much worse by the pandemic and more recently by the labour shortages currently impacting warehouses and ports.
This seemingly endless supply chain crisis has fuelled interest in tech that addresses both the current difficulties and more systemic issues, in helping to track problems or predict where new ones might occur.
Flexport is using tech to improve the movement of goods
Flexport is one tech startup doing just that, using technology to improve how goods move around the world.
"The global pandemic and the pressure it put on supply chains made the transportation of goods – something we took for granted – a daily pain point," Flexport CEO Ryan Petersen says.
Founded in 2013 by the entrepreneur and former Columbia graduate, Flexport arose out of Ryan's obsession with logistics – an obsession born from importing scooters from China.
So frustrated was he by the complexities of the logistics process, that he started Flexport – and has been on a mission ever since to make global movement of goods easier and more sustainable.
And his nearly decade-long obsession with the industry is paying off. Not only did Flexport help customers move nearly US$19bn of merchandise across 112 countries in 2021, but the Silicon Valley startup has risen to become the sixth-largest freight forwarder in the transpacific region in less than a decade.
The startup's exponential growth over the last few years has seen its valuation hit US$8bn, having previously hit unicorn status in 2019, and its name fly to the top of the recently-announced CNBC Disruptor 50 list.
Disrupting the logistics industry by structuring the data
Flexport is disrupting the US$1 trillion freight forwarding industry, that age-old circulatory system of matching companies that make stuff with companies that transport stuff, be it over land, sea or air.
It has brought technology to an antiquated industry, one that is neither customer-focused nor tech-savvy, by building a global trade platform that offers accurate, real-time data for the entire industry.
Flexport, a rival to Amazon, uses data to streamline the movement of cargo on ships, planes, trucks and rail, analysing costs, improving container efficiency, and calculating greenhouse gas emissions for its 10,000-plus clients and suppliers – working with everyone from Fortune 500 firms to emerging brands – from Sonos to Gerber.
So, what's the ingredients that make Flexport stand out from the logistics tech crowd? According to COO and longtime logistics consultant Sanne Manders, the company's secret sauce is about being customer and employee obsessed, and being focused on what Apple used to call 'think different'.
"We're not thinking about industry patterns as they are right now, current profit pools, current incentives, or how the industry currently works," Sanne told McKinsey last month. "We're questioning everything, asking how should this work? How can we create win-wins?"
The industry issue, according to Sanne, is with data. "There is a lot of data in this industry that's unstructured, and if you structure it, you can create a better user experience and let machines do the work, which drives higher efficiency."
Sanne points to Flexport's partnership with Atlas Airlines, where Flexport provides a true end-to-end experience for the most time-critical customers.
"If you manufacture high-tech goods in Malaysia, we can quickly get them to any place on the West Coast and even Atlanta, under the strictest service-level agreements, because Atlas Airlines flights are dedicated to us," Sanne says. "We control the asset, and in that sense, we define the routing and how we load it, but they're operating it for us."
Flexport – looking to the future
There's no doubt that the ongoing global supply chain crisis has put Flexport centre stage, and that, not only have companies recognised the need for reform, via technology, but that Flexport can deliver.
The proof is in the pudding. The company now has 2,800 employees in 89 countries and 23 offices worldwide, and in February secured US$900m in Series E funding, with investors including Andreessen Horowitz, Shopify, and Softbank, putting its valuation at US$8bn.
With this capital, the company is planning to accelerate development of its technology platform, as well as continue to expand into new geographies and markets worldwide. The aim too is to invest in new startups that are also making supply chains more efficient, transparent and inclusive.
Already this year, the company has entered the non-profit space for the first time, announcing in March it was organizing shipments of relief goods to Ukrainian refugee sites across Europe. According to Ryan, over the last few decades, it's estimated that 60% of all relief supplies delivered to humanitarian crises have gone to waste due to a lack of logistics co-ordination.