North America to lead world in 5G subscriptions, 90% in 2027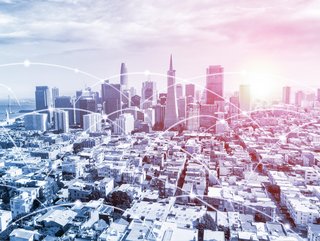 North America is forecast to lead the world in 5G subscription penetration in next five years with 90% subscriptions expected to be 5G in 2027 – Ericsson
North America will lead the world in 5G subscription penetration in the next five years with 90% of subscriptions expected to be 5G in 2027, according to the latest Ericsson Mobility Report.
The report finds that when it comes to 5G subscription penetration over the next five years, North America, at 90%, is ahead of all other regions and well ahead of the 48% global average.
Northeast Asia is hot on North America's subscription heels, closely followed by Western Europe and the Gulf countries with predicted 5G subscription penetration of 82% and 80%, respectively, while in northeast Asia, 5G subscription is expected to hit 74% by 2027. India is lagging with just 40%, not surprising considering the country has not yet begun 5G deployments.
5G mobile subscriptions to surpass 1 billion in 2022, 4.4 billion in 2027
This comes as global mobile network data traffic has doubled in the past two years with 5G expected to top one billion subscriptions in 2022 and 4.4 billion in 2027.
While a weaker global economy and the uncertainties caused by Russia's invasion of Ukraine have impacted the global estimate for 2022 by around 100 million, 5G subscription growth has continued to grow exponentially, growing by. 70 million during the first quarter to around 620 million.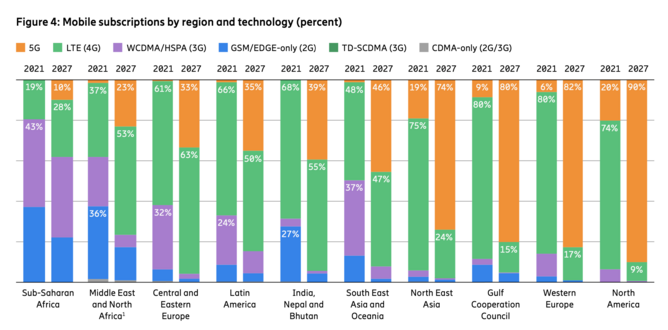 5G scaling faster than 4G, as digitalisation of industries heats up
5G subscription uptake is faster than that of 4G following its launch in 2009, reaching 1 billion subscriptions two years sooner than 4G did.
In North America, 5G has entered the second wave of build-outs and user adoption. In 2021, 5G grew strongly, adding around 64 million subscriptions, as migration from 4G to 5G subscriptions picked up pace significantly.
Traffic growth has been driven by increased smartphone and mobile broadband usage, as well as the digitalisation of society and industries, reveals the report, with several hundred million people becoming new mobile broadband subscribers every year.
In fact, 5G is now scaling faster than all previous mobile technology generations, the report finds, with about a quarter of the world's population currently having access to 5G coverage, with some 70 million 5G subscriptions added during the first quarter of 2022 alone. By 2027, around three-quarters of the world's population will be able to access 5G, the report finds.
Service providers continue to switch on 5G and more than 210 have launched commercial 5G services globally, with the most common segments targeted those of manufacturing (smart factories), transport, smart cities and ports.
"As communications service providers gear up for innovation to address business opportunities beyond enhanced mobile broadband," says Peter Jonsson, Executive Editor of the Ericsson Mobility Report. "A solid digital network infrastructure underpins enterprises' digital transformation plans, and their new capabilities can be turned into new customer services."
Broadband IoT (4G and 5G) overtakes 2G and 3G
The report also finds that in 2021, on the Internet of Things (IoT), broadband IoT (4G/5G) overtook 2G and 3G as the technology that connects the largest share of all cellular IoT connected devices, accounting for 44% of all connections.
Massive IoT technologies (NB-IoT, Cat-M) increased by almost 80% during 2021, reaching close to 330 million connections, and the number of IoT devices connected by these technologies is expected to overtake 2G/3G in 2023.