Be kind to recruit and retain talent, say US C-suite leaders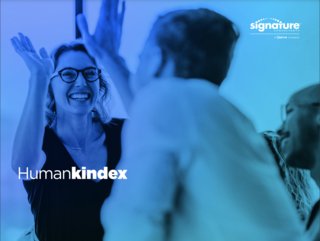 Signature Consultants survey says 70% of US leaders and workers believe kind leadership style and culture drives better recruitment, retention, innovation
You may not be surprised to hear that in these woke times, kindness in leadership is an essential quality. That said, a new survey suggests that while 70% of leaders and workers acknowledge this, 72% of C-suite execs say their organisation needs to be more kind.
These results come from the second annual Humankindex Study conducted by IT and staffing company Signature Consultants.
The research looks at what impact kind leadership and cultural values can have on the business – especially when it comes to talent, engagement and innovation.
"The last two years have brought tremendous disruption for people and businesses across the world. This disruption, and its downstream effects, continues to evolve and present new challenges," says Mahfuz Ahmed, CEO, DISYS and Signature Consultants.
"With most growth strategies hinging on talent and digital transformation to thrive in the future, our research proves that kind leadership and cultures pave the way for better talent outcomes, greater innovation, and ultimately increased financial performance and competitive advantage. As companies look to become future-ready, the power of kind leadership cannot be overlooked or undervalued."

Kind leadership is a game changer when it comes to talent
Most organisations are facing a people challenge right now, struggling to find new talent or retain key employees – as many reassess their positions post-pandemic. Job seekers increasingly look to culture and kindness, with the study highlighting:
83% of workers agree that "kind leadership is more important to me than ever when choosing an employer/job."
86% of workers agree that a company's leadership style and culture will impact their future job decision, with 52% saying it will have a significant impact.
70% of C-suite leaders say the top benefit of kindness is the ability to hire a wider range of talent to drive innovation and success.
70% of C-suite execs agree kind leadership is more vital than ever to recruiting and retaining talent.
US employers and workers say kindness on the increase
The Humankindex research measures the adoption of kind leadership and practices across US employers and the US workforce. The Workforce index rose to 60.6 this year, up 2.6 points. However, the Employers index stands at 71.5 points, highlighting a disparity between business leaders and employees when it comes to kindness in the workplace.
"Little has been left unchanged over the past couple of years but one thing is abundantly clear – we are seeing a shift from a singular emphasis on bottom-line results achieved at all costs to a broader emphasis on the importance of an organisational culture and shared purpose to deliver lasting results," says Ahmed.
"As organisations look to move beyond simply surviving to thriving, the opportunity to bring about growth sustained over the long term will require a foundation of kind leadership and increased connectivity between leadership and employees."
The 2022 Humankindex Survey sampled 1,000 workers and 200 C-level executives, across age, gender, geographies and industries.