Why Ceridian has boldly rebranded to Dayforce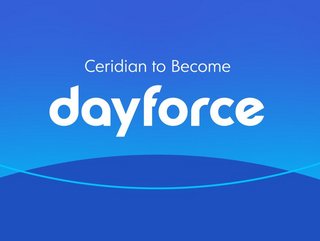 Ceridian is being rebranded as Dayforce. Picture: Ceridian
From next year, Ceridian will adopt the name of its flagship product, Dayforce, which has consistently delivered value to thousands of global organisations
Ceridian, a global leader in human capital management (HCM) technology, is embarking on an ambitious rebrand.
From January, the business will adopt the name of its flagship product, Dayforce, demonstrating a willingness to become more streamlined from a marketing perspective and assure a more memorable, overarching identity.
Dayforce, a HCM platform, has long been ranked as a market leader in its field thanks to a rich history of innovation and excellence, consistently delivering value to thousands of global organisations and millions of workers.
Under its new guise, Ceridian is dead set on staying true to its brand promise – 'makes work life better' – but is expanding how this is done through new innovations and best-in-class experiences across every stage of the customer journey.
"Dayforce represents our products, company and community at their best, so it is only fitting that we are doubling down on the brand as we look to accelerate our growth as the go-to global people platform," comments David Ossip, Chairman and Co-CEO at Ceridian.
"With Dayforce as our unified brand, we not only create clarity for organisations already navigating the workforce complexity crisis, but we further unite our employees and ecosystem to advance our shared ambition to make work life better."
How Dayforce superseded Ceridian
It's now 11 years since Ceridian acquired Dayforce Corporation, whose Dayforce software was a cloud HCM solution for HR, payroll, tax, benefits, workforce management, talent management and other related activities.
Shortly after the acquisition, Dayforce founder Ossip was appointed CEO of Ceridian.
Following its successful IPO on the NYSE and TSX in 2018, the business began focusing its efforts on new growth levers, which included extending the Dayforce platform, accelerating global expansion and innovating in adjacent markets, such as with the launch of Dayforce Wallet in 2020.
Focusing on the Dayforce brand not only reflects Cerdian's ambitions, but also the opportunity with which it has been presented – to increase its leadership in cloud HCM as it enables more organisations to realise their full people potential, operate with confidence and unlock quantifiable value.
"Today's workforce looks nothing like the past," adds Leagh Turner, Co-CEO at Ceridian. "It is boundless and ever-changing, giving companies a once-in-a generation opportunity to radically transform. With this as a backdrop, we knew it was time to usher in a brand new Dayforce.
"This moment is so much more than a brand change. It represents our continued transformation as a company – furthering our products into an AI-threaded future, the potential of our people and the vibrancy of our services, support and ecosystem.
"As Dayforce, we will infuse every inch of the business with even greater energy, focus and agility to deepen customer value and realise our future."
Over the course of 2024, Ceridian HMC Holding Inc. and its global operating entities will be changed to reflect the Dayforce brand.
******
For more business insights, check out the latest edition of Business Chief US and Canada and be sure to follow us on LinkedIn and Twitter.
You may also be interested in the Business Chief UK & Europe website.
******
BizClik is a global provider of B2B digital media platforms that cover executive communities for CEOs, CFOs and CMOs, as well as leaders in Sustainability, Procurement & Supply Chain, Technology & AI, Cyber, FinTech & InsurTech. We also cover industries including Manufacturing, Mining, Energy, EV, Construction, Healthcare and Food & Drink.
BizClik, based in London, Dubai and New York, offers services such as content creation, advertising and sponsorship solutions, webinars and events.