Top 10 business people in sport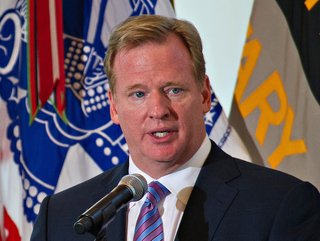 Roger Goodell, Commissioner of the NFL. Picture: US Department of Defense
Business Chief takes a look at the top 10 business people in the world of elite sport, including those whose wealth has facilitated unprecedented success
It's little surprise that so many successful business people have invested in sports teams over the years.
Buying a sporting franchise not only offers money-making potential, but also plenty of entertainment and the opportunity to establish a long-lasting legacy as the individual who facilitated a new era of success.
The world of sport also owes a lot to the business people who take responsibility for the smooth running of the various leagues adored by fans across the globe.
Here, Business Chief takes a look at the top 10 business people in sport.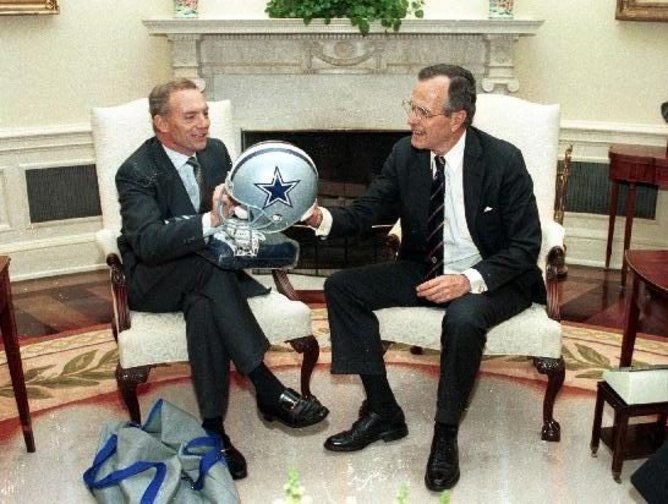 Dallas Cowboys owner Jerry Jones with President George HW Bush. Picture: George HW Bush Presidential Library and Museum
1. Jerry Jones, owner of Dallas Cowboys
One of the longest-serving owners in elite sport, Jerry Jones took over the Dallas Cowboys back in 1989 in a deal that came to US$140 million.
During the 1990s, as General Manager he oversaw one of the most impressive periods of success in NFL history, winning three Super Bowls in four years from 1993 to 1996.
Despite not winning the Super Bowl post-2000, the Cowboys franchise has grown to become one of the most valuable sports teams in the world, becoming the first to reach the US$4bn mark.
Jones is, therefore, a rarity in the context of sporting owners, in the sense that the vast majority of his wealth comes from his involvement in sport.

2. Steve Ballmer, owner of LA Clippers
One of the richest owners in sport, Steve Ballmer is the former CEO of Microsoft who has gone on to run the LA Clippers for almost a decade.
Ballmer's wealth is thought to exceed US$100 billion, making his US$2bn purchase of the Clippers in 2014 a relative drop in the ocean.
Generally, Ballmer's ownership has been well received by players and the media alike, thanks in large part to his obvious enthusiasm towards the team and for the sport. In a 2020 survey conducted by The Athletic, he was voted as the best owner in basketball.

3. Stan Kroenke, owner of franchises including Denver Nuggets and LA Rams
As owner of the holding company Kroenke Sports & Entertainment, Stan Kroenke stands at the helm of sporting giants including Denver Nuggets, LA Rams, Colorado Avalanche and Arsenal FC.
Under his ownership, Kroenke's teams have won five championships in the four most popular US sports. The most recent came this year when the Nuggets won their first-ever NBA Championship.
In the UK, Kroenke has attracted plenty of criticism during his time as Arsenal owner, but there were signs of improvement last season as the Gunners finished second in the Premier League behind Manchester City.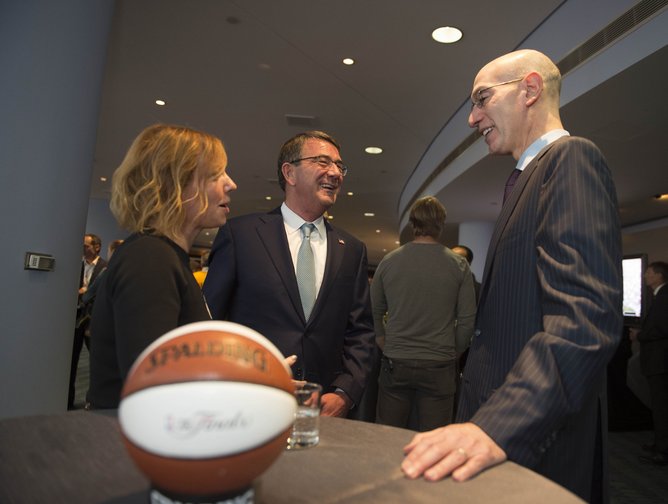 Adam Silver (right), Commissioner of the NBA. Picture: US Department of Defense
4. Adam Silver, NBA Commissioner
The most recognisable off-court face in basketball, Adam Silver was named Commissioner of the NBA back in 2014.
A lawyer by trade, Silver first joined the NBA in 1992 and served in various capacities, including as COO and Deputy Commissioner under his predecessor, David Stern, who subsequently recommended him for the top job.
Over the years, the 61-year-old has been instrumental in the development of the WNBA, NBA G League, NBA 2K League and Basketball Africa League, as well as the establishment of NBA China and NBA Africa.

5. Dan Gilbert, owner of Cleveland Cavaliers
Best known as the Co-founder of Rocket Mortgage, Dan Gilbert owns a trio of Cleveland-based sports teams: the Cavaliers in the NBA; the Monsters in the American Hockey League; and the NBA G League's Cleveland Charge.
Gilbert took on the Cavaliers in 2005 and helped the franchise achieve an unparalleled period of success, reaching four straight NBA Finals and winning their first-ever NBA Championship in 2016.
This was thanks in large part to the talents of LeBron James, who Gilbert was keen to bring back to the franchise following his four-year stint at Miami Heat.
Gilbert is known for being one of the more vocal owners in the NBA and is beloved by many for contributing to an immense period of success for the city.

6. Gary Bettman, NHL Commissioner
Gary Bettman has served as Commissioner of the NHL for a whopping 30 years, helping the world's top professional hockey league to achieve record crowds and revenue.
Advancements in the game during his tenure include changes to officiating and the format of overtime, as well as innovation in the study of injuries. The NHL was the first major professional sports league to mandate neuropsychological baseline testing for players who have suffered concussions.
Further testament to the league's growth under Bettman's stewardship is its global appeal, with NHL games now televised in more than 160 countries.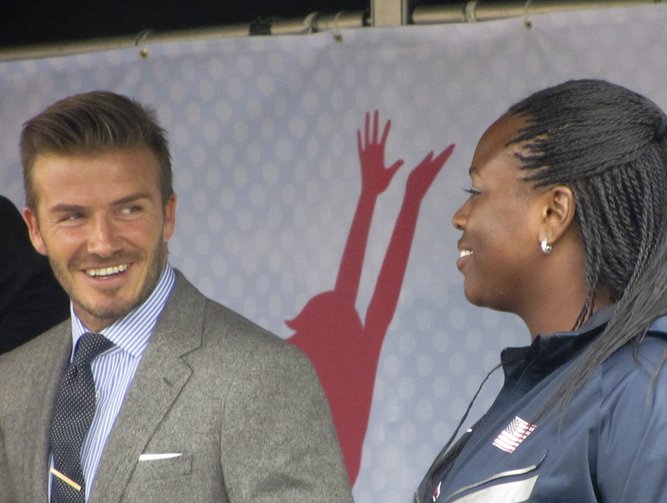 David Beckham is the co-owner of Inter Miami. Picture: US Embassy London
7. David Beckham, owner of Inter Miami
Instantly recognisable across the globe, David Beckham is now co-owner of MLS side Inter Miami.
Beckham's purchase of the newly-established franchise in 2014 actually harked back to his time with LA Galaxy, which saw him handed the chance to buy an expansion team for US$25 million.
Inter Miami have so far failed to mount a serious challenge for the MLS title, losing in round one of last year's play-offs. At the time of writing they sit rock bottom of the Eastern Conference, but a growing fanbase and the arrival of big names like Lionel Messi, Sergio Busquets and Jordi Alba indicate that success is on the horizon.

8. Roger Goodell, NFL Commissioner
Roger Goodell is the eight Commissioner of the NFL, having been chosen by club owners in 2006.
Goodell had begun his career with the league almost 25 years prior, starting out as an administrative intern before going on to progress through the ranks in various senior executive roles.
Since becoming Commissioner, the 64-year-old has helped the NFL enjoy spiralling popularity across the world, leading to record TV audiences and an ever-growing level of social media engagement.
He has also prioritised and addressed issues including player welfare, off-field personal conduct, stadium construction projects and online presence.

9. David Tepper, owner of Carolina Panthers and Charlotte FC
Billionaire hedge fund manager David Tepper is best known as the owner of Carolina Panthers. His purchase of the organisation for US$2.2bn in 2018 was the biggest takeover in NFL history.
At the time, Tepper also outlined his desire to launch an MLS expansion side in Charlotte, and duly did so after paying hundreds of millions of dollars for the Charlotte FC franchise.
In last year's debut season, Charlotte FC failed to make the play-offs and are currently sitting 12th in the league's Eastern Conference.

10. Derek Jeter
Following a career with the New York Yankees which saw him become a franchise legend, Derek Jeter has gone on to pursue a successful career in business.
Jeter was the first African-American to serve as CEO at any major league team in baseball history, a position he took up at Miami Marlins after purchasing a 4% stake in 2017. Three years later, the organisation made its first appearance in the play-offs since 2003.
Jeter may have stepped down from his Marlins role, but remains active in business circles, launching a trading card marketplace called Arena Club last year.
******
For more business insights, check out the latest edition of Business Chief Middle East & Africa and be sure to follow us on LinkedIn and Twitter.
You may also be interested in the Business Chief EMEA website.
Please also check out our upcoming event – Sustainability LIVE in London on September 6-7, 2023.
BizClik is a global provider of B2B digital media platforms that cover executive communities for CEOs, CFOs and CMOs, as well as leaders in Sustainability, Procurement & Supply Chain, Technology & AI, Cyber, FinTech & InsurTech. We also cover industries including Manufacturing, Mining, Energy, EV, Construction, Healthcare and Food & Drink.
BizClik, based in London, Dubai and New York, offers services such as content creation, advertising and sponsorship solutions, webinars and events.