Five Minutes With: Kelly Ahuja, CEO at Versa Networks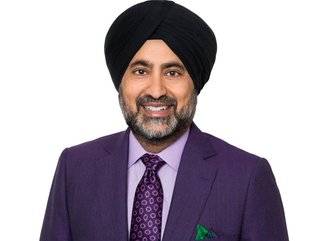 Kelly Ahuja, CEO at Versa Networks
Kelly Ahuja, CEO at Versa Networks, outlines the challenges facing today's cybersecurity teams and explains how AI is forcing them to evolve at pace
Tell us a bit about yourself and your career so far
I am currently President and CEO of Versa Networks and based in San Jose, California. Today, I am in the midst of the largest transformation in the industry with software-defined networking (SDN) and security.
I am a seasoned industry veteran with 25 years of experience in networking and telecommunications, working my way up from design engineer, to technical marketing, to product management, to GM. Throughout my career, I have worked on the design, deployment and operations of large-scale infrastructure and services frame relay, ATM, IP and mobile (3G, 4G, Wi-fi) networks.
Prior to joining Versa Networks, I spent 18 years in many roles at Cisco Systems, building and leading multiple businesses like routing and mobility. Most recently, I was SVP of Service Provider Business, Products and Solutions. Earlier in my career, I worked for service providers as a systems engineer engaged with customers looking to transform their legacy networks. I have a Bachelor of Science in Electrical Engineering from the University of Calgary.
For those unfamiliar with Versa Networks, what are the company's core activities?
Versa Networks is a venture-backed, privately-held corporation. Our innovation has been to converge network and security into a platform that can address multiple use cases for enterprises and managed service providers.
More than 10,000 businesses across multiple industry verticals and geographies rely on Versa Networks to protect and securely connect their sites, users, devices and applications. Versa Networks addresses large enterprises' needs for building and operating their own infrastructure through value-added resellers and systems integrators, and also partners with managed service providers to build and offer managed network (SD-WAN) and security (SASE/SSE) services to mid-market and SMBs.
What are the main challenges being faced by today's cybersecurity workforce?
Today, the cybersecurity workforce struggles with the complexity of the current environment and is unable to keep pace with the needs of a digital enterprise. Every business is accelerating its cloud adoption and embracing software as a service (SaaS) and infrastructure as a service (IaaS) for agility and better unit economics.
This, combined with a hybrid and highly collaborative workforce, as well as the proliferation of the internet of things (IoTs), has created challenges by expanding the attack surface. Threats are no longer outside the perimeter and most attacks originate from inside the enterprise. Moreover, users are complaining about the inconsistent application experience as the network and security architectures have been built in silos by different teams for different places in the network.
In summary, the cybersecurity workforce is continually focused on reacting to and addressing constant threats by changing policies and firewall rules in a box-by-box approach across every domain in the network. With a typical enterprise having more than 70 different products and panes of glass, the complexity and cost has become unbearable, making the prior model obsolete. This is driving the need for platforms to consolidate the toil in the environment and improve the security posture and user experience, while reducing the overall total cost of ownership.
What benefits can AI bring to the work of security teams?
AI/ML has been embedded in many leading products for many years. AI has been able to help enterprises automate operations (AIOps), threat detection and prevention, rapidly responding to address vulnerabilities with higher accuracy by reducing false positives, enhancing monitoring and prediction.
How is AI changing the traditional role of cybersecurity experts?
AI is dramatically changing the role of cybersecurity experts. Instead of finding out about threats after they have occurred, AI can dynamically detect and mitigate threats at the entry point into your network.
Today, a bad actor can penetrate and freely move across your network as the security perimeter is somewhere deep in the network or cloud. With security built in the network, enterprises can push security to every edge so that threats can be detected and automatically remediated based on pre-configured policies. Security teams can then deal with cyber threats proactively, rather than reactively.
What can be done to narrow the skills gap from an AI perspective?
In addition to education about the technology in the curriculum at all levels, a lot of other activities are needed to promote how to use AI and what to use it for.
Work must be done to create policies around responsible use of AI, standardised skills assessment and certification programmes, as well as making tools and libraries available.
What are your personal and professional goals for the next 12 months?
Personally, I want to be able to use AI to help me improve my work-life balance. I want to use it as a tool to help me across multiple fronts.
Professionally, I want our team to be at the forefront of innovation when it comes to using AI responsibly to deliver business outcomes to our partners and customers, helping them achieve their own professional and personal goals.
What's the best piece of advice you've ever received?
Treat others the way you want to be treated, give respect to get it, and act as if the camera is always on you – because someone is always watching.
******
For more business insights, check out the latest edition of Business Chief US and Canada and be sure to follow us on LinkedIn and Twitter.
You may also be interested in the Business Chief UK & Europe website.
******
BizClik is a global provider of B2B digital media platforms that cover executive communities for CEOs, CFOs and CMOs, as well as leaders in Sustainability, Procurement & Supply Chain, Technology & AI, Cyber, FinTech & InsurTech. We also cover industries including Manufacturing, Mining, Energy, EV, Construction, Healthcare and Food & Drink.
BizClik, based in London, Dubai and New York, offers services such as content creation, advertising and sponsorship solutions, webinars and events.