Top 10 speakers at SUSTAINABILITY LIVE London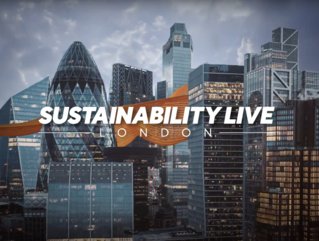 SUSTAINABILITY LIVE London 2023
Taking place over two days on September 6-7, SUSTAINABILITY LIVE London is right around the corner. Here, Business Chief highlights 10 must-see speakers
The wait is almost over. In just a few days' time, our sister title Sustainability Magazine will be hosting SUSTAINABILITY LIVE London.
Taking place on September 6-7 at the Business Design Centre, the highly-anticipated event will bring together influential individuals from multiple industries as they offer practical insights to drive us towards a more sustainable future.
SUSTAINABILITY LIVE London is set to feature more than 70 globally-recognised leaders in the sustainability field, each of whom will be delivering industry expertise and leading topical discussions.
Here, Business Chief highlights 10 speakers you can't afford to miss.
Steve Smith, Head of Communications and Thought Leadership for Energy Management at Schneider Electric
Steve Smith works as Head of Communications and Thought Leadership for Energy Management at Schneider Electric, the global leader in the digital transformation of energy and automation, employing around 140,000 people in over 100 countries.
Steve has more than 25 years of marketing experience, primarily working in and around the electrical and energy industry. He has an in-depth knowledge of the challenges we face to deliver more energy while simultaneously reducing the impact on the environment.
At Schneider Electric he is responsible for communicating that message in ways that resonate with government, industrial giants, SMEs and the wider public.
Having held senior marketing positions across multiple geographical zones, Steve has driven engaging and award-winning content with strong collaboration between regional teams, businesses and communities to leverage consistent best practice and tangible value to businesses.
Steve completed a Bachelor's degree in International Marketing before going on to study Sales and Marketing at the Ecole Superieure de Commerce in Normandy, France.
Garrett Quinn, Chief Sustainability Officer at Smurfit Kappa
Garrett Quinn was appointed Group Chief Sustainability Officer at Smurfit Kappa in July 2021.
Having joined the company in 2000, Garrett held several roles in operations across the group in Argentina, France and Ireland, before moving to the UK where he managed a number of corrugated box plants. Then, in 2016, he took up the role of Head of Investor Relations, a position he held until 2021.
Garrett holds a bachelor's degree in Commerce from University College Dublin and has completed his postgraduate studies with the Cambridge Institute for Sustainability Leadership. He was appointed as Director to the Smurfit Kappa Foundation in May 2022. Garrett is also the company representative to the World Business Council for Sustainable Development (WBCSD), The Conference Board (US) and the Consumer Goods Forum.
Sven Wiltink, Global Senior Director Sustainability at Radisson Hotel Group
Sven Wiltink is responsible for developing the sustainability strategy at Radisson Hotel Group's (RHG) 1,100 hotels across the globe.
Sven has been with RHG since 2007, starting out as a trainee in Iceland. After gaining nine years worth of operational experience in various hotels, he joined the Responsible Business team at the RHG headquarters in Brussels, Belgium.
Now, as Global Senior Director Sustainability, Sven leads the group's Net Zero transformation based on approved Science Based Targets.
He is coordinating the annual sustainability reporting process and currently leading the digital transformation of sustainability data management, both for internal and external stakeholders.
Dharmesh 'DJ' Jani, Director, Infrastructure Ecosystem and Partnerships at Meta
An energetic and entrepreneurial leader with more than two decades of industry experience, Dharmesh Jani can boast a proven track record of success in product management and engineering execution.
DJ is known for his strong work ethic and excels in building and leading top-performing teams that deliver innovative products in fast-paced environments.
He currently serves as the Director of Infrastructure Ecosystem and Partnerships at Meta and has made significant contributions to the company's technology strategy.
DJ's leadership has been instrumental in the development of new Incubation Committee governance standards, impacting more than 200 companies and 5,000 active contributors. Additionally, he has launched net zero carbon and circularity initiatives within hardware engineering.
Magali Anderson, Chief Sustainability Officer at Holcim
Magali Anderson started out working as a field engineer on offshore oil rigs in Nigeria, beginning a three-decade career in the oil and gas industry.
For 15 years she was with Schlumberger, holding operational line management positions including CEO, Angola and Region Head, Europe. Magali has also held several functional roles, including VP Marketing & Sales, VP Shared Services Organization for the Europe and Africa region and Global Head of Maintenance.
In 2016, she joined Holcim as Group Head of Health & Safety, before becoming CSO three years later. In 2021, the firm announced Magali's role had been expanded to Chief Sustainability and Innovation Officer, putting sustainability at the core of its innovation pipeline.
Rachel Moseley, Director, Sustainability at London Stock Exchange Group
Rachel Moseley is the Director of Sustainability at LSEG, leading on group-wide engagement around sustainability, embedding the strategy into all areas of the business. She defined the environmental strategy for LSEG following its business acquisition of Refinitiv, leading the inaugural Climate Transition Plan which went to a shareholder vote in 2022.
Before joining LSEG in 2021, Rachel held a range of sustainability and corporate responsibility roles at Refinitiv, Thomson Reuters and Business in the Community, heading up environmental strategies, establishing global community engagement programmes, producing annual sustainability reporting and activating charitable partnerships.
Prior to this, she worked in asset services roles at Deutsche Bank, Goldman Sachs and JPMorgan.
Angela Hultberg, Global Director Sustainability at Kearney
As Global Sustainability Director at the consulting giant, Kearney, Angela Hultberg advises clients in the automotive, transportation, retail and consumer goods sectors on sustainability strategy and adoption.
Angela was appointed as Road Transport Lead by Climate Champions COP26, at which the ZEV declaration and Playbook for Zero Emissions Mobility were launched.
She previously worked as Head of Sustainable Mobility at Ingka Group (IKEA Retail), as part of the Policy and Strategy team. During her time at IKEA, she focused on sustainable transport and mobility, circularity and sustainable investing.
Angela studied Social Science at the University of Gothenburg and has a Master of Laws from Lund University. She has enjoyed a diverse career at organisations including PWC and Scania.
Adam Elman, Head of Sustainability – EMEA at Google
As Head of Sustainability for Google in the EMEA region, Adam Elman works at the meeting point of physical, digital and natural worlds.
He coordinates Google's real-world and digital infrastructure teams, from real estate and supply chains to data centres and products, to ensure the company is capitalising on opportunities to strategically advance sustainability.
Adam can draw on more than 16 years of experience driving sustainability at organisations including Amazon and Marks & Spencer.
A chartered environmentalist, Adam works as a catalyst for change, building partnerships and identifying the practical transformations and decisions required for sustainability business in the 21st century.
Peter Bragg, EMEA Sustainability & Government Affairs Director at Canon
An internationally experienced sustainability and environmental leader, Peter Bragg is Canon's EMEA Sustainability & Government Affairs Director.
Peter is able to call upon proven skills and capabilities in developing organisational strategies, driving transformational change and delivering successful business outcomes in sustainability and corporate social responsibility programmes. He has done this throughout his career across a range of sectors in the UK, Europe and Australia.
Peter previously worked as Director of Environment & Sustainability at Jacobs, a professional services firm. Prior to that, he held senior environment and sustainability roles at businesses including Sydney Trains, Eurostar and Network Rail.
Sarah Watt, Sustainability Change Leader at Gartner
Through Gartner's analyst function, Sarah Watt empowers clients to turn sustainability strategies into action.
Her research focuses on climate change mitigation and adaptation, implementing the circular economy and responsible sourcing. She looks at how leaders can unlock change through people, processes and technologies.
Prior to Gartner, Sarah worked in the chemical industry. She has been a sustainability professional for more than 15 years and holds a BA, BEng and Mst in Sustainability and Leadership.
To view the full schedule and obtain your free ticket to SUSTAINABILITY LIVE London, visit sustainability-live.com
******
For more business insights, check out the latest edition of Business Chief Middle East & Africa and be sure to follow us on LinkedIn and Twitter.
You may also be interested in the Business Chief EMEA website.
BizClik is a global provider of B2B digital media platforms that cover executive communities for CEOs, CFOs and CMOs, as well as leaders in Sustainability, Procurement & Supply Chain, Technology & AI, Cyber, FinTech & InsurTech. We also cover industries including Manufacturing, Mining, Energy, EV, Construction, Healthcare and Food & Drink.
BizClik, based in London, Dubai and New York, offers services such as content creation, advertising and sponsorship solutions, webinars and events.