Bosses are asking their CFOs to focus on cost reduction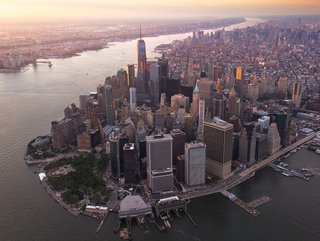 The Financial District of New York City
Deloitte finds CEOs are increasingly asking their CFOs to focus on cost reduction, while strategy and transformation is also a top priority
It's been a tough couple of years for the CFO as businesses continue their post-pandemic recovery while simultaneously grappling with economic uncertainty.
But what exactly is dominating the diaries of Chief Financial Officers at North America's largest companies?
New research from Deloitte shows that, in today's business environment, slightly more than half (54%) of CFOs are being asked by their CEOs to focus on cost reduction.
Two in five Chief Executives want to see a focus on strategy/transformation, and more than a quarter say the same of working capital efficiency and risk management.
CFO sentiment towards current economic conditions rose in four of the five regions covered in Deloitte's latest CFO Signals survey, with the exception being North America where 34% of CFOs rated the current economy as good or very good, down from 40% in Q1 of 2023.
However, across all five economic regions, CFOs are pessimistic about economic conditions improving in a year. The proportion of CFOs who indicated conditions in North America will improve in a year dropped to 34% from last quarter's 54%.
"External challenges like inflation, high interest rates and geopolitical uncertainties, seem to be impacting CFOs' assessments of macroeconomic conditions," says Steve Gallucci, National Managing Partner of the US CFO Programme at Deloitte.
"We saw optimism tick upward last quarter but, presently, CFOs are expressing more caution and have a weaker appetite for taking greater risks."

Slight decline in optimism among CFOs
The proportion of CFOs expressing pessimism for their companies' financial prospects increased from 19% to 24% in the latest quarter, while those expressing optimism fell from 32% to 30%.
Meanwhile, the proportion of CFOs saying now is a good time to take greater risks has fallen from 40% to 33%, significantly below the two-year average of 43%.
After nine consecutive quarters of concerns about talent and labour topping the list, CFOs indicated execution risks to strategies and transformations as their biggest internal concern (81%). Talent followed closely behind as the second most worrisome internal risk at 80%.
Looking externally, more than three-quarters (81%) of CFOs ranked economic/financial market risks as their organisations' top external risk. Geopolitical risk (57%) ranked second, despite consistently topping CFOs' list of external concerns in several previous surveys.
Read the full report: Deloitte CFO Signals Q2 2023
******
For more business insights, check out the latest edition of Business Chief Middle East & Africa and be sure to follow us on LinkedIn and Twitter.
You may also be interested in Business Chief EMEA.
Please also check out our upcoming event – Sustainability LIVE in London on September 6-7, 2023.
BizClik is a global provider of B2B digital media platforms that cover executive communities for CEOs, CFOs and CMOs, as well as leaders in Sustainability, Procurement & Supply Chain, Technology & AI, Cyber, FinTech & InsurTech. We also cover industries including Manufacturing, Mining, Energy, EV, Construction, Healthcare and Food & Drink.
BizClik, based in London, Dubai and New York, offers services such as content creation, advertising and sponsorship solutions, webinars and events