Designit: An innovation company with creativity at its core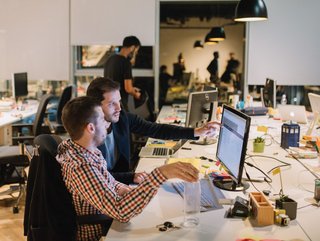 Designit's team is continuing to expand across the globe. Picture: Designit
Founded in Denmark back in 1991, Designit creates bespoke solutions to the complex problems being experienced by clients including BMW and Microsoft
​​​​​​​Designit, the Wipro-owned global experience innovation agency, has announced a raft of new hires as part of its ambitious growth strategy in North America and wider Americas region.
The strategic design firm is bringing in four senior directors to supercharge its operations in the Americas, a market which has become increasingly important to Designit over the past decade.
Kevin O'Connor joins as Director of Growth and Meghan Byrnes-Borderan comes in as Executive Experience Design Director. Myles Washington and Amanda Santello have both been recruited as Experience Design Directors.
O'Connor will report to Erik Wagner, Executive Client Director for Designit in the Americas, while Washington, Byrnes-Borderan and Santello will report to Christine Pizzo, Managing Director and Head of Design & Creative for the region.
A core part of their remit will be to support Pizzo in developing Designit's full-service offerings under the design and creative banner, solving holistic brand and experience challenges from clients.
Christine Pizzo, Managing Director and Head of Design & Creative, Americas at Designit
"All our new hires bring their own unique perspectives on where the turbulent global market is heading and how that environment impacts our clients," says Pizzo. "Their diverse, complementary skillsets enhance our strategic capabilities and better place us to solve the problems our clients are looking at tomorrow, today.
"Kevin, Myles, Meghan and Amanda each bring an invaluable skillset to Designit which, along with our other strategic hiring moves, help us to broaden our industry expertise, drive meaningful change in the organisations they know well and support larger deliveries, fuelling our growth ambitions."
Designit maintains global momentum
Designit was founded in Aarhus, Denmark, back in 1991 by Anders Geert Jensen and Mikal Hallstrup.
An innovation company with creativity at its core, Designit works at the intersection of strategy, design, marketing and technology.
For more than 30 years, its skilled workforce has helped businesses build competitive advantage and deliver positive change through what it calls creative pragmatism. Through diverse lenses, humane technology and purposeful risk, Designit continues to be driven by the belief that what matters tomorrow is designed today.
Today, the business is headquartered in Denmark's capital city, Copenhagen, and has a footprint in 14 different nations, including India, the US and Australia. Its team of more than 700 employees use their expertise to create bespoke solutions to the complex problems being experienced by their clients, which include BMW, Kraft-Heinz and Microsoft.
Designit opened its US headquarters in the heart of New York City's Union Square in 2016, and continues to enhance key capabilities in the Americas, namely its strategic, creative and client management operation, fuelling long-term growth ambitions.
******
For more business insights, check out the latest edition of Business Chief US and Canada and be sure to follow us on LinkedIn and Twitter.
You may also be interested in the Business Chief EMEA website.
BizClik is a global provider of B2B digital media platforms that cover executive communities for CEOs, CFOs and CMOs, as well as leaders in Sustainability, Procurement & Supply Chain, Technology & AI, Cyber, FinTech & InsurTech. We also cover industries including Manufacturing, Mining, Energy, EV, Construction, Healthcare and Food & Drink.
BizClik, based in London, Dubai and New York, offers services such as content creation, advertising and sponsorship solutions, webinars and events.