Four top tips for up-and-coming business leaders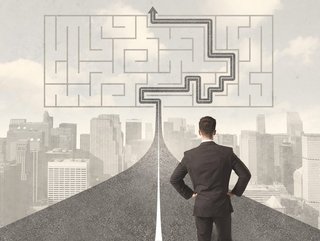 Becoming a leader poses plenty of challenges
While managers promoted from within are more likely than external hires to garner respect, they can also expect an altogether different set of challenges
Managing a team clearly has the potential to be a rewarding experience, but can of course pose plenty of challenges – especially in the modern-day workplace where priorities are constantly evolving.
This is particularly true for first-time managers and those transitioning from being a team member to team leader.
While previous research carried out by Joblist found that managers promoted from within are more likely to garner respect compared to an external hire, they can also expect an altogether different set of obstacles to overcome.
The question is, how can those moving up the ladder develop a specific set of skills and qualities in order to both adjust and thrive?
Dominic Finch, Head of Creative Change at Impact International, a world-leading experimental learning consultancy, stresses that taking the necessary time to learn the ins and outs of a new role is crucial.
"As a manager, particularly as a first-time manager or someone taking over a new team, your skills and qualities will develop to be the most effective manager you can," he says.
"By undergoing leadership development training, managers can build on their ability to communicate effectively, assert their position in the business and drive performance within their team and the organisation as a whole."

Leaders must clarify their responsibilities
In any aspect of running a business, knowing your responsibilities is key to maximising performance – and there is little difference when taking on a managerial or leadership position.
This should begin with gaining a thorough understanding of one's own role and responsibilities, before quickly establishing expectations of team members to allow efficient working and successful performance.
"It is important to establish your role as head of the team," advises Finch.
"Speak to other managers, see how they manage their teams and don't be afraid to ask for any advice along the way. Take on board feedback from peers, as well as team members. All of this can help you develop as a manager and grow into the role."
Effective communication is key
Communication is another important skill in any business and, as a manager, this is amplified even further. Leaders not only need to communicate effectively within their own team, but also with other departments in the organisation.
Finch emphasises that listening to team members is equally as crucial as talking, as it creates an element of trust and encourages employees to become more receptive to directions from above.
"A manager that shows willingness to listen will find that employees are more likely to open up," he adds. "You may find they are more likely to come to you with suggestions for the team, which could be beneficial for everyone."
"When communicating, especially a change of process, it is important to make sure staff find out from you as a manager and not second hand from someone else. Try to gather staff and communicate big announcements to the whole team, as information slipping out through office whispers can cause unrest."
Don't be afraid to delegate responsibility
A common mistake made by newly-promoted leaders is still getting involved in the smaller, day-to-day tasks for which they used to take responsibility.
For many this is a force of habit, but managers are often keen to show they are not above helping their team members – particularly if they are short-staffed. Moreover, new leaders may be inclined to take on tasks they are more accustomed to completing, as opposed to their managerial responsibilities to which they are still adjusting.
While this will almost certainly be appreciated by employees, Finch advises against it in the long-run.
"When actioning tasks that should be undertaken by the team, managerial responsibility can be neglected," he says. "This may result in negative consequences for the team and, potentially, the business.
"There may be times where a manager must step in to help, such as during busy periods or when a staff shortage is causing severe problems, but this should be kept to a minimum."
Set clear boundaries
Setting boundaries is of particular relevance to newly-promoted managers as it can be easy for them to still seem like 'part of the team' resulting in clouded judgement and an impact on overall performance.
While most leaders will endeavour to be liked by their colleagues – it is, after all, inherent to human nature – putting personal relationships before being a manager can present similar issues to having a reluctance to delegate.
"The nature of management means employees may not always agree with your decisions but, so long as they are for the overall benefit of everyone, you are doing the right thing," Finch concludes.
"Adding an element of friendship, especially approachability and letting employees know you are a supportive boss, is fine – but you should set boundaries and make sure your position is clear. Don't allow personal relationships to get in the way of the job you have to do."
******
For more business insights, check out the latest edition of Business Chief Middle East & Africa and be sure to follow us on LinkedIn and Twitter.
You may also be interested in the Business Chief EMEA website.
Please also check out our upcoming event – Sustainability LIVE in London on September 6-7, 2023.
BizClik is a global provider of B2B digital media platforms that cover executive communities for CEOs, CFOs and CMOs, as well as leaders in Sustainability, Procurement & Supply Chain, Technology & AI, Cyber, FinTech & InsurTech. We also cover industries including Manufacturing, Mining, Energy, EV, Construction, Healthcare and Food & Drink.
BizClik, based in London, Dubai and New York, offers services such as content creation, advertising and sponsorship solutions, webinars and events.