Patagonia Chair Charles Conn on becoming an imperfectionist
In his new book, entrepreneur, investor and Patagonia Chair Charles Conn encourage companies to rethink how they solve strategic problems
Entrepreneur and Patagonia Chair Charles Conn talks to Business Chief about rethinking strategy amid uncertainty, and why an imperfectionist approach works
Patagonia is a company that needs little introduction.
Driven by a purpose greater than just profits for five decades, former billionaire founder Yvon Chouinard gave the outdoor apparel company away last year, transferring the ownership of the US$3 billion brand to a non-profit.
For entrepreneur, investor and conservationist Charles Conn, Patagonia is the perfect example of a company that teaches the lessons of 'imperfectionism'.
And, as a Board member and Chair of Patagonia for the last 15 years, he should know.
Charles points to Patagonia's 'imperfectionist strategy' – evident not only in its constant experimentation with new gear to tackle outdoor sports, accepting lots of failure during the development stage "as natural", but its recent North American entry into the food space.
Evident too in the setting by Yvon Chouinard (who Charles says is "fundamentally an experimentalist") of increasingly "audacious goals" to address the company's carbon impact.
"That aspiration to do better, which ultimately became our mission to be in business to save the home planet, is what gave rise to the shareholders' decision to make Earth our only shareholder," Charles tells Business Chief. "This is the embodiment of aligning purpose and our work."
Adopting a strategy, based on being imperfectionist, is not exclusive to Patagonia and Yvon Chouinard, however. Charles points to Amazon CEO Andy Jassy, with a nod to cloud computing, and to Tesla and SpaceX CEO Elon Musk.
"Like him or not, it's hard not to think Musk is a deep imperfectionist," Charles says. "Look at how SpaceX learns with more than 20 launches a year, including some 'unplanned dis-assemblies', compared with the old NASA approach."
So, what exactly defines an 'imperfectionist strategy'? What does an imperfectionist leader look like? And why is taking such an approach beneficial in today's business landscape?
This is the topic of Charles Conn's new (and second) book ­– The Imperfectionists: Strategic Mindsets for Uncertain Times – co-authored with Rob McLean, Director Emeritus of McKinsey.
Penned during the disruption of the pandemic and based on a decade of research and 50 new case studies, The Imperfectionists is designed to encourage companies to rethink how they solve strategic problems.
Problem solving is after all 'the critical skill' for business leaders.
"You realise this when you become a CEO," says Charles, who has held the top job at various public companies. "The ability to calmy identify problem causes, establish priorities, develop the plan for change, and communicate the answers to build support, is the very heart of being a good leader."
Some people would answer that strategy development is the central capability, but Charles argues that good strategy is just dynamic problem solving.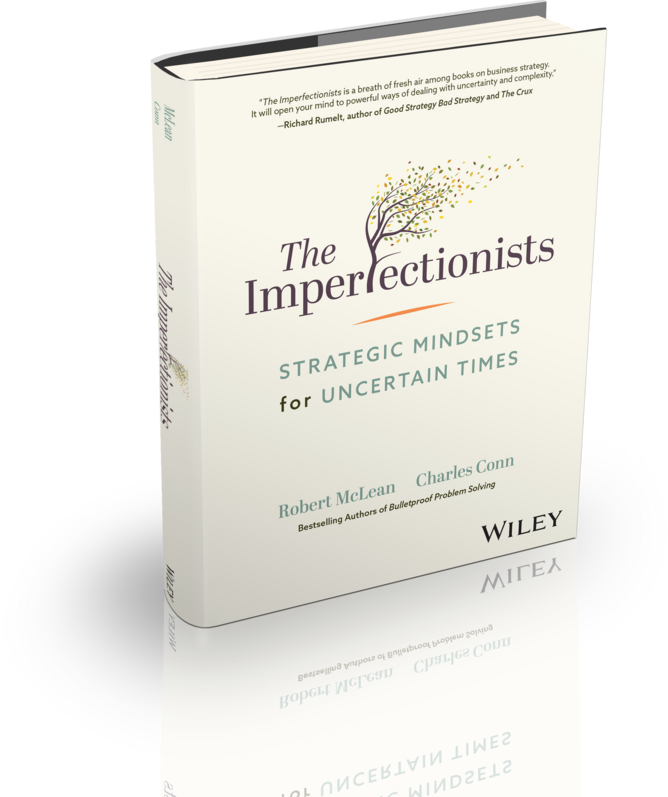 Charles Conn's new book, The Imperfectionists
Here, we sit down with Charles – ex-McKinsey, former public company CEO (Ticketmaster-Citysearch), co–founder of life sciences venture firm, Monograph Capital, and bestselling author – to talk about what it means to be an imperfectionist and why imperfectionism is a successful strategy for businesses in uncertain times.
Charles, tell us about your new book – The Imperfectionists?
The Imperfectionists puts forward a dynamic approach to developing organisational direction, under uncertainty based on harnessing six reinforcing strategic mindsets, which we call curiosity, dragonfly eye, occurrent behaviour, collective wisdom, imperfectionism, and show and tell.

What does it mean to be an imperfectionist?
Imperfectionists are deeply curious, they look at problems from several perspectives, and gather new data via experimentation, and new approaches from outside their current industry. They deliberately step into risk, proceeding through trial and error, utilising nimble low consequence and reversible moves to deepen their understanding of the unfolding game being played, and to build capabilities.

They accept ambiguity and some apparent failures in exchange for improved learning and market position. Imperfectionists succeed in today's high uncertainty environment by fluid, real time strategic problem solving, carefully moving forward while others wait for certainty, or make impetuous bets.

You position the imperfectionist strategy as key to tackling the uncertainty of today. Can you explain?
We live in a different world than the one in which most of us learned how to develop strategies. In the last couple of decades, change has been accelerating, with greater uncertainty and threat of disruption in every segment.

External shocks, from pandemic to climate change, cut across borders and impact all businesses, even those that appear to enjoy structural advantages.

Technology change is getting faster and more disruptive. AI, automation, programmable biology, robotics, and other technologies are transforming existing industries and blurring old boundaries.

Fundamental innovations like AI large language models, new business models are emerging in every industry segment, and super competitors have come on the scene who operate across industry and geographic boundaries — think Apple, Amazon, Google.

More than ever, the player to topple a current dominant company in a particular space is likely to enter from outside with a de novo approach than to be an existing rival. Just look at the battle of Instagram, Quibi, and TikTok in the short-form video social media space—the now dominant player was unknown five years ago. Schumpeter's creative destruction is in overdrive.

How then can we counter such uncertainty with the adoption of imperfection?
When the world is changing quickly, serving up both interesting new opportunities and existential threats, the biggest risk is strategic paralysis, which we see in our work with companies all the time.

The standard annual planning cycle doesn't suit the required pace of business now, but many companies are locked in these outdated, top-down processes that assume certainty and aim for perfection. These companies freeze-up when change accelerates and become easy targets for disruptors.

Accepting imperfection frees front-line teams to experiment with new approaches to meeting customer needs—or finding entirely new customers. As long as the experiments are of modest cost and non-bet-the-farm consequences, companies should reward this more dynamic process, even though it will have some apparent failures.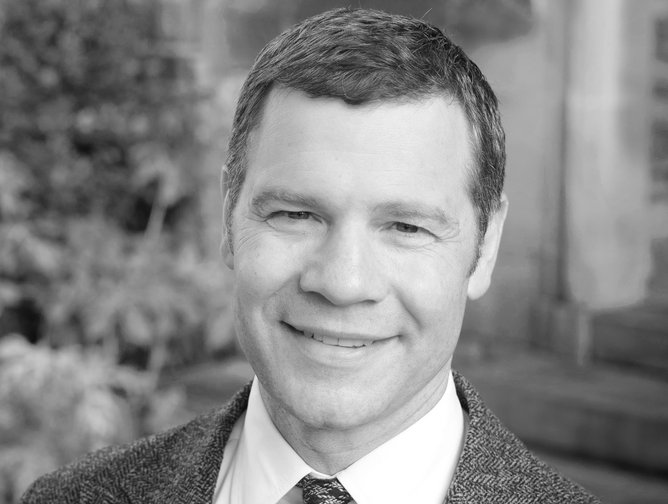 Charles Conn says Imperfectionists are deeply curious, they look at problems from several perspectives
Can you give an example of a company embracing imperfectionism in their approach and succeeding?
Amazon is an imperfectionist. Let's take the example of Amazon's entry into consumer financial services. If you are an Amazon customer then you have likely encountered household names such as Amazon Fresh, Audible and Zappos. It's less likely that you would have noted the baby steps Amazon took to expand beyond its core business into consumer financial services.
The acquisition of TextPayMe, the investment in Bill Me Later, the hiring of a team from GoPayGo, and the launch of a remote card payment device, Amazon Local Register, were modest moves that involved little financial outlay and attracted relatively little attention at the time. They also all ended in apparent failure, with TextPayMe (rebranded Amazon Web Pay) closing in 2014, Local Register withdrawing from the market in the face of competition from Square, and Bill Me Later being acquired by rival PayPal.
It is inherently an experimentalist approach. Amazon didn't wait for a mythical moment of strategic clarity, nor did it use its giant balance sheet to acquire a large bank or finance company. It edged out into uncertainty by taking small steps: investing in small companies with interesting technologies, hiring a team from a failed fintech, and launching internally developed services and tools. It ran multiple, parallel initiatives and learned what worked and what didn't. It built valuable capabilities and assets with moves that were mostly low consequence and reversible.
There is no notion of strategic frameworks in its approach to building a major financial services business. Yet today Amazon is a powerhouse in consumer finance, boasting a 24% user share in the US for its pan-economy Amazon Pay service, and is positioned to develop further as a global finance player. An imperfectionist, Amazon is now employing a similar playbook as it enters healthcare and other segments.
So, what skills do future leaders need, and are business schools teaching these?
A core capability for imperfectionist problem solvers is understanding the odds. The author Annie Duke — who at one point was a professional poker player — wrote a wonderful book called Thinking in Bets.
One of her key messages is that every strategic decision is a wager on an uncertain world. CEOs who, like good poker players, are good at making probabilistic assessments, and then have the courage to act, are more likely to succeed.
But few companies incorporate even rudimentary scenario analysis into their strategic planning processes, and fewer still do regular post-mortems after decisions.
Our sense is that most business schools are not providing adequate teaching around probability and scenario thinking. Few teach problem solving formally at all, with many curricula still organized around traditional company functions. This is changing in some institutions, but not fast enough.
Do you consider yourself an imperfectionist?
I hope so. Part of my day job is investing in promising life sciences companies and then helping them succeed. This kind of work fundamentally requires probabilistic thinking, and the necessary acceptance that some programs will simply fail in the lab or clinic.
Smart pharma and biotech firms are good at assessing the odds and pass off some risk to others when they can, but it is impossible in this field to escape the idea that all strategic decisions are wagers.
Why is imperfection especially important in trying to solve climate change challenges?
Climate change is a perfect example of the idea of imperfectionism. We have studied and argued over climate change for decades now, apparently waiting for certainty to begin to take action. Given the speed of change now, as well as the non-linear 'state change' events predicted, we are going to have to pursue multiple strategies in parallel, learning what is working, building new technologies and approaches, and accepting failure in some initiatives, if we are to have any chance of keeping mean temperatures in a safer range.
As Chair of Patagonia for 15 years, why do you think it is so important that companies today stand for something?
Because standing for making money is the least inspiring goal you could ever set. And yet the whole Milton Friedman philosophy is that this should be the only purpose of companies.
The truth is that to succeed as a company you have to convince investors, potential staff, suppliers, customers and communities that you have a powerful idea that is worth them signing up for.
These constituents will only do that if you stand for something. Sometimes that might just be a better mousetrap, but usually it requires a broader and more compelling notion of purpose that aligns with values and objectives they hold dear.
Finally, what advice do you have for board members on balancing purpose and profit?
We often talk about purpose and profit as if they are in opposition or require trading off. Perhaps that is true in any one quarter. But for leaders building companies for the long term, there is no conflict between purpose and profit.
Making the investments to do the right thing is necessary to earn the loyalty of customers, and the social license to operate by the communities that we work in.

Charles Conn is a cross-section leader, conservationist, and entrepreneur. He is co-founder of Monograph Capital, a life sciences venture firm in London and San Francisco, and was previously CEO of the Rhodes Trust in Oxford. He is Board Chair of Patagonia and sits on The Nature Conservancy European Council. He was founding CEO of Ticketmaster-Citysearch and was a partner at McKinsey & Company. He is a graduate of Harvard, Oxford and Boston Universities.
The Imperfectionists is the second book from Charles and Rob, who previously co-authored bestselling book Bulletproof Problem Solving: The One Skill That Changes Everything.