Top 10 best new leadership books by women to read in 2023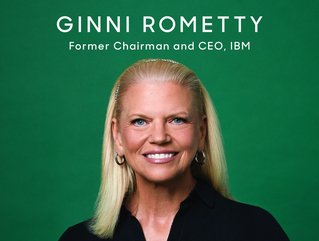 Former IBM CEO Ginni Rometty's new book Good Power
To mark IWD, here's our pick of the best new leadership books – all penned by impressive women at the forefront of the ever-evolving world of work
Women are now publishing more books than men for the first time. That's according to Joel Waldfogel, an economist and professor at the University of Minnesota who undertook a study on publishing.
And while this includes both fiction and non-fiction, not just business books, it's a definite sign that female viewpoints and perspectives are being more widely shared.
As a tribute to female writers on International Women's Day, not to mention female leadership and representation of women across all industries, we have sourced the best new leadership and business books penned by women (mainly for women).
From driving meaningful change, to turning your biggest fears into a leadership superpower, these 10 brand-new books from female leaders offer the latest on the evolving world of work in 2023.
1
Publisher: Hachette Go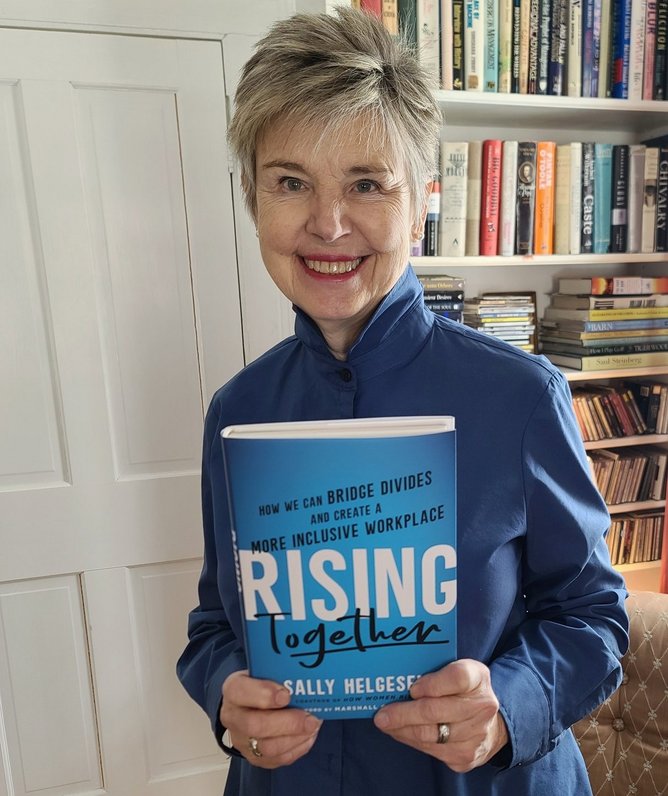 Sally Helgesen with her new book, Rising Together
Who is Sally Helgesen? Widely regarded as the premier expert on women's leadership, Sally is an internationally acclaimed author, speaker, and leadership development consultant with five business books under her belt. Among these, The Female Advantage, hailed as "the classic work" on women's leadership styles; and The Web of Inclusion, cited in The Wall Street Journal as one of the best books on leadership of all time.
Why read Rising Together? In this follow-up to her international bestseller, How Women Rise, acclaimed author and speaker Sally Helgesen draws on three decades of work with leaders around the world to offer practical, often counterintuitive ways to build more inclusive relationships, teams, and workplaces. Firstly, Sally identifies the eight common triggers most likely to undermine our ability to collaborate across divides – not just gender, but also age, ethnicity, race, sexuality, and life experience – and then she offers specific practices to designed to address these.
2
Publisher: Harvard Business Review Press​​​​​​​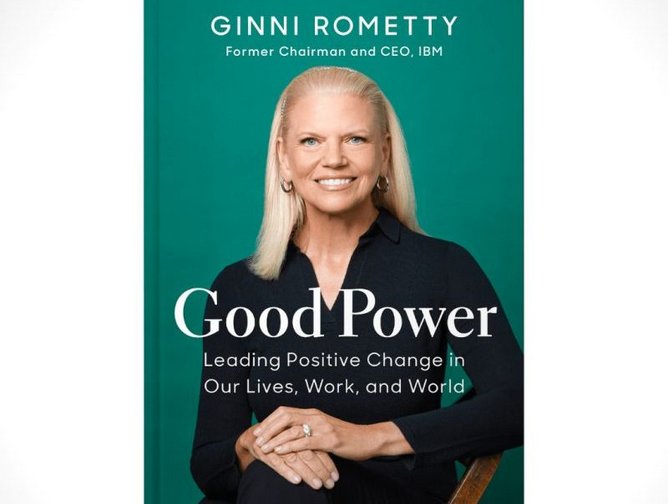 Former IBM CEO Ginni Rometty's new book
Who is Ginni Rometty? One of the world's most respected leaders, as the former CEO, Chairman and President of IBM, Ginni built a foundation for a new era of technology, while achieving record results in D&I and redefining the purpose of the corporation. She overcame childhood and financial struggles to embark on a ground-breaking career that took her from entry-level engineer to eight years as the first woman CEO of IBM and saw her ranked three times as Fortune's #1 Most Powerful Woman.
Why read Good Power? In this personal memoir, Ginni takes us on a journey of her remarkable life and the lessons learned, delivering a blueprint for how we can all drive meaningful change in positive ways, a concept she calls 'good power'. From reflections on the trauma and role models that influenced how she later thought about 'good power' to the experiences that taught her how to orchestrate change for clients, companies, and communities. Ginni shares how she has strived to use 'good power' during her career and as a transformative CEO.
3
Publisher: Stripe Press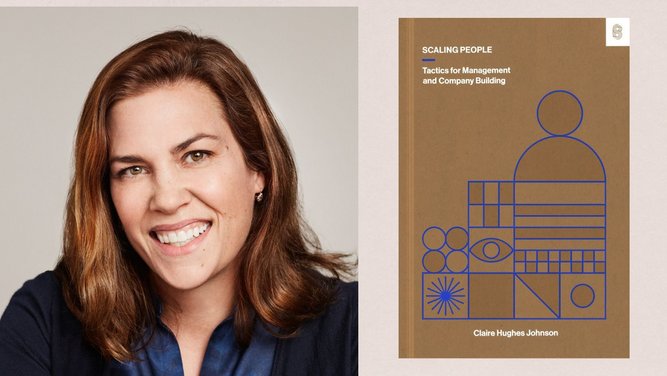 Former Google VP and Stripe COO Claire Hughes-Johnson, author of Scaling People
Who is Claire Hughes-Johnson? Described by Mallum Yen, Founder of Operator Collective as "the ultimate operator", Claire is a former executive at Google and Stripe (COO) and currently serves as a corporate officer and adviser at Stripe. Working within both tech firms from the early days of startup, Claire was instrumental in scaling their operating structures and people systems. At Stripe, she helped the company grow fom fewer than 200 employees to more than 7,000. Under her leadership, Google grew from less than 2,000 employees to more than 50,000. She led business teams responsible for Gmail, Google Apps, and Google Wallet. She was a previous board member of Hallmark Cards and is currently on the board of HubSpot.
Why read Scaling People? Drawing on her own startup scaling success, Claire has written a practical yet empathetic guide to being an effective leader and manager in a high-growth environment. She shares key lessons learned during her years as a high-powered tech executive, including the importance of self-awareness, establishing your 'work-style' to maximising productivity, and how to run the perfect meeting. Featuring worksheets, templates, exercises and example documents, Scaling People delivers a detailed roadmap for company builders to put the right operating systems and structures in place to scale.
4
Publisher: Wiley
Heather E McGowan and Chris Shipley, authors of The Empathy Advantage
Who are Heather E. McGowan and Chris Shipley? Widely regarded as one of the leading voices on the Fourth Industrial Revolution, Heather McGowan has transformed mindsets and entire organisations around the globe with her message about how the next phase of work will focus on continuous learning, rather than simply learning once in order to work. Startup mentor, analyst and tech journalist Chris Shipley has documented, influenced, and predicted the impact of technology on business and society for more than 30 years.
Why read The Empathy Advantage? In this new book, Heather has teamed up with Chris to provide a guide on how to lead a complex, diverse, and multi-generational workforce that will out-perform the competition. From viewing peers as competitors to seeing them as collaborators, and from applying extrinsic pressure on workers to unlocking intrinsic motivation, this practical guide will help leaders navigate the uncertainties in a post-pandemic world. Expect to gain insight in today's empowered workforce and how best to tap their intrinsic motivations and discover superpowers to unleash your 'Empath Advantage'.
5
Publisher: Harvard Business Review Press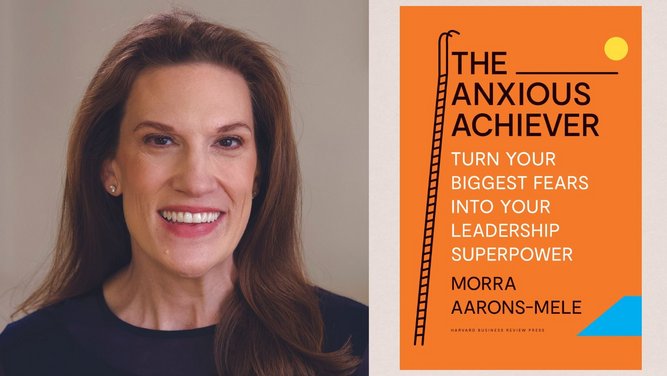 The Anxious Achiever by Morra Aarons-Mele
Who is Morra Aarons-Mele? Aarons-Mele, a self-identified "extremely anxious overachiever" and host of the top-ranked Anxious Achiever podcast, is on a mission to normalise anxiety in the workplace and transform it from an apparent weakness into a strength. As a workplace mental health speaker, she is passionate about helping leaders understand what their anxiety is telling them, and how they can put this knowledge to work. This is her second book, following the publication of The Anxious Achiever and Hiding in the Bathroom in 2017, and she is also the founder of the award-winning social impact agency Women Online, which she sold in 2021.
Why read the Anxious Achiever? Morra argues that anxiety is normal. Not only does it impact one in eight adults each year, but it is built into the very nature of leadership, she says. Drawing from her successful of the same name, the Anxious Achiever shows female leaders how they can harness their biggest fears and anxieties and turn them into a leadership superpower. And in her new book, she shows you how to turn stress and worries into a source of strength. Drawing from her successful podcast of the same name, the Anxious Achiever is packed with quotes from psychologists and with practical advice helping female leaders figure out their own anxiety profile, confront bad habits and unhealthy coping mechanisms, set boundaries to prevent burnout, deal with impostor syndrome, and ultimately model and communicate healthy behavior.
Homaira Kabir
Publisher: Simple Truths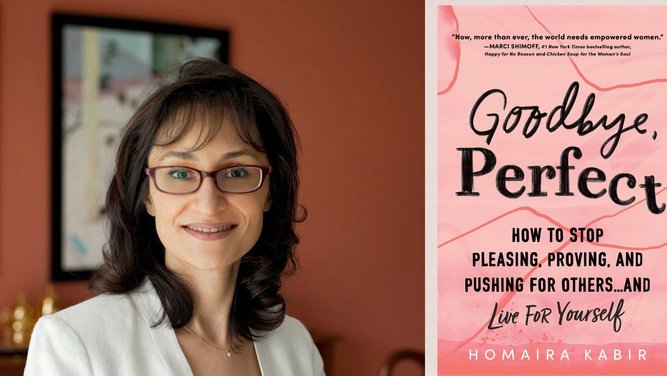 Goodbye Perfect by Homaira Kabir
Who is Homaira Kabir? A renowned life coach, with expertise in positive psychology and CBT, Homaira helps women combat imposter syndrome in the workplace by teaching them to unhook from praise and criticism and, instead, tune in to self-compassion. She is the Founder and CEO of The Goodbye Perfect Project, which helps women step out of the shadows, and the creator of Own Your Voice, a research-backed and evidence-based leadership program that helps women develop the confidence to speak up, share their ideas, take bold risks, and grow in work and life. Her work is widely published, from Forbes to the Huffington Post, but this is her debut book.
Why read Goodbye Perfect? Written for women who have fallen into the toxic traps of perfectionism and approval seeking, this must-read leadership and self-care book details an evidence-based framework for building confidence that takes self-worth out of the equation and frees women to live authentic and purposeful lives. Featuring empathetic explanations for why competent women are prone to self-sabotage, Homaira offers a new way for female leaders to reclaim their lives, both professionally and personally.
7
Publisher: Wiley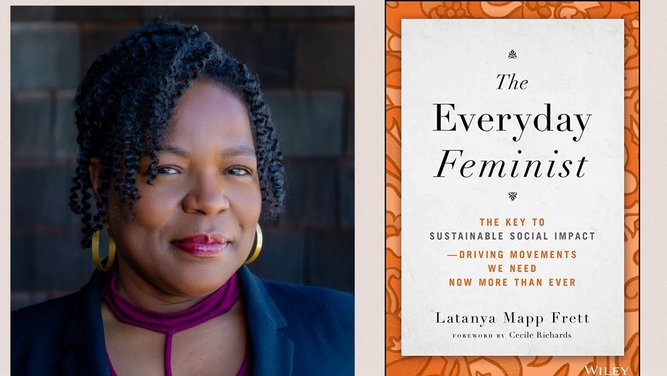 The Everyday Feminist by Latanya Mapp Frett
Who is Latanya Mapp Frett? Throughout her career, accomplished feminist activist and executive Latanya Mapp Frett has fought for the human rights of women. She has held roles at UNICEF, the US Agency for International Development, and Planned Parenthood Global, where she quadrupled the size of the program in four years to become one of the most innovative and sustainable global health organisations in the field. She also served as a delegate to the Fourth World Conference on Women in Beijing in 1995. As the current President & CEO of the Global Fund for Women, San Francisco-based Latanya leads a feminist fund that offers flexible support to a diverse group of partners to create meaningful change. She is a Woodrow Wilson Fellow, and author of four U.N. human rights reports and manuals.
Why read The Everyday Feminist? In her new book, Latanya provides a practical blueprint for implementing social change for lawmakers, activists, entrepreneurs, and everyday professionals. She discusses the importance of feminist funds in bankrolling critical feminist movements, explains the roles played by men and boys in building a feminist future, and offers actionable and straightforward advice for everyone trying to make a difference for women around the world.
8
Publisher: Simon & Schuster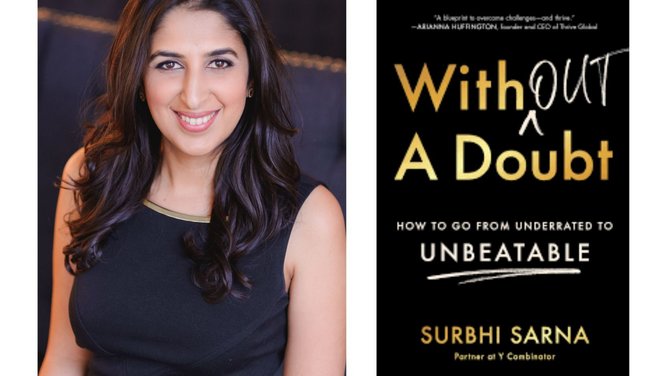 Without a Doubt by Surbhi Sarna
Who is Surbhi Sarna? An entrepreneur, CEO, and healthcare investor, Surbhi Sarna is a Partner at Y Combinator, one of the most successful venture firms in the world, and a passionate advocate for innovation in healthcare. Starting out as an engineer, Surbhi went on to found her own healthcare startup, nVision Medical, which was eventually bought by Boston Scientific for US$275m. Her passion for healthcare and entrepreneurial spirit has seen Surbhi included on the Forbes 30 under 30 list.
Why read Without a Doubt? Described by Thrive Global CEO Arianna Huffington as "an inspiring blueprint to overcome challenges – and thrive", this just-released memoir from Surbhi Sarna is a practical guide to turning doubt into action. Sarna shares her powerful story of how she became a leader against all the odds. As a young, brown woman with no medical degree or Silicon Valley contacts, Sarna founded a healthcare startup. Consistently underrated and doubted, Sarna shares how the single most important decision she made was "to push forward even while being doubted by so many". Using her own experience, she shows women how to face setbacks, lead empathetically, empower others to think differently, and convince the right people to help you accomplish your dreams.
9
Publisher: Barnes & Noble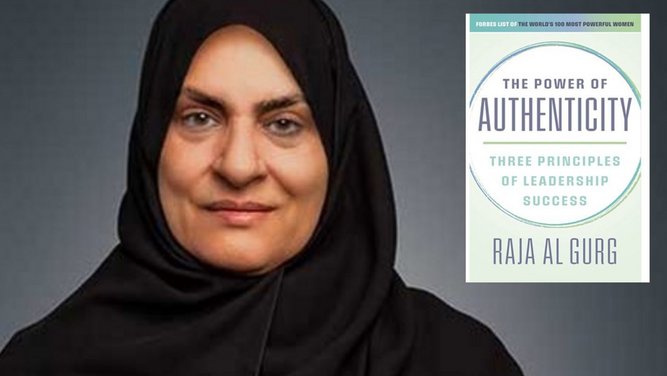 The Power of Authenticity by Raja Al Gurg
Who is Dr Raja Al Gurg? Legendary UAE businesswoman, Dr Raja Al Gurg, has been Managing Director at Dubai-based business conglomerate Easa Al Gurg Group for over 30 years. She also chairs various boards, among them the National Bank of Fujairah and the University of Dubai, but it is her work in female advocacy that really sets her apart. As founder and President of Dubai Business Women Council (DBWC), a 20-year-old non-profit that aims to empower women by providing strategic education, training and networking opportunities, she is renowned for carving a unique niche for herself thanks to her support and encouragement in increasing the number of women in business.
Why read The Power of Authenticity? In The Power of Authenticity, Raja recounts the obstacles and triumphs she has faced on her journey, and provides valuable insights into the lessons she has learned. And as a champion of authentic leadership, Raja argues that a leadership style based on personal authenticity, one where individuals leverage their own emotional, intellectual, and spiritual energy, can lead to business success. Described as both "confident and encouraging" the book discusses the skills and characteristics it takes to steer a company, explores how failure can be turned into an advantage, and describes how women business leaders can break down barriers and make a difference.
10
Publisher: New Degree Press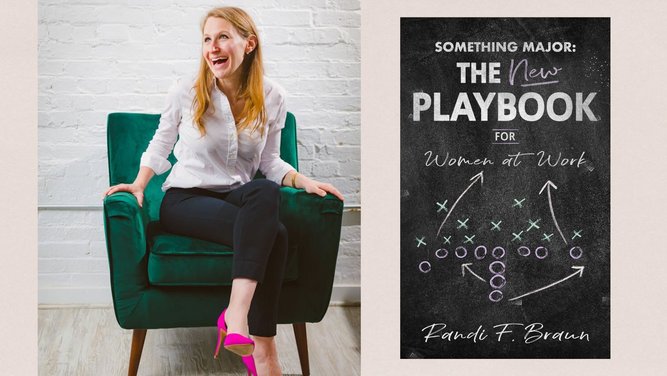 The New Playbook by Randi Braun
Who is Randi Braun? CEO of leadership and advisory firm Something Major, Randi Braun is a certified executive coach and sought-after expert on women's leadership. She is a member of Forbes Council. As Chris Lu, Deputy Secretary of Labor to President Barack Obama says, "Randi Braun has quickly established herself as an important voice for the next generation of women at work".
Why read Something Major? Based on the premise that women are natural leaders but have been taught to play the game by an outdated set of rules, Something Major: The New Playbook shows women a new way to play the leadership game. In this book, Randi provides a fresh take one of the biggest challenges of today – empowering women at work to chart their own course to the top. She gives guidance on everything from cracking the code on self-doubt to ditching perfectionism to learning new tactics and owning your own message, all tangible takeaways to help women succeed.