Age of AI – why soft skills are more in demand than ever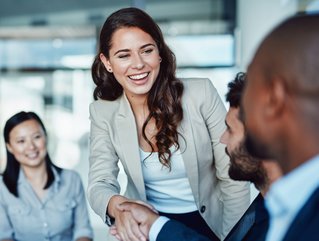 While technical skills constantly change, soft skills remain with you throughout your career / Credit: Getty
In the age of AI, employers are increasingly looking for people who have the ability to think critically and make decisions that improve performance
The rise of artificial intelligence stands as a double-edged sword for employers.
While AI promises unprecedented efficiency and transformation, it magnifies the significance of distinctly human qualities – soft skills.
Soft skills are non-technical skills that relate to how you work – skills such as problem-solving, professional writing, teamwork, critical thinking and leadership.
While technical skills constantly change, soft skills remain with you throughout your career.
"The advent of AI tools, like ChatGPT, has transformed the workplace with automation capabilities that overtake mundane and repetitive tasks, but these newfound automation abilities can't replicate critical soft skills like leadership, teamwork, effective communication and problem-solving with ethical considerations, says Rachel Hamann, AVP of Partnership Development Operations at AllCampus.
As a result of advancing technologies, these intangible skills are growing in demand – with employers pivoting focus towards skills that amplify effective communication, collaboration, and critical thinking.
And the data backs this up. Nearly a quarter of employers are already facing a major skills gap, and four in five HR professionals are placing a stronger focus on soft skills – something generative AI doesn't cover.

"Organisations are no longer only looking to hire employees who can make data-driven decisions with the help of new technology, but they are looking for people who have the ability to think critically and effectively communicate with colleagues to grow within the organisation," Rachel tells Business Chief.
Rachel Hamann, AVP of Partnership Development Operations at AllCampus
In fact, 92% of companies say human capabilities or soft skills matter just as much as hard skills.
Yet, many employees are unaware of how significant soft skills are ​​within their own careers, says Rachel.
"While technical skills are essential to complete one's job, soft skills are crucial to apply and execute those technical skills. Interpersonal skills, like communication, teamwork and adaptability demonstrate an employee's ability to work collaboratively, for example working on a cross-department project and effectively presenting the value of their results.
"Soft skills are intangible and demonstrate an employee's ability to lead a team, interact internally and externally at an organisation, and make decisions that improve business performance."
Leadership soft skills crucial in the age of AI
Rachel points to soft skills as helping individual employees adapt to challenges more easily and lead within their teams.
"They are extremely valuable as they enable employees to solve problems on their own and within a team setting. Without them, projects don't get off the ground, workers can feel disengaged, and executives, managers and employees struggle to do their jobs."
When it comes to leadership, Rachel points to a number of specific soft skills she says will be crucial in this age of AI.
Critical thinking: As AI systems automate tasks and analysis, leaders will need to interpret and contextualise results, assess implications and make business-driven decisions.


Effective Communication: Effective communication is essential to help leaders and teams align on business goals and navigate AI-related changes.


Innovation: Leaders will need to find ways to foster a culture of innovation and leverage their own creativity to encourage new and novel ideas for complicated challenges.


Adaptability: Employees today live in a fast-paced digital era that requires the ability to be agile and adaptable to new tech. Leaders should find areas where AI can make teams more efficient and capitalise on new opportunities through tech.


Leadership and teamwork: While AI and ChatGPT can provide information and even insights and recognition, leadership and teamwork are critical for organisations to grow and evolve. With disruptive technology such as AI, it's critical to prioritise the human component of work and decision-making.
Soft skills can be learned
And the good news is, soft skills can be developed, says Rachel, though they do require an ongoing training process that is personalised to the individual – as well as patience and consistent effort from both employers and employees.
To improve employee soft skills, Rachel recommends employers incorporate a range of formats.
Learning and development: Upskilling and reskilling courses can help employees enhance specific soft skills and apply them to day-to-day practices.


Mentorship and coaching programs: Pair employees with experienced leaders that provide guidance and support through personal examples and active feedback.


On-the-job training: Managers can provide constructive feedback on an employee's skill growth and provide opportunities to grow specific skills, i.e., new projects that require extensive teamwork.
Rachel Hamann, AVP of Partnership Development Operations at AllCampus, a leading higher education services provider partnering with top-ranked institutions to make higher education more affordable, accessible and equitable. In my role as AVP of Partnership Development Operations, I oversee our market research team, I'm responsible for business development team operations (including developing all financial proposals), and head new partner onboarding.
******
For more business insights check out the latest edition of Business Chief Middle East & Africa and be sure to follow us on LinkedIn & Twitter.
You may also be interested in Business Chief US & Canada.
******
BizClik is a global provider of B2B digital media platforms that cover Executive Communities for CEOs, CFOs, CMOs, Sustainability Leaders, Procurement & Supply Chain Leaders, Technology & AI Leaders, Cyber Leaders, FinTech & InsurTech Leaders as well as covering industries such as Manufacturing, Mining, Energy, EV, Construction, Healthcare + Food & Drink.
BizClik – based in London, Dubai, and New York – offers services such as Content Creation, Advertising & Sponsorship Solutions, Webinars & Events.