Deep dive: Investment in carbon capture rises as CO2 spikes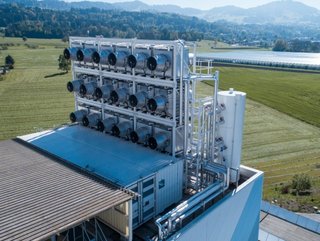 Investment in carbon removal solutions and startups is heating up as fast as the planet, with Temasek and CEMEX Ventures the latest VCs to launch funds
Investment in carbon removal technologies is heating up, as global warming hits record heights.

The past month has seen the highest levels of CO2 emissions in the atmosphere in history, according to US Energy Secretary Jennifer Granholm, while the latest report by the Intergovernmental Panel on Climate Change has warned that the world is not on track to limit global temperature rise to 1.5C above pre-industrial levels.

Climate crisis means carbon removal is now necessary

Simply curbing emissions is no longer enough. Climate scientists now say in order to prevent dangerous rises in global temperatures, we must also remove carbon dioxide from the air that's already been released.

Various studies have found that by mid-century the world may need to remove billions of tons of carbon dioxide from the air each year, on top of rapid emissions reductions, to halt warming at 2C or pull the climate back into a safer zone.

Current solutions, both technology and nature-based, include planting trees, building carbon-sucking machines, and spreading around carbon-absorbing minerals.

These carbon capture solutions, many the result of startups, are now leading the race against global heating, as they develop and deploy new, scalable, carbon capture technology that will enable us to both stop the flow and remove the historical carbon dioxide already emitted.

Global funding for carbon capture, utilisation and storage jumped more than fourfold last year to US$1.44bn, according to data from CB Insights, having previously only accounted for less than 0.5% of global investment in clean energy up to 2020.
And according to Viva Technology, carbon removal startups are likely to hit US$1 trillion by 2050.

But, in order to advance the commercial viability for such solutions and their deployment to scale, these solutions need investment.

And governments, big tech, corporates and VC firms are all responding with pledges and investment in a space that didn't even exist a few years back.

Government, big tech, corporate and VC firms deliver commitments

In the US, the Department of Energy recently announced investment of US$3.5bn to groups developing direct air capture and other technologies that remove carbon dioxide, which when released into the atmosphere causes global warming.

While at the recently-held World Economic Forum in Davos 2022, a number of big tech players, including Alphabet, Microsoft and Salesforce, pledged US$500m to new climate tech designed to pull carbon dioxide out of the atmosphere.

Microsoft had already previously promised, in 2020, to remove more carbon dioxide than it emits by 2030, while Salesforce has committed to purchasing US$100m in carbon removal credits as part of its larger pledge.

This pledge at Davos followed a joint commitment by big tech players back in April, led by payment startup Stripe, with participation from Alphabet, Meta, Shopify, and other companies, to invest US$925m to purchase captured carbon this decade. Titled Frontier, the initiative was inspired by the advanced market commitments that helped fund the development of vaccines.

According to Hannah Bebbington, head of strategy for Stripe Climate, "we are seeing real traction in the market, both from the companies executing and also from investors starting to really put investment behind them".

Corporates and VCs are also getting in on the carbon removal action, convinced it seems that these technologies could be a gamechanger for combating global warming.

Earlier this year, Chevron made an investment in Carbon Clean, a global leader in industrial carbon capture solutions, via its venture arm Chevron Technology Ventures, as the energy giant looks to target 25 million tonnes of CO2 per year in equity storage by the end of this decade.

Singapore-headquartered Temasek is the latest company to invest, this week announcing the launch of GenZero, a wholly-owned investment platform firm dedicated to accelerated decarbonisation globally.

GenZero will focus on investment opportunities that can deliver positive climate impact by 2030 while ensuring sustainable financial returns, and will invest in carbon reduction and carbon removal technologies such as low-carbon materials, carbon capture, utilisation and sequestration, and advanced biofuels such as Sustainable Aviation Fuel (SAF).

VC firm Lowercarbon Capital recently raised a US$350m fund dedicated to carbon removal startups, with the aim of accelerating the development and scaleup of these companies. While CEMEX Ventures, a backer of startup Carbon Clean, has recently ramped up its investment in carbon capture technology.

Startups raise more than US$820m in funding this year to date
And the proof is in the pudding. Investment in this space has catapulted with startups raising more than US$820m in funding so far in 2022.
In April, Swiss startup Climeworks completed the biggest funding round for a carbon-removal startup yet, raising a record US$650m round led by Partners Group and GIC, as it looks to scale its direct-air capture plants to multi-million-ton capacity. This followed its launch last year of its first carbon capture and storage plant, which scrubs carbon dioxide from the air and stores it underground.
While this approach is an ambitious one, Climeworks is also exploring nature-based solutions involving everything from seaweed farms to tree planting.
Canada's Carbon Engineering, another company leading the commercialisation of ground-breaking technology that captures CO2, recently announced a collaboration with 1PointFive, a subsidiary of Occidental's Low Carbon Ventures business, to a Direct Air Capture (DAC) plant deployment approach to help execute large numbers of DAC projects around the world.
Carbon removal certainly has investors' attention. MIT spinoff Verdox, which has designed an electric system to soak up carbon from the air, landed US$80m in February from investors, including from Bill Gates; while Heirloom, which heats limestone to sponge up CO2 via mineralisation, raised US$53m in March.
Direct air capture startup Mission Zero Technologies recently closed a US$5m seed funding round to scale up its R&D that was led by Bill Gates' Breakthrough Energy Ventures fund. And London-based cleantech firm Carbon Clean last month landed a US$150m funding boost in a Series C round led by US oil giant Chevron, along with big-name backers Saudi Aramco Energy Ventures and Samsung Ventures.