The best Michelin-starred restaurants that are meat-free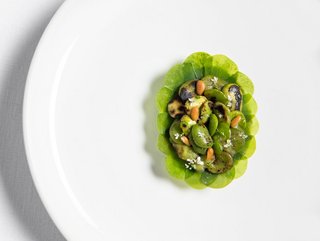 With a move away from meat diets crucial to reducing CO2 emissions, more Michelin-starred restaurants are pivoting to plant-based and elevating vegetables
Last year, one of the world's most critically acclaimed restaurants, three Michelin-starred Eleven Madison Park pulled off a culinary feat – becoming the first plant-based restaurant in the world with three Michelin stars.
It was during the pandemic that Chef-owner Daniel Humm made the plant-based pivot. Humm realised that the world and people had irrevocably changed, that the notion of luxury needed to be redefined, and that he simply couldn't reopen in the same way.
"The current food system is simply not sustainable, in so many ways," he says.
He's not wrong. Climate experts are in widespread agreement that a move away from meat is necessary to avoid total climate breakdown. Animal agriculture creates at least 14.5% of all human-made greenhouse gas emissions, using almost 80% of the world's agricultural land to provide less than 20% of global calories.
So, in a stark departure, one described by The New York Times as a "bold vision of luxury dining", in 2021, the Manhattan fine-dining establishment replaced its glazed duck, roast suckling pig and poached lobster with summer squash, lemongrass and marinated tofu, and cucumber with melon and smoked daikon.
Turning the entire menu plant-based, bar milk and honey for tea and coffee service, was certainly a risk for such a high profile, highly acclaimed restaurant – but it was a punt that paid off with the restaurant retaining its three Michelin stars for the 11th year in a row.
Meat-free fine dining on the rise as consumer tastes change

Eleven Madison Park is not alone in its vision; nor in proving that fine-dining veganism can succeed.
More and more Michelin-starred restaurants are ditching meat for plant-based dishes, recognising the impact meat especially is having on the planet, and proving that you can elevate plants to culinary heights.
When King's Joy landed a coveted third Michelin star in November 2020, the acclaimed Beijing-based restaurant became the world's first vegetarian (not vegan) three-starred Michelin restaurant, not to mention China's first Michelin Green Star for environmental and sustainable practices.
Like Humm, Canadian-Taiwanese owner-chef Gary Yin is on a mission, to promote a healthier and more sustainable lifestyle – and to bring vegetarianism to China, a country that consumes 28% of the world's meat and whose livestock is estimated to account for around 15% of global greenhouse gas emissions.
"If more people eat vegetarian more frequently, it really could change the environment as a whole," says Gary.
Using greens and seasonal produce only sourced from local, organic farms, Lin takes vegetarian cuisine to new heights, transforming tofu, wheat gluten and mushroom into inventive fake meat creations, with tasting menu highlights including sweet and sour money's head mushrooms and hawthorn jelly and Comte-mountain yam rolls.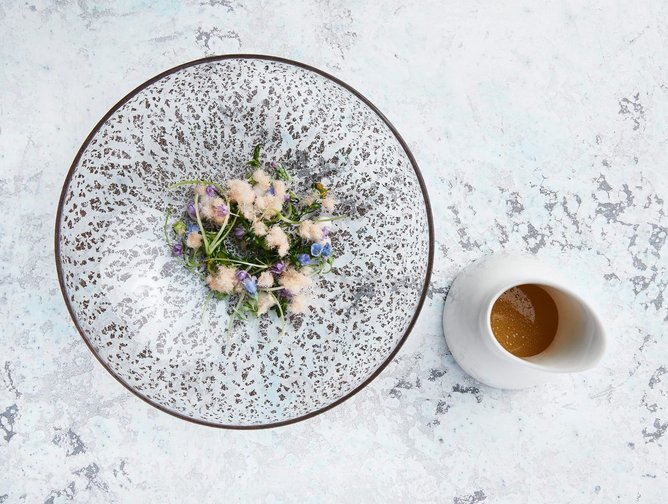 Geranium, Copenhagen
Around the world, restaurants are seeing green. Ranked the number one restaurant in the world in 2022, Copenhagen's three-Michelin-starred Geranium removed meat from its menu at the start of last year, although it still serves seafood options for discerning pescatarians.

Speaking about his decision to drop meat from the menu, co-owner chef Rasmus Kofoed – the first chef in Denmark to earn three Michelin stars – said he hadn't eaten meat for the last five years at home, "so to no longer use meat on the new menu was a logical decision and a natural progress for Geranium".

Now, the plant-powered menu includes infusions of grilled white asparagus, pickled elderberries, truffle, and crispy grains, as well as dark chocolate and Jerusalem artichoke reductions for dessert.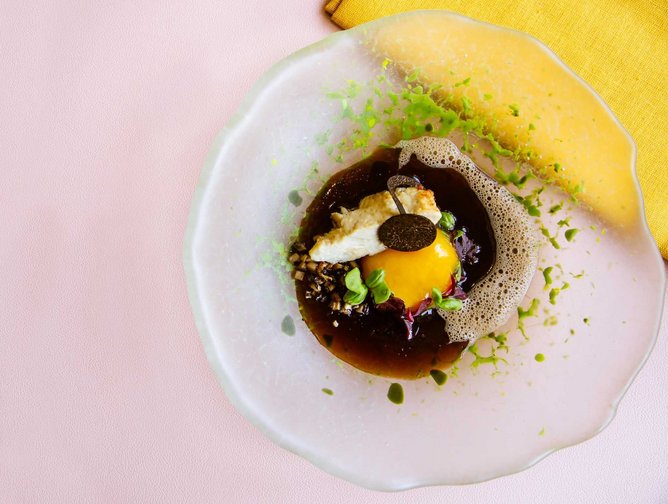 Atelier Crenn
Motivated by the environmental impact of meat production, in 2018, French chef Dominique Crenn (the first woman in the US to be awarded three Michelin stars) took a stand against factory farming and removed all meat from the menu of flagship restaurant – San Francisco-based Michelin-starred restaurant Atelier Crenn, later removing it from all her restaurants. Though she too does still serve seafood.
Instead, she is partnering with foodtech Upside Foods to offer cultured chicken to diners – due to its relative sustainability and delicious appearance, aroma, and flavour.
"The pandemic is going to allow us to change the food system, and the food system needs to change," Dominique says. "We need consumers to understand that it's not about instant gratification; they need to understand the consequences of their actions. They need to understand where products come from and support their own community."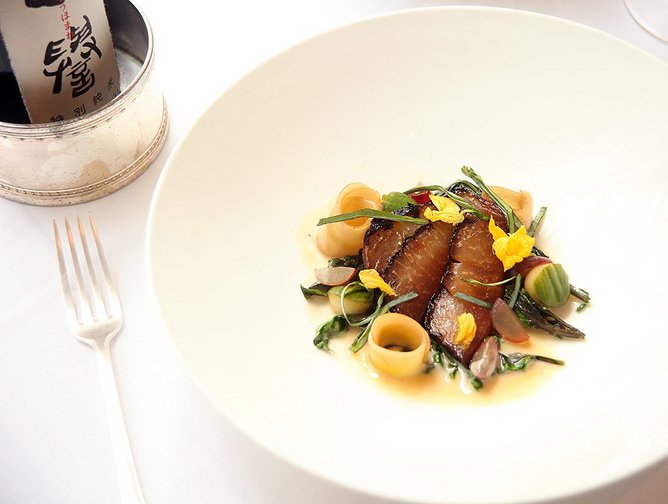 Gaulthier Soho
Gauthier Soho's plant-forward experimentation began well ahead of the plant-based food trend. The London-located restaurant, which secured a Michelin star within just a year after opening, switched to veganism in 2015 following a PETA campaign exposed the cruelty and exploitation behind the animal meat industry.
French chef Alexis Gauthier reinvented all his classic French dishes to make them entirely plant-based, even Fois Gras. Once selling 20kg of Fois Gras a week, the chef has since pioneered 'faux gras', an ethical alternative (think lentils, walnuts, mushrooms, and cognac) to the controversial goose liver delicacy.
As diners discover that non-meat-based dishes, and vegetables, particularly, can be both delicious and elevated, the hope is that more highly acclaimed chefs and Michelin-starred restaurants banish meat from their menus or take the plant-based plunge.
And importantly that more vegan or plant-based restaurants are awarded Michelin stars.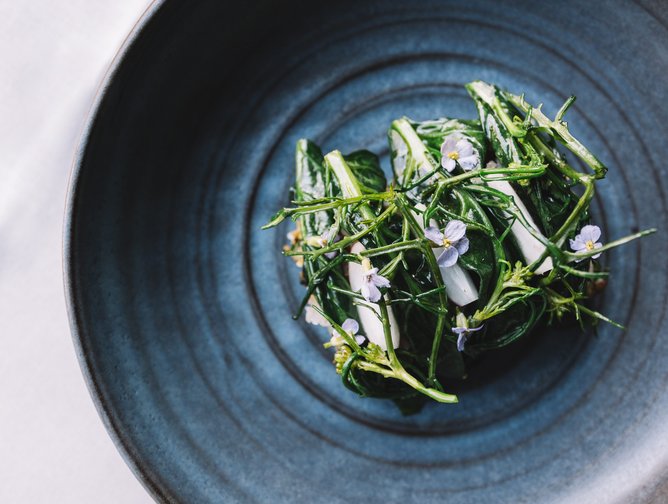 Ark, Copenhagen
In 2021, Copenhagen-based plant-based fine-dining restaurant Ark became the first vegan restaurant to be awarded a Michelin Green Star in the Nordics for its innovations in plant-based cuisine. The same year, France also landed its first Michelin star for a vegan restaurant with ONA – a vegan restaurant near Bordeaux helmed by Claire Vallee (though this has recently closed due to not being able to find enough staff despite being fully booked months in advance).
And for the first time in Switzerland, a vegan restaurant achieved a Michelin star in 2022. Helmed by international chef Zineb Hattab, Kle in Zurich works with organic farmers from the surrounding area to dish up vegan cuisine inspired by Moroccan and Mexican dishes.
As Spanish-born Hattab puts it – "vegetables are the future".