Top 10 Consulting Companies for Artificial Intelligence
By Charlie King and Amber Jackson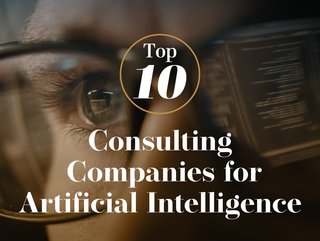 Top 10 consulting companies for artificial intelligence
Our Top 10 consulting companies for artificial intelligence include industry leaders IBM Consulting, Accenture, EY, Infosys, PwC & Boston Consulting Group
With AI continuing to develop at a rapid pace worldwide, businesses are acting quick to ensure that they are utilising new or existing systems to their full potential. Evidence has shown that more than three in five customer experience bosses expect that AI will give their businesses more of a competitive advantage, with the majority feeling pressure to incorporate generative AI into business strategy.
Consulting services in AI aim to help companies harness the best possible use cases in an ethical way. Business Chief considers some of the top global consulting companies that offer businesses advice on how to best implement AI.
LeewayHertz is a leading software development company delivering tailor-made digital solutions to businesses worldwide under the motto 'you dream it, we build it'. The team of full-stack developers, designers and innovators design and develop digital solutions across industry verticals, undertaking collaborative research and development to create next-gen applications and solutions perfectly suited to the evolving tech space.
IT consulting company Adastra has been facilitating the global transition to the digital era since 2000, assisting major industry leaders across industries as a one-stop partner to make better decisions through advanced digital solutions. The company's clients include Microsoft, HSBC, Skoda, VW and many more.
Quantum Black is the data and analytics centre of excellence of McKinsey & Company, working to enable clients to improve performance by using cutting-edge advanced analytics to make precise interventions with measurable results.
The company revolves around hybrid intelligence, a source of competitive advantage that transforms how companies think, operate, and disrupt, by harnessing the foresight and precision of data and technology with the creativity and understanding of people.
London-based consultancy Deloitte is the largest professional services network by revenue and number of professionals in the world.
"As a leading provider of AI services and solutions, we are helping our clients scale AI across their organisations and achieve tangible business results," says Nitin Mittal, Deloitte Global Consulting Emerging Markets leader.
"We support our clients as they harness the transformative power of emerging disruptors, such as Generative AI, and use it to develop and deploy new and innovative AI-fueled solutions."
BCG uses the 10/20/70 rule as the framework of its approach to AI — 10% of the AI effort goes to algorithms, 20% to data and technological backbone, and 70% to business and people transformation — believing that, by redefining the human to AI interaction, the full potential of business in AI can be unlocked.
The company's AI consultancy clients include H&M (US$500m in value delivered in 15 months) and BCG (margin uplift of more than 40 basis points in 18 months).
PwC's AI consulting offers expertise and experience with natural language processing (NLPs), machine learning, deep learning, model operations, automated ML, digital twins, generative AI, embodied AI, and responsible AI. The company helps its clients navigate these new systems safely and strategically by institutionalising and deploying AI across the organisation in a way that is explainable, secure, and robust.
The company's innovation tests the latest AI capabilities on real world problems and works together with clients to build repeatable solutions tailored to their business needs. Its solutions are enabled by its Alliance partners to best enact AI transformation.
Infosys' AI and automation teams aim to help global organisations harness disruptive technologies to accelerate their initiatives and create measurable business value. Some of the company's consulting offerings include automation acceleration to offer benefits like cost savings and greater resiliency, as well as highlighting use cases and scalable growth.
Through the power of AI, Infosys aims to unlock hidden or untapped revenue opportunities, as well as ensuring that development and use is responsible with ethical principles at its forefront. According to company analysis, organisations can increase operating margins by as much as 5% as they improve their Responsible AI Index (RAII), hence why it is incorporated into its framework.
EY offers AI and intelligent automation consulting services with its approach being human-centred, pragmatic, outcomes-focused, and ethical. The company offers a suite of strategy, design, architecture, data, systems integration, program operations, and risk service - which is combined with deep domain and sector knowledge.
The consulting team aims to help businesses fully realise the benefits of AI, helping them to fully understand both value and risk. EY then works with the business directly to incorporate the robotic, intelligent and autonomous capabilities, as well as enabling experimentation and scaling, to transform and innovate the way enterprises operate and compete in the Transformative Age.
Key facts
40k+ professionals

9000 data experts across industries

2400 patents & patents pending

300+ apps and solutions
Accenture sees real value in AI and works to help companies move from interest to action and value in a responsible way with clear business cases. It aims to help companies keep their data, people and processes ready for AI with a secure, cloud-based digital core that allows for reinvention and greater business growth, efficiency, and resilience.
In order to continue helping businesses stay ahead in digital transformation efforts, the company has recently invested US$3m in AI and its capabilities. It believes that this will ultimately facilitate better work for its clients, improve its own operations, and to transform the way that it works for clients.
IBM Consulting is a leader in solutions for strategy, implementation, and management to help businesses integrate and expand their AI capabilities. With extensive experience in developing AI technology, the company possesses the necessary expertise, methods, and accelerators to deliver successful outcomes. The company also adopts ethical principles into its AI applications in efforts to build systems based on trust.

IBM recently announced plans to make Meta's Llama 2 platform available within its Watsonx AI and data platform. The company will host Meta's Llama 2-chat 70 billion parameter model and ultimately work to build upon IBM's continued collaboration with Meta.
******
For more business insights, check out the latest edition of Business Chief Middle East & Africa and be sure to follow us on LinkedIn and Twitter.
You may also be interested in the Business Chief EMEA website.
Please also check out our upcoming event – Sustainability LIVE in London on September 6-7, 2023..
BizClik is a global provider of B2B digital media platforms that cover executive communities for CEOs, CFOs and CMOs, as well as leaders in Sustainability, Procurement & Supply Chain, Technology & AI, Cyber, FinTech & InsurTech. We also cover industries including Manufacturing, Mining, Energy, EV, Construction, Healthcare and Food & Drink.
BizClik, based in London, Dubai and New York, offers services such as content creation, advertising and sponsorship solutions, webinars and events.